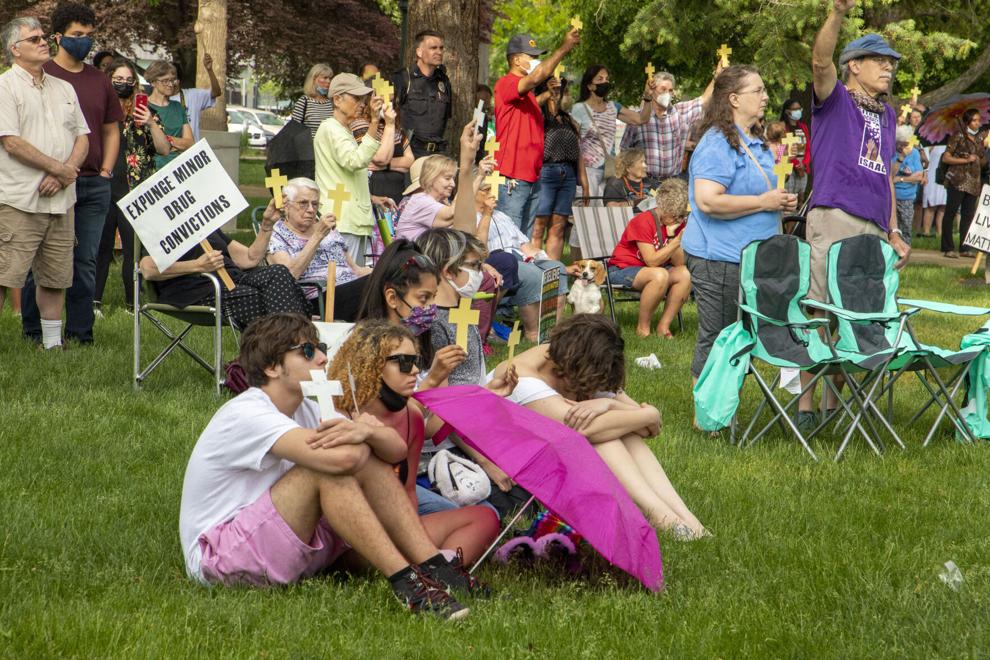 May 25 marked the one-year anniversary of George Floyd's death. An event called 'Open Eyes Kalamazoo' was held in Bronson Park to honor Floyd and other black lives lost to police injustice.
"This event brings the community together in solidarity to actually unite and actually commemorate the death of George Floyd," said LaTonya Turner, community collaborator with the Kalamazoo Department of Public Safety. "We all come together and we all have a job to do."
Over 200 people attended the event honoring George Floyd.
"I would say when you look at the crowd and see different people of color, different ages, different religious backgrounds, this was a diverse crowd of Kalamazoo that wants to come together and do something important which is building a caring, kind beautiful community that we should be and can be," said Chris Lampen-Crowell, community activist and co-owner of Gazelle Sports.
The organizers of this event handed out a total of 181 yellow crosses to the attendees.
"So representing not just George Floyd but all of the black lives that (have) been lost which has been a little over 181, that's what the crosses represent. We're here to celebrate them," said Tamara 'TC' Custard, community activist of Village in the Valley.
The sponsors of this memorial included: City of Kalamazoo, Metropolitan Kalamazoo NCAA, Kalamazoo Downtown Partnership, Gazelle Sports, Run this Town, Village in the Valley and Quinton Bryant.
"This was a very nice event," said Kalamazoo Mayor David Anderson. "I really appreciate all the organizers, TC, Quinton, Wendy Phills, and the NCAA, they all came together to do this. I think it's really important that we get together and recognize that we are in this together. We have to do this work together."
During the event, there were 9 minutes and 29 seconds of silence in the park. This time represented the time ex-officer Derek Chauvin kneeled on Floyd's neck, leading to Floyd's death.
"Even as I sat there through the nine minutes, just the wave of emotions and thoughts and feelings that I was just going through imaging what he had to deal with, I make light of it," said Eric Cunningham, Kalamazoo city commissioner. "I was fighting a bug for 20 seconds and I can imagine him trying to fight for his life for nine minutes." 
Kalamazoo residents are also fighting for change in the community and country.
"This has been officially a year now of us coming to the streets and saying we are done dying and we want law enforcement, we want corrupt systems, we want judges, jails, prisons all of those corrupt systems of the United States to take their knees off of our necks," said Marshall Kilgore, Director of Advocacy at Outfront Kalamazoo. "This means that we are going to have to abolish some of our systems. It's time to abolish qualified immunity. It's time to abolish racist cops and folks who are in charge who do not have our best interest in mind."
Community officials are also fighting for change.
"As an elected official the moment that happened, I knew that this was going to be an opportunity to have a conversation that we never had before," Cunningham said. "And typically with society, it's here today gone tomorrow and so I planned for, okay I got a week or two weeks to strike while the iron is hot and this has been something where here we are a year later and we're still having these deep dialogues."