Real. Relevant. Rare. 
Those are the principles laid out by Western Michigan University's Think Big Initiative, led by the Office of Marketing and Strategic Communications, which held the fourth phase of its town hall events on Oct. 14 and 15 inside of WMU's Bernhard Center.
During Monday's two-hour presentation, Tony Proudfoot, vice president of the office of marketing and strategic communications, presented what the university described as "dark and stormy" survey results regarding WMU's brand and identity.
Proudfoot made it clear following the event that the "Big Idea" isn't a single program but a "way of being," that will soon touch every part of campus. 
"The promise that we want to make the world is that students who are masters of their fate and captains of their soul will change the world," Proudfoot said was what WMU's "Big Idea" actually is.
Proudfoot said the university plans on keeping its promise by outlining a clear vision that puts the care of students front and center, focusing on their mental and physical well being. 
It's the increasing rates of mental health disorders Diane Anderson, vice president of student affairs said that is the reason for WMU's intensified focus on the issue. 
Proudfoot told the audience of mostly faculty and staff that WMU will aspire to become "the most responsive institution in the country," by providing more resources for mental health support and greater flexibility for undecided students or those who seek to switch majors. 
In order to prevent students from losing time and money after changing their major, Proudfoot said the university will become more flexible. 
"Colleges have known about majors changing for years, but they're not doing anything about it," Proudfoot said. "This is something we want to do so we're preparing students to adapt through their college experience."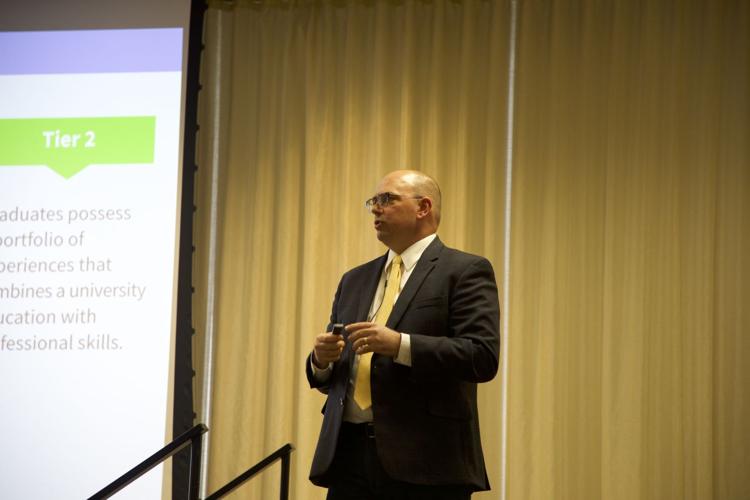 Proudfoot mentioned that offering practical work experiences in undergraduate classes as another way to increase the responsiveness at WMU, blurring the line between school and work. 
"Say you want to be a kindergarten teacher — great, let's go spend a day with a 30 elementary school kids within the first six weeks of your class and let's see if that's something you really want to do," Proudfoot said.
The heightened urgency on career readiness comes after data presented at the town hall from a 2015 Gallup-Purdue Index report found that while 95% of chief academic officers said their institutions are very/somewhat effective at preparing students for work after college, just 11% of business leaders strongly agreed that graduating students leave college with the skills and competencies needed for their businesses.
Proudfoot spent parts of Monday's town hall reviewing research from SimpsonScarborough, a higher education marketing firm that surveyed high school counselors, parents, faculty/staff and current and prospective undergraduate and graduate students on their feelings towards WMU.
The findings revealed the publics attitudes towards WMU, which Proudfoot called a "challenged brand."
Among the findings, the survey discovered 12% of undergraduate prospects, 5% of parents, and 2% of counselors named WMU when asked to think of the first five excellent colleges and universities in the Midwest. Another study found that 13% of prospective undergraduate students see WMU as a "first choice school," while 60% of that same pool viewed Western as a backup school. WMU's employees weren't far behind as 50% of current faculty/staff members said WMU is a first choice school. 
"This has been a deep, rigorous, inclusive process and when you go through those processes, you get results that matter," Proudfoot said. "We really believe that this is a very strong future for the university."
The university is hopeful the implementation of the initiative will work to counter the effects of decreasing enrollment in the midst of a diminishing high school graduate pool, which according to Proudfoot, is an effort that has already taken shape on campus through the various renovation and construction projects, like the new Arcadia Flats housing project or new student center.
"Probably in the next 12 to 18 months you will start to see these ideas in everything you touch, see and feel at Western," Proudfoot said.
According to the university, more than 5,500 campus community members along with roughly 700 students have aided the various town hall events that began last winter.
To attend one of the remaining Think Big town halls, RSVP here. The dates of the events are listed below.
3 p.m. to 5 p.m. Wednesday, Oct. 30, at Bernhard Center Rooms 208-210
2 p.m. to 4 p.m. Thursday, Oct. 31, at Bernhard Center South Ballroom