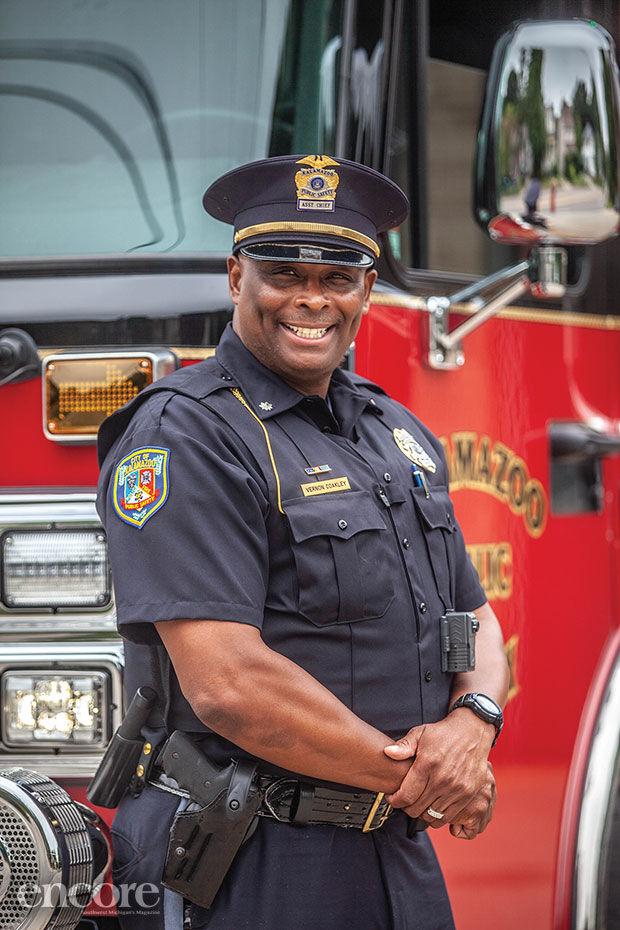 Vernon Coakley was sworn in as the new Kalamazoo Department of Public Safety chief during a ceremony inside Mt. Zion Baptist Church on Thursday.
Coakley replaces former chief Karianne Thomas, who stepped down on Sept. 30 after 27 years at the department. 
"Chief Thomas leaves behind huge shoes to fill and I am truly thankful for the opportunity to learn from her, build upon our department's many successes and help take the country's largest combined public safety organization to the next level," Coakley said in a recent press release. "The Kalamazoo community needs to come together and I look forward to strengthening our relationships and partnerships with businesses, faith leaders and our entire Kalamazoo community to move us forward."
Coakley, who is the department's first Black chief, steps in with nearly 30 years of law enforcement experience and has served the Kalamazoo community since 1998. In 2017, Coakley was promoted from captain to assistant chief.
He has a bachelor's degree from Western Michigan University and a master's degree from Ferris State University. In 2010, Coakley completed the Senior Management Institute for Police Program and attended the Federal Bureau of Investigation National Academy in 2018.
At Western Michigan, Coakley played football for the Broncos from 1985-89 as a tight end/running back. 
In the 1988 season, Coakley helped the Broncos to a conference championship, hauling in 12 passes for 149 yards and a touchdown on the year.
For his career as a football player at WMU, Coakley caught 64 passes for 804 yards and five touchdowns and ran the ball 13 times for 36 yards in five seasons.