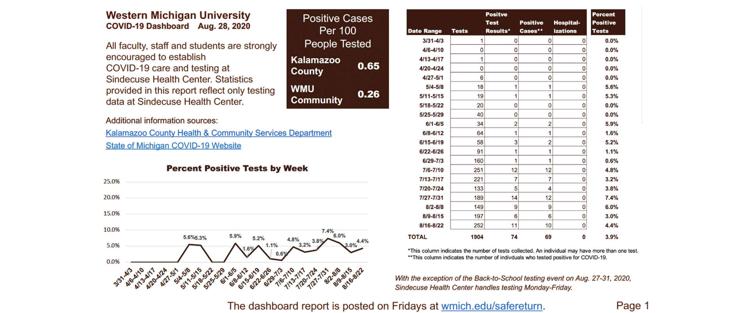 Western Michigan University has confirmed 16 cases of COVID-19 within the university community since Aug. 9.
Six cases were reported for the week of Aug. 9 with an additional ten cases being reported for the week of Aug. 16. Resident assistants, some of the first to live in WMU's residence halls since Marche, moved in during this time.
On Friday, WMU published the results of COVID-19 tests performed at Sindecuse  Health Center since March. Data for the week of Aug. 23, the week when residents began moving in in earnest, was not included. Since March, 69 out of the 1,904 individuals tested had positive results. The data lists 74 positive tests in a separate column. The university explains that the discrepancy is due some individuals being tested twice.
University spokesperson Paula Davis spoke to MLive about the data on Friday.
"Thus far, you're less likely to be exposed to the coronavirus within the WMU community than other places in the county," Davis told MLive.
Representatives of the university did not respond to additional requests for comment.
Universities across the state have reported increases in COVID-19 cases since returning to in-person operations. Central Michigan University has 110 cases linked to the return of students to Mount Pleasant according to the Central Michigan District Health Department. Today, Lake Superior State University reported its first case.
Many students, including some resident assistants, are skeptical of WMU's ability to prevent and contain the spread of the coronavirus.
""It's bullsh-t. We can't let residents have guests, which makes sense, but we're powerless if they go off campus and bring it (COVID-19) back. We have nothing to stop them from going to parties, and that's exactly what they're doing at CMU," one RA previously told the Herald.
Other students have more confidence. The WMUGOP (college Republicans) believes that campus should open and can open safely. A full story on the WMUGOP's position on COVID-19 is in development as of this writing.
Ben Gretchko contributed to this report.