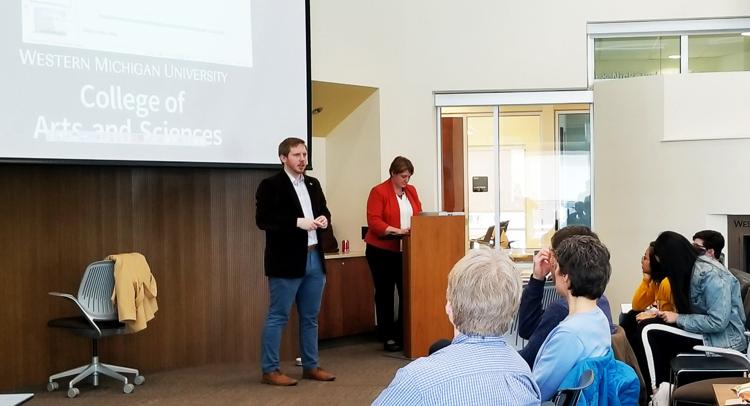 WMU Signature has received an award for innovative university programming.
A  university program focused on providing valuable professional experiences to undergraduate and graduate students, WMU Signature was recently recognized at the National Association of Student Personnel Administrators (NASPA) Region IV-East annual conference with the Innovative Program Award.
"WMU Signature is a program to recognize student's engagement outside of the classroom and in doing so help them to explore and identify a passion, culminating in the completion of a unique experience putting their passion into action," said Evan Heiser, the director of the program.
Students who elect to participate in WMU Signature can earn a unique co-curricular designation on their academic transcripts and diploma upon graduation. Heiser believes this designation helps students stand out from their peers when they apply for competitive jobs or graduate schools in the future.
"WMU took a risk when it was the first (and still only) institution to put a co-curricular designation on the diploma, and it is great to see it not only benefiting the students taking part in the program and the 120 students who have completed the program, but also that others in the field see it as a program other institutions should look to as an innovative practice," said Heiser.
The WMU Signature program is split into three distinct phases that build upon one another. 
"In the first phase, EXPLORE, students participate in twelve experiences and two reflections before declaring a pathway, or passion area," explained Heiser. There are nine established pathways: civic engagement, diversity and inclusion, entrepreneurship, global engagement, health and wellness, leadership, social justice, sustainability, and teaching and student success.
The second phase, FOCUS, requires the student to attend six pathway-specific events to help narrow their interests and further their passion and knowledge. The final phase, P.E.A.K. (Providing Evidence of Active Knowledge), provides students with the opportunity to transform their thoughts into actions and present their findings at the annual P.E.A.K. Fair in Sangren Hall. 39 students completed their P.E.A.K. experiences in the spring of 2019, a program record.
"WMU values and recognizes that learning not only takes place in the class, but also takes place out of the class, and that WMU Signature is the tangible way the university is demonstrating that recognition," Heiser added.
WMU Signature is available to all undergraduate and graduate students and has helped improve student engagement on campus since the program's inception back in 2016. For more information, visit https://wmich.edu/signature.