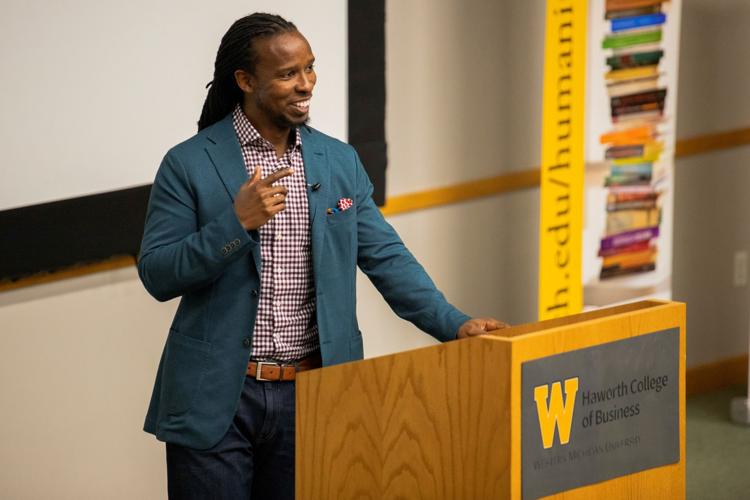 Award-winning author, Dr. Ibram X. Kendi, filled WMU's Schneider Hall on Nov. 15, where he spoke to over 400 faculty, students and community members about topics from his New York Times best-selling book, "How to be an Antiracist."
The key principle of Kendi's presentation was redefining what it means to be a racist. According to Kendi, this is necessary to breakdown racism. 
"I want to eliminate the term 'not racist,'" Kendi said. "I want us to stop using that conception. Not only because it's conception without meaning but, more importantly, it clouds our sense of who we are and, more importantly, who we need to be." 
Kendi explained that because no one wants to be considered a racist, no one will admit to being racist.  
"What people like to do is define racist in a way that constantly exonerates themselves," Kendi said. 
According to Kendi, this is because personal racism is viewed as a permanent, negative characteristic.  
"We have long been taught this idea that racist as a term is essential to who a person is," Kendi said. "Someone becomes a racist and they always will be a racist, just like someone is a bad person." 
Kendi's philosophy deviates from this by seeing personal racism as a temporary quality.  
"We should think of the term racist as a descriptive term," Kendi said. "We should also recognize why we consider it to be an attack term."  
Kendi explained that, instead, a person can switch between racist and antiracist.  
"Anytime someone says a racist idea, in that moment they are being racist," Kendi said. "If in the next moment they express an idea that suggests there is nothing wrong with a racial group or that the racial groups are equal, in that very next moment they are being antiracist." 
Kendi said the core of racism is denial. He used slaveholder's justifications of slavery as an example: slaveholders believed that it was God's will to enslave Africans because they were the cursed descendants of Ham, or barbaric animals destined to serve Whites.  
"In order to be antiracist, we have to admit first and foremost when we're being racist," Kendi said. 
He highlighted the importance of not blaming individuals for their own racist ideas. 
"Many Americans of all races have been manipulated into believing that they should use their power to resist other people as opposed to the policymaker," Kendi said. 
Kendi concluded by explaining that the key to dismantling racism is to examine who the policies that exist benefit, and who future policies will benefit. When you can identify where people are disenfranchised, you are able to make progress.  
"You literally have people who would rather themselves and other white people die rather than provide access and opportunity to other people," Kendi said. "And that is what Whiteness; that is what racist ideas; that is what racism has done to America." 
Quintez Brown traveled from Kentucky to hear Kendi speak at WMU on Friday. Brown, who has read both of Kendi's books "How to be an Anti-Racist" and "Stamped from the Beginning," sees a role model in Kendi.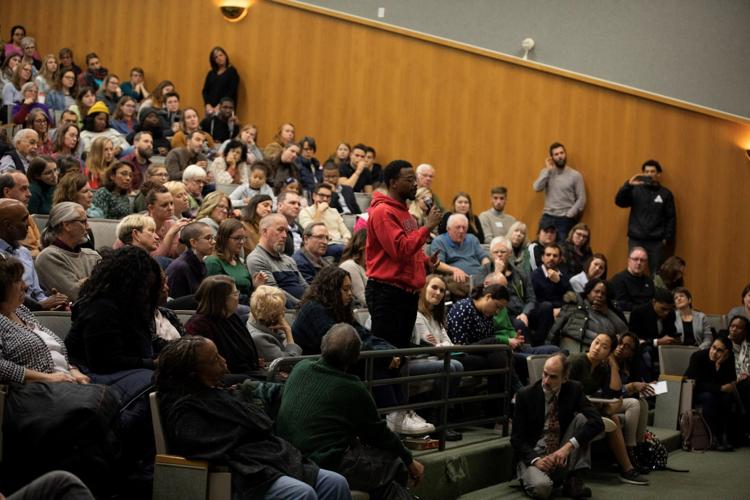 "After reading his books I was just so inspired and so moved by his words and his clarity that I felt like I had to meet him in person just to be in the presence of his conversation," Brown said. "Just to be able to ask him a question to gain more clarity on my racial ideology." 
The presentation opened the eyes of WMU student Anna Hagood. 
"I appreciated his definitions of everything because it was a new perspective for me," Hagood said. 
WMU student Jay Sibley, who has attended multiple book circles in anticipation of the event, appreciated the honesty that Kendi used in responding to the audience members' questions. 
"With the questions you get to put the person on the spot and see what they really think about everything," Sibley said.  
Director of the Lewis Walker Institute, Dr. Luchara Wallace, said it's important for students to hear Kendi's message. 
"As a culture we are often afraid to talk about race and to talk about racism and what it means," Wallace said. "Race is at the core of everything that we do; whether we acknowledge it or not, it's at the core, so we need to have these conversations. That's what a healthy institution such as WMU should have; we should have these kinds of dialogues."