Western Michigan University has changed drastically since Dec. 15, 2020.
Since then, the campus has returned largely to in-person operations, construction has continued on the Hilltop Village process and a new visual identity for the university has been rolled out. These changes have received mixed reviews and feedback from WMU students, faculty staff and alumni. 
Here are the biggest stories from 2021. 
WMU students, faculty, staff return to campus amid pandemic
Western Michigan University returned to in-person operations this year after classes moved online in March 2020 at the start of the COVID-19 pandemic. 
In anticipation of the return, WMU announced 75% of classes will be held in-person and encouraged community members to get the vaccine with the goal of reaching 'herd immunity.' At the time of publishing, 80.1% of students and 88.61% of employees have received the vaccine thus far.
The university initiated the Safe Return Plan, released in July 2020, as a guide for the initial shift to in-person operations.
"This academic year at WMU will be unlike any other," the plan reads. "It will require flexibility, resilience and grace from the entire campus community. This year will also be characterized by a high-quality academic experience that puts health and safety at the forefront."
The frequency and intensity of cleaning in public spaces was raised and move-in guidelines were put in place to allow for limited exposure.
WMU instituted a testing mandate requiring students to be tested weekly in-order to use in-person spaces. A badging system was also instituted to verify vaccination status. As cases increased in early August, a universal indoor mask mandate was instituted regardless of vaccination status. The mask mandate was conditionally lifted in the Student Recreation Center (SRC) to encourage higher student use as student use has dropped 40% amid the pandemic. 
In August 2021, some students protested and started petitions to stop the return to in-person classes as concerns mounted over the viability of the Safe Return Plan.
Protests continued for increased safety on campus as the Fall semester continued. On Sept. 22, organizers from unions on campus handed out flyers with a link to a petition detailing concerns that they had with WMU's COVID-19 health guidelines.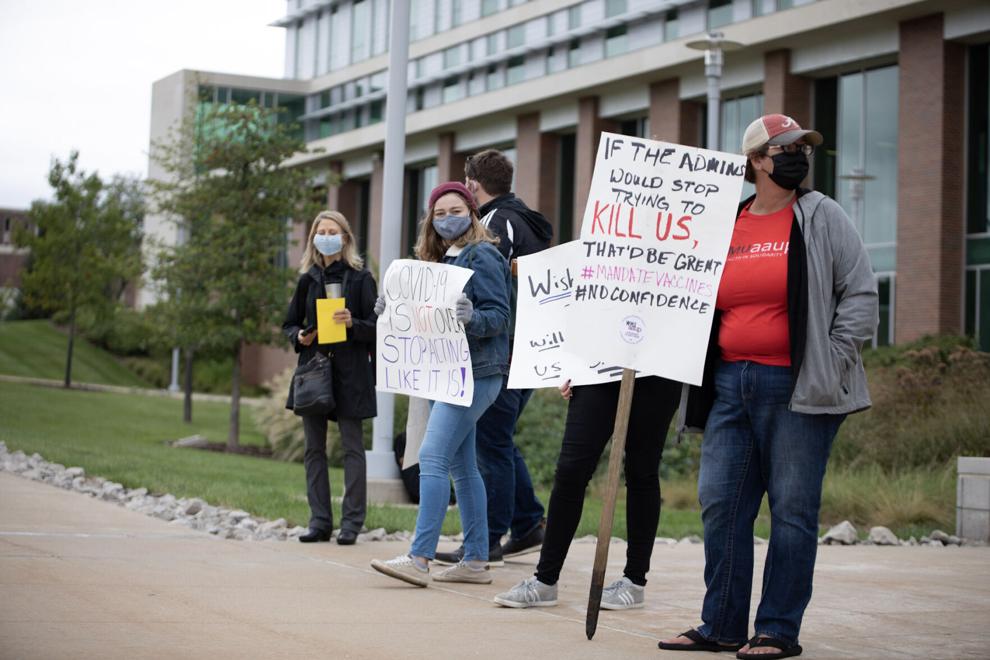 "There needs to be better attention paid to making sure classrooms are safe," said Assistant Professor in the School of Public Affairs and Administration, Vickie Edwards. "Air needs to be moving and circulating or else the virus will continue to spread."
WMU currently does not conduct contact tracing or have a system to report those who attempt to enter campus with a red badge. 
COVID-19 spread continues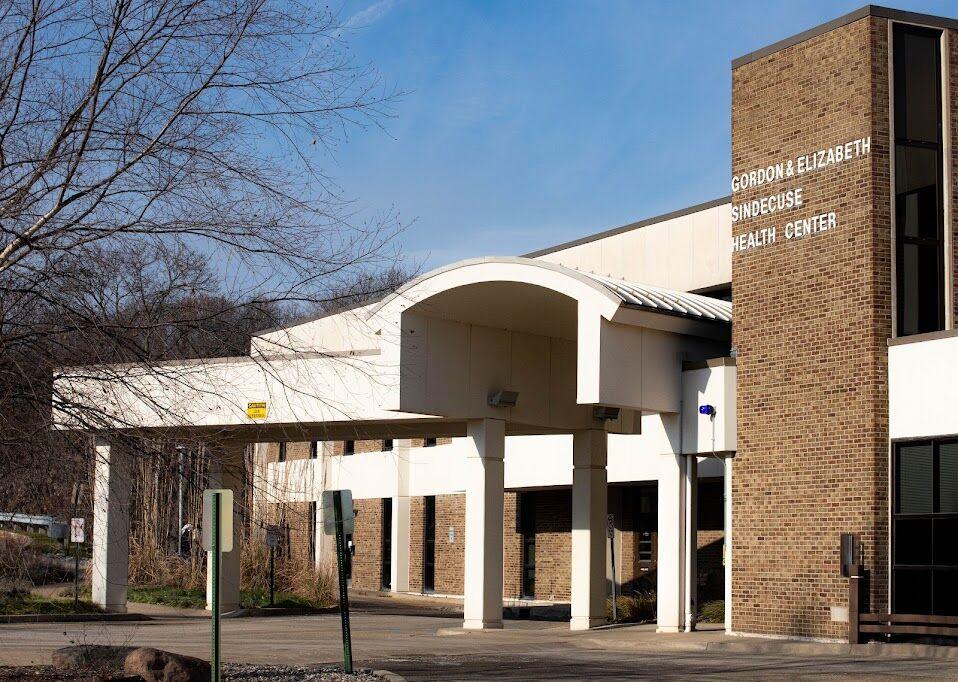 Western Michigan University began 2021 with a virtual start to the Spring semester and a one week delayed return to campus following a COVID-19 cautionary order from the Governor. 
In February fully vaccinated individuals were approved by Sindecuse Health Center (SHC) to skip quarantine if exposed to the virus. By March WMU announced the goal to offer a majority of Fall courses in-person. 
SHC was approved as a COVID-19 vaccination site in March. Vaccination began in April with clinics at the Student Recreation Center (SRC) and SHC with appointment options and expanded eligibility.
June also began the Vaccination Incentive Program, offering monthly scholarship raffles to those with vaccination confirmed with SHC. The program has awarded 60 scholarships worth $500 to $10,000. 
Guidance from the Centers for Disease Control and Prevention in July allowed counties with transmission rates at "moderate" or below, meaning 49.99 positive cases or less per 100k, to drop the indoor mask mandate for vaccinated individuals. WMU dropped the mandate for a month but quickly reinstated it in August once cases rose to a "substantial" transmission rate in Kalamazoo County meaning 50 to 100 positive cases per 100k.
In August, WMU announced the first campus vaccination rate at 40% of students and 66.4% of employees.
At the time of publishing, Kalamazoo has a "high" transmission rate with 463.28 positive cases per every 100,000 individuals, according to the CDC. WMU will return to a policy only requiring masks for unvaccinated individuals when Kalamazoo County falls below a "substantial" transmission rate, meaning 49.99 or less positive cases per 100,000 individuals. 
From Dec. 1 to Dec. 8 WMU saw 3.3% positive cases from 1,377 individual tests. Kalamazoo County saw a 16.2% positivity rate of 8,900 tests in the same time period.  
Hilltop Village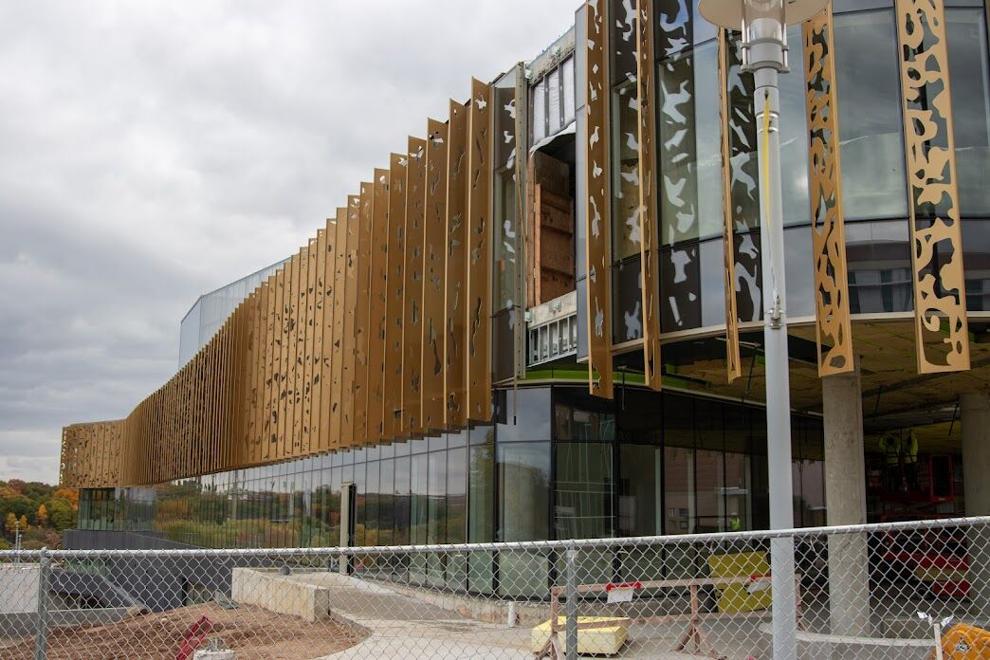 Western Michigan University continued construction on the Hilltop Village redesign in 2021. The main focus of the project remained on the new student center. 
The student center was delayed due to COVID-19. Originally set to open in Fall 2021, the building is now to be finished in Summer 2022. A grand opening will be held in August 2022.
The structure and exterior are complete, internal installments are now underway.
The building will be three stories totaling 162,450 square feet.
The first floor will be dedicated to food, retail space, a game room and an infinity space. The second floor will serve as a space for RSO's, a welcome center and presentation rooms. The third floor will hold the new dining hall and an office suite, which will include Dining Services, the Office of Student Engagement and other services.
The space is also to feature Michigan's first on-campus brew pub. The pub will be designed to attract students as well as the Kalamazoo community with craft brews and entertainment.
"We are going to have a space in the pub for staging, lighting and the sound system. Mainly evenings and weekends we will have entertainment there," said Director of the New Student Center Paul Terzino.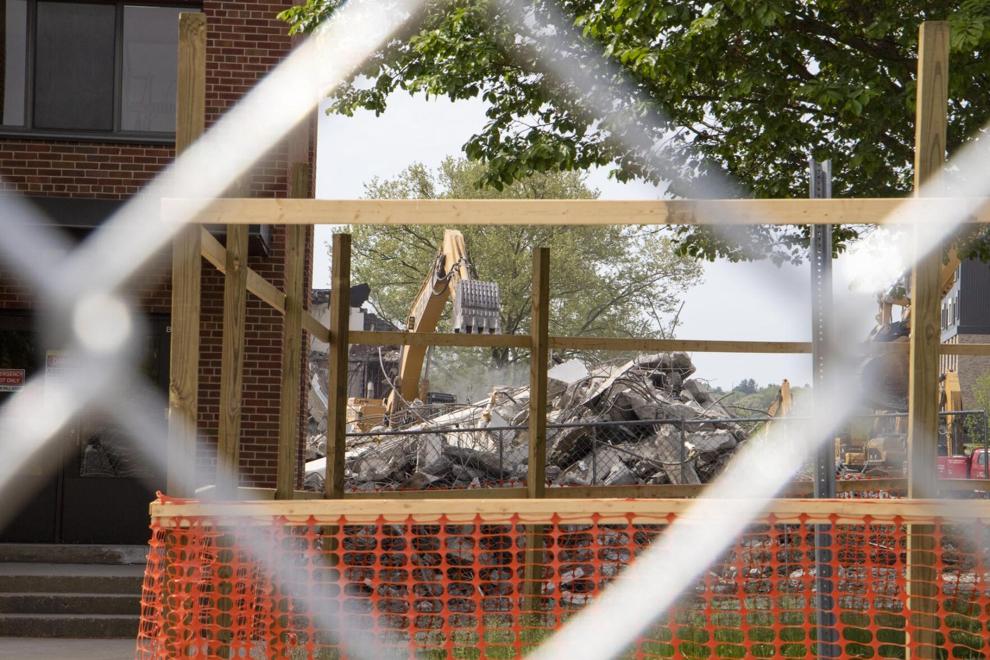 To make way for improvements, 2021 saw demolition of outdated housing. The "little three" dormitory village came down beginning in May through September.
The village consisted of Zimmerman, Davis and French Hall.
WMU rolls out new logos, visual identity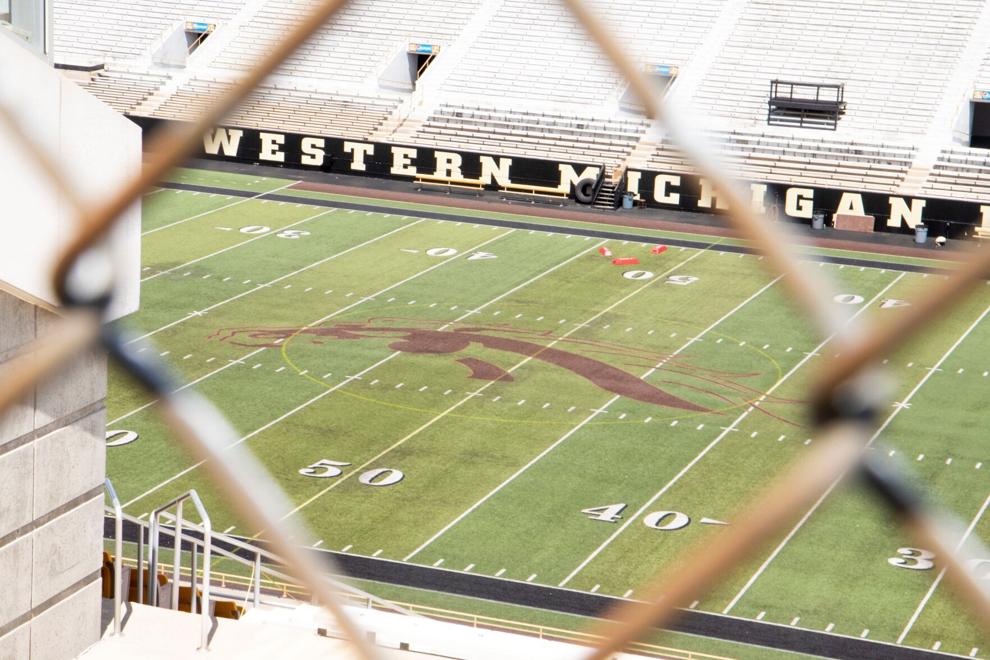 Western Michigan University's Office of Marketing and Strategic Communication (MarCom) rolled out an updated visual identity for the university on Dec. 6, 2020 through an unlisted Youtube video and email to faculty and staff the following day. 
Over the summer of 2021, the redesign drew widespread criticism from WMU community members.
The visual identity refresh features two new logos, a 'Circle W' and Spirit Logo, as well as a specification of brown, gold and white as the university's primary colors The university also has one neutral palette with three colors as well as six accent colors. 
"What are we trying to do? We're trying to achieve a consistent look so that when you see something on TV, you say 'oh that's Western Michigan,'" said WMU President Edward Montgomery. 
In the visual identity refresh announcement, Vice President of MarCom Tony Proudfoot said "we reduced our official colors from seven to two, brown and gold." This is not true as the current visual identity encompasses 12 colors. Of those, three are primary colors.
The visual identity was designed by seven alumni employed at the university. WMU currently has no record of who or when the new visual identity was officially approved.
According to a timeline of the rebranding process, the larger WMU community did not have a chance to provide feedback on the rebrand before it was rolled out.
From June 10 to 24, 2020 discussions were held with WMU Athletics senior staff and head coaches concerning the visual identity. A discussion was held with student athletes on July 30, 2020. On Nov, 3 and 4, 2020, Proudfoot listed "General Population Students" on the timeline.
WMU fifth year Sam Longstreth was confused as to why the new logo was being used for athletics. 
"This feels like someone went into photoshop and created this in five minutes," Longstreth said. "There's nothing that screams Western about the 'Circle W.'"
The 'Circle W,' currently the primary logo for WMU Athletics, was not designed to be used as an athletics logo, The new logos were approved in Spring 2020, according to WMU spokesperson Paula Davis.
WMU students sue university over athletics vaccine mandate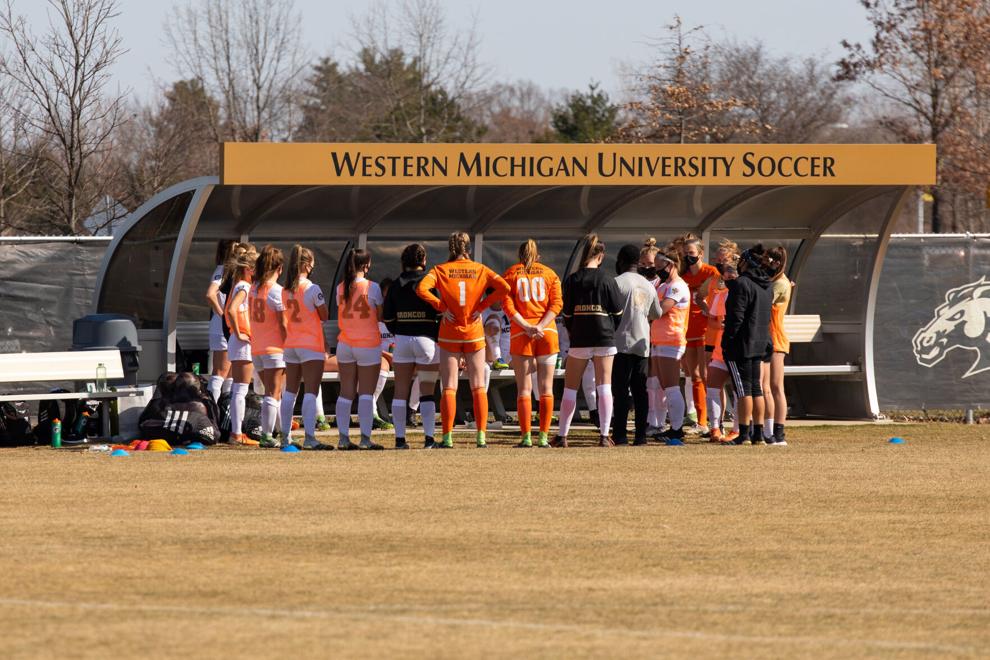 The Great Lakes Justice Center filed a lawsuit on behalf of four Western Michigan University women's soccer players against WMU on Aug. 30, 2021. 
The lawsuit alleged violations of the First Amendment right to free exercise of religion and the right to privacy, bodily integrity and to make personal medical decisions. Emily Dahl, Bailey Korhorn, Morgan Otteson and Hannah Redoute are the players who were the players represented. On Sept. 3, 12 additional student-athletes joined the lawsuit from other sports. WMU requires all varsity student-athletes to be vaccinated against COVID-19 or forfeit their right to participate. 
Student-athletes were provided an opportunity to request religious accommodations on Aug. 24. All of the initial four players filed requests, all requests were denied by the university. 
The students were granted a temporary restraining order by Judge Paul L. Maloney. WMU challenged this ruling in a federal appeals court and federal circuit court. Both appeals were denied. One reason for the denial was that WMU's absence of a campus-wide vaccine mandate creates potential exposure to COVID-19 from unvaccinated students. 
"Enforcement of the university's policies would likely deprive plaintiffs of their First Amendment rights and irreparable injury," the judge wrote. 
WMU has not lifted the vaccine mandate for student athletes in wake of the lawsuit or instituted a vaccine mandate for the general students, faculty or staff populations.