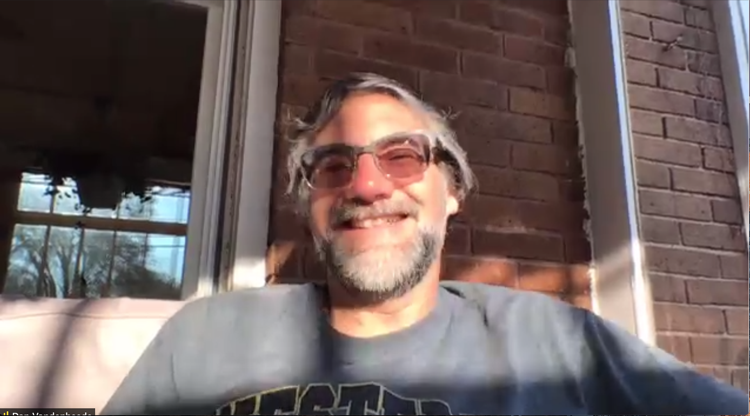 Western Michigan University's College Democrats held a virtual zoom meeting with Democratic candidate for Michigan's 78th district, Dan VandenHeede, on May 13.
WMU isn't in VandenHeede's district but he's a Bronco at heart. He received his bachelor's degree in history in 1992 and his master's degree in 2002. His wife and two daughters also attended WMU. 
He displayed his Bronco pride with a 'Western Michigan Dad' shirt on the call.
The last time a Democrat won the 78th district was in 1964. 
"This year has got to be the year," VandanHeede said. "If we can't bring out Dems this year we're in trouble."
VandanHeede is running against Brad Pauquette, a 'very conservative libertarian' in VandanHeede's words, who was elected in November 2018. 
One of VandenHeede's priorities is protecting funding for education. He believes despite Democratic control in Lansing, the state government has underfunded education in Michigan. 
"As a teacher, education is huge," VandenHeede said. "(It's) something I feel like we have to protect and prioritize."
He said his biggest issues are education, tax reform and healthcare. In the future, he hopes to bring a more progressive voice to Lansing, especially in terms of taxation. 
WMU student Mary Harman asked VandenHeede what he believes needs to be changed in the school system.
"I really enjoyed the actual teaching, but through the years it's like the trust in teachers went away so the autonomy in the classroom went away," he answered. "There's some benefit in a core curriculum, but (teachers) can bring something else to the curriculum that's maybe beyond what is in the curriculum."
He feels for-profit charter schools have been taking money from public schools. VandenHeede lives in Niles and taught in the Dowagiac school district.
"It starts as a trickle at first but it becomes who's going to be the last one to flee the sinking ship," VandenHeede said. "You end up with districts who not only are taking the role models but they're taking the state dollars."
WMU student Henry Thiry questioned how VandenHeede manages to critique the Democratic establishment with his progressive agenda in a conservative district.
"I think often times when I try to engage in that conversation with other Democrats it turns into this idea that somehow I want Trump to win," Thiry expressed. "I guess you're kind of in a unique situation where your area is pretty conservative and rural so you don't want to go out and say all this super progressive stuff."
VandenHeede explained how he heavily supports Bernie Sanders and there are a lot of things in both parties that frustrate him. Despite his critiques, he plans on supporting Joe Biden in the November presidential election. 
"You have to play on the field where the game is and right now that's where the game is," VandenHeede said. "You're going to have a lot of influence of money in some places and it's unfortunate. I would like to run as an independent but honestly, I don't have a big chance as a democrat but I would have no chance as an independent."
 Because of social distance guidelines, all campaigning is conducted digitally through calls and social media.
"Helping to spread the word about Democrats helps me and it helps all the candidates," VandenHeede said. "It's not just about getting Trump out of office it's about bringing Democrats into the state legislature."
In the future, the WMU Dems are hoping to help VandenHeede's campaign by phone banking.
"Your values are pretty much our values, so we'd love to help you out," WMU Dems President, Cole Hamilton, told VandenHeede towards the end of the meeting.
The WMU Dems officially endorsed VandenHeede on May 14.