Students from area middle and high schools skipped class on Friday, Sept. 20 to protest inaction regarding climate change. They were joined at the downtown strike by college students from WMU and Kalamazoo Valley Community College.
The Kalamazoo strike was just one of many across the world. The global climate strike was designed to bring greater attention to climate change and to demand action to reduce world-wide dependency on fossil fuels.
Senior Tyler Boest, an intern for Kalamazoo Nonviolent Opponents of War, was one of the students involved in the planning of the strike. Boest hoped to send a message to government officials regarding the climate strike.
"We want to show government on all levels that we need to take actions and hold those who are destroying our environment accountable," Boest said. "For over 40 years, scientists from these fossil fuel companies have known about the science behind climate change and the fact that their emissions would end up destroying the environment and we think that's criminal.
Junior Megan Nippa was also involved planning for the strikes. Nippa wants to have a voice when it comes to climate change.
"I'm really passionate about the environment specifically, the more natural wilderness part of it," Nippa said. "I'm studying biology and I want to stand up for the creatures of the earth who can't defend themselves that are dying because of humans' actions specifically rich humans, corporations."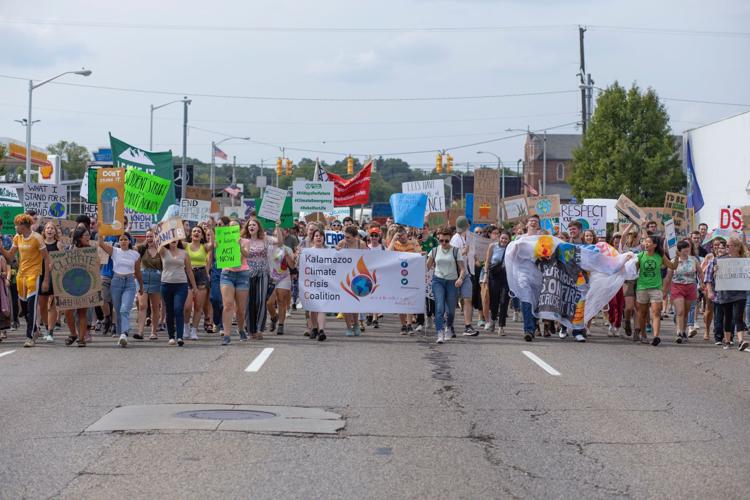 There are over 150 countries who are participating in multiple climate strikes according to Nippa.
Other students in attendance at the strike included those who attend classes at KVCC. First year student Aurora Shadle was one of the students who marched.
"I want a future on the planet," Shadle said. "One that's not full of destruction and people dying because their homes are displaced from the climate changing."
Young people were a big part of the strike. Shadle believes they will be a big part of the solution and the government should notice.
"I hope they notice that young people are here because we're going to have to deal with it. They're going to die by the time it's a serious problem," Shadle said. "It's already a serious problem but by the time they're dead it's going to be our detrimental problem."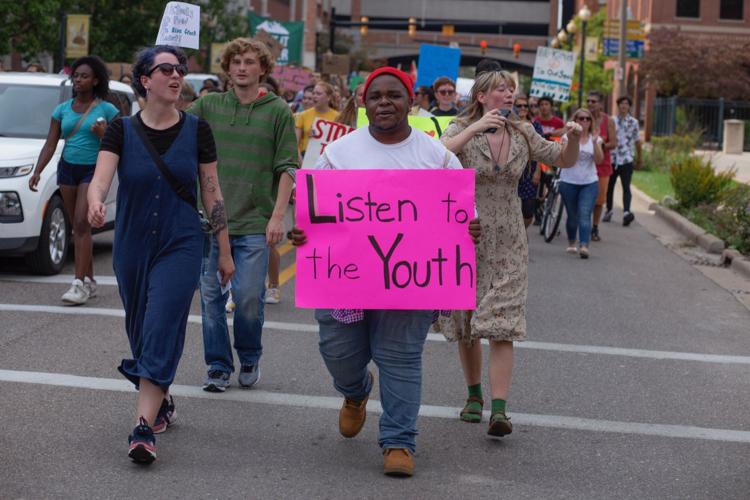 WMU sophomore Tyler Robak believes climate change is a problem and we need to do more to solve the problem before it's too late.
"I think climate change is really important and I don't think we're doing enough to stop it," Robak said. "I would say [to our government officials] put a carbon tax on stuff, more green policies, carbon emission caps. Just various programs to get us carbon neutral by 2050 at least."
WMU professor Denise Keele was grateful to see everyone who participated in the climate strike.
"I am so impressed, when all the students came marching from Western and K [college] to descend on [Arcadia park] this is exceeding our expectations for the amount of numbers coming out today," Keele said. "It's so wonderful to see this many people coming together in Kalamazoo for the climate crisis."
Keele believes there is not enough awareness for climate change and she hopes to send the message to the public as part of the strike.
"We are marching so that we tell the truth, the idea is that there is not enough public awareness about the actual climate crisis." Keele said. "We've been calling it climate change we are way beyond that, we are in a disruption we are in a crisis and that's what everybody here is trying to make sure folks we are disrupting normal activity because climate change is about to disrupt your normal activity."