Western Michigan's Student Association (WSA) released a statement in support of a student who raised concerns of appropriation during a WMU School of Music production.
WSA joins WMU's Black Student Union in calling for a formal apology regarding a Feb. 19 show at the Dalton Center Recital Hall.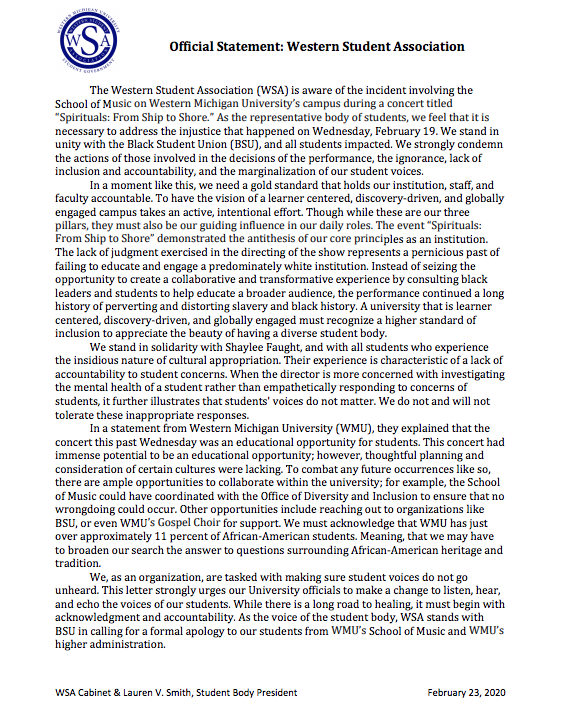 The university has responded to claims of discomfort among members of the show and audience after music student and audience member of the Feb. 19 production of "Spirituals: From Ship to Shore," a collection of songs sung by black slaves in the 18th and 19th centuries, called the WMU School of Music show "a mockery of (black) culture."
The viral post
Taking place inside of the Dalton Recital Hall, featuring over one hundred members of WMU's voice faculty and ensembles, the show was led by Dr. John Wesley Wright, guest professor at WMU and associate professor at Salisbury University.
According to multiple members of the majority white production and audience, Wright described how the spirituals "don't belong to one race," that the songs had become so entrenched in U.S. history and culture that the songs being performed "had no ethnicity" and are "American songs." 
Fourth year music student, Shaylee Faught, called Wright's comments "ignorant."
The video Faught posted to Twitter Thursday has been viewed over 2 million times, liked over 141,000 times, has garnered nearly 2,000 comments, which range in opinion.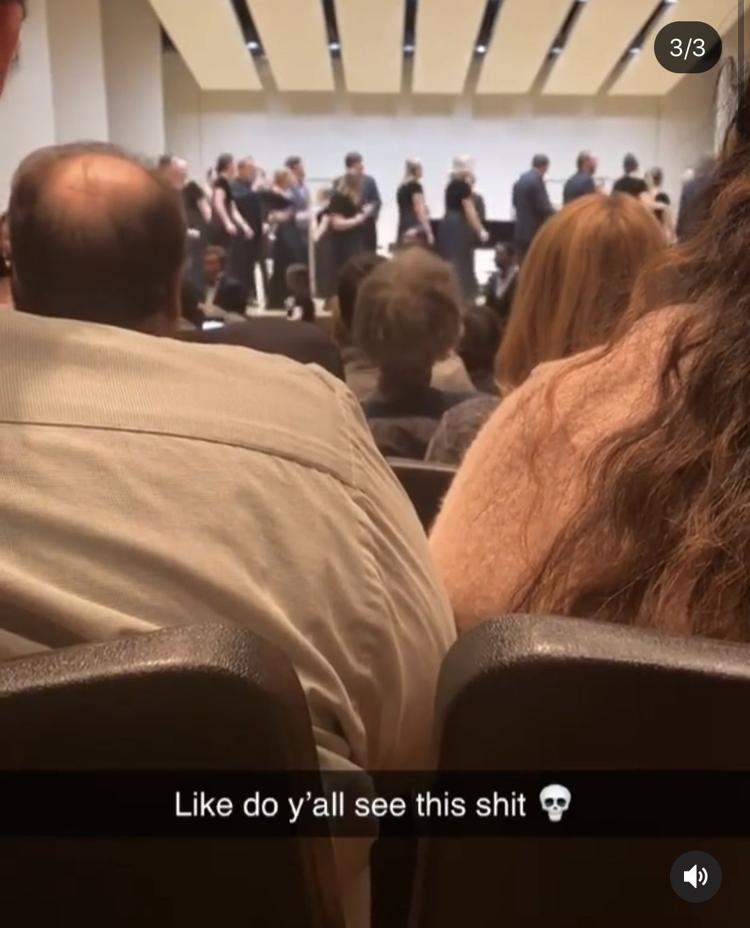 In the post, Faught says "So apparently Western Michigan University thinks it's ok for white people to sing negro spirituals while the instructor talking about 'these songs don't belong to one race.' They sure as hell do."
Students speak out
Some of the songs performed Wednesday including "Wade in the Water" and "Walking up With My Mind on Freedom," were not included in the original program according to one of the vocalists. 
WMU vocalist, Kayla Lawson, who is black, sang in Wednesday's show. She said Wright's inclusion of these songs came at the last minute. 
"We prepared all the other stuff but (Wright) randomly pulled that out and had us sing it and we had no idea that was happening, he just told us to start singing to make a point," Lawson said. 
Another member of the show said she and her other vocalist also expressed discomfort, and were unsure how the performance would be received leading up to Wednesday's concert. 
Allison Rousseau, a freshman vocal music education major, brought her concerns directly to her classmates before Wednesday's show.
"Our instructor (Wright) was African-American and he said it was okay because the songs aren't just (black) culture," Rousseau said. 
Rousseau trusted the advice of Wright and went on with the show, carrying her mixed feelings to the stage. 
"It was just so conflicting to be a part of that," Rousseau said. "I'm upset that I didn't say something before because I didn't know how many people felt the same way that I did."
Another student vocalist who performed in "Spirituals," Tre Bryant, offered a different opinion, describing his classmates' concerns as misconceptions. 
"I don't think that much needs to have been done differently. Dr. Wright did his due diligence of educating the audience and performers of what they were doing, and what the songs meant," Bryant said. 
Bryant explained that as these songs which originated from slavery, have evolved and entrenched themselves into different styles of music today, like blues, rock and jazz. Bryant said everyone should know where they came from, which is why Wright called the songs "for everyone."
"We cannot expect people of other races to truly understand what our people had to go through and the songs they sang just to make it through the day, if we are not willing to allow them to learn, and that's what this was meant to be," Bryant, who is black, said. 
An audience member, DeUnique Dorris, director of outreach at BSU, said Wright's comments throughout the concert were attempting to change the meaning of the historically black music being performed by the majority white ensemble.
"The teacher (Wright) wasn't acknowledging the history when he's saying it's for everyone. Yeah, it's for everyone to hear, but it takes away the meaning when it's from a mostly white cast," Dorris said. 
Wright came to WMU on residency after Dr. Ken Prewitt, a professor of voice at WMU, reached out last year. Wright had arrived in Kalamazoo Feb. 14, to prepare the choirs for the Feb. 19 performance.
In a call made to his office, Prewitt told Western Herald Friday morning Wright is "one of the premiere people for this kind of presentation," declining further comment. The university provided a statement Friday, which called Wright a "renowned expert," it was "pleased and honored" to bring to campus. 
BSU, WSA respond to Wright's comments
Friday morning, WMU Black Student Union executives demanded an apology in a statement, calling the performance appalling, citing the show as "another example of racial insensitivity allowed on WMU's campus."
Sunday night, the Western Student Association released a statement demanding a formal apology from the university. 
"We stand with Shaylee Faught, and the students who experience the insidious nature of cultural appropriation. Their experience is characteristic of a lack of accountability to student concerns. When the director is more concerned with investigating the mental health of a student rather than empathetically responding to concerns of students, it further illustrates that student's voices do not matter. We do not and will not tolerate these inappropriate responses. 
Guest professor responds
In an interview with Western Herald Friday, Wright said he has nothing to apologize for. 
"I do not feel the need to have to defend what I'm doing and I've done this for 30 years and to great response," Wright said.
While Wright extended an invitation to Rousseau, one of the student vocalists who felt uncomfortable participating in his show, Wright questioned the motives and well being of Faught, the student who was the first to make her discomfort during the concert known.
Wright said when he brought up the video to one of his mentors, she asked whether the student who posted the clip had been vetted.
"I just got off the phone with the bass from 'Sweet Honey in The Rock' (an African-American a cappella ensemble) and her first question was has anyone looked into the mental health of the people who made those comments?"
"So has anyone investigated this person?" Wright asked.
University moving forward
The university responded to Wright's comments toward Faught on Saturday, calling them "unfortunate." 
Reiterating its statement from Saturday, WMU said "the student's perspective is real and is important, without a doubt."
University officials plan to meet with Faught Monday to further discuss her concerns. A spokesperson for the university said "the conversation (on Monday) is going to be key and that conversation hasn't happened yet. 
The representative was not aware of any plans of Wright returning to WMU in the future. 
Editor's note: This is an ongoing story. Click here to read the previous articles published regarding this story. Continue to follow this story for updates.
Several members of Wednesday's show did not respond or declined to comment.
Lead Community & Culture Reporter Aya Miller contributed to the reporting in this article.