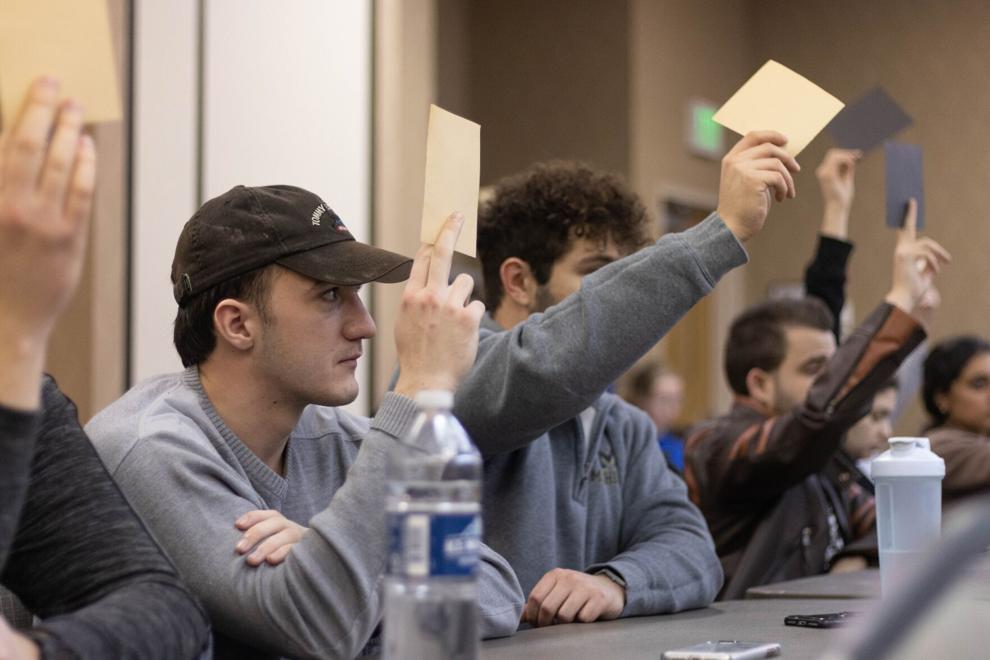 Chair of the Western Michigan University Board of Trustees (BoT) Shelly Edgerton and Secretary to the Board Kahler Schuemann visited a March 3 meeting of the Western Student Association (WSA) Legislative Assembly.
Schuemann explained how all eight members of the BoT are appointed by the governor of Michigan to represent the people. He also described their roles and responsibilities which include hiring the WMU president, conferring degrees and approving the demolition and construction of buildings.
Edgerton gave her own short speech further emphasizing their roles and responsibilities, congratulating the newly elected WSA president, vice president and chief of staff, as well as applauding the outgoing Sun-Macron administration for their work.
Edgerton mentioned the three newly appointed BoT members and described the positive side of her role.
"Being a Trustee is rewarding…it really allows us to use our professional experience and our education and our background to help serve this WMU community," Edgerton said.
After both speeches, students were encouraged to ask questions. The WSA president-elect Kayla Byrd asked Edgerton what she thought about the sale of alcohol at WMU sporting events. Edgerton admitted the board had not yet taken a position but could see both advantages and disadvantages to allowing it.
"We just hope people are responsible drinkers and don't get too crazy because you certainly wouldn't want someone to have an incident when they're leaving campus," Edgerton said.
During the meeting, Kyle Jackson lost a confirmation vote for the position of Executive Officer for Diversity Equity and Inclusion. This occurred after members of the general assembly and representatives of Registered Student Organizations (RSOs) raised various concerns.
"I am a person from a multicultural background…and…I don't hear any concrete plans, I hear ideas, I hear a focus on people of his own cultural background, which is very good although I agree that it can be very limiting over time as there are more students in our student body," said one RSO representative.
In a statement, Assembly Speaker Sam Longlet still saw the event as something to take pride in.
"While, as Speaker, I must remain neutral on all matters brought in front of the WSA Assembly, I wish to congratulate Assembly Members for holding their leaders accountable," Longlet said. "I am incredibly proud of the Assembly in their ability to effectively advocate for the changes they want made."
Current WSA Executive Officer for Governmental Affairs Mason Deraad was confirmed as next year's Chief of Finance in the upcoming Byrd-Bringas administration. Deraad will be replacing Melissa Powers who, as a part of the Byrd-Bringas-Powers slate, was recently elected as the WSA Chief of Staff.
Longlet announced the upcoming elections for speaker of the assembly and briefly went over the position.
The WSA Legislative Assembly will meet next Wednesday, March 22, for a nonvoting meeting from 5:30-7 p.m. in room 157 of the Bernhard center.