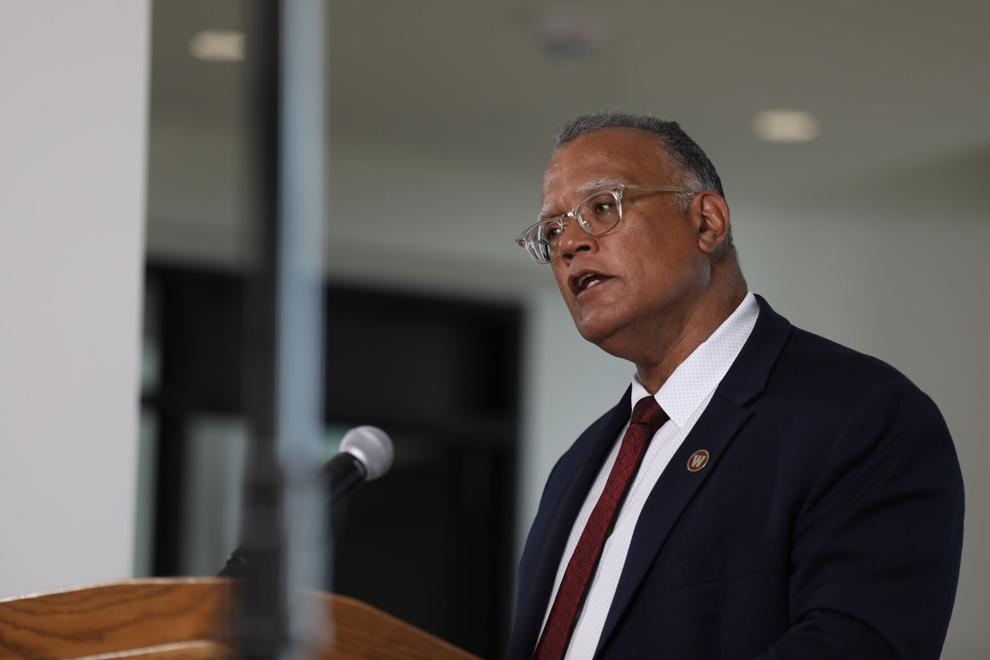 Diversity, equity, inclusion and justice; those are the foundations of the record-breaking $550 million gift Western Michigan University received from anonymous alumni. The donation is the largest awarded to a public university in national history.
The money will be donated over ten years, with $300 million going to the WMU Homer Stryker M.D. School of Medicine (WMed) and $200 million going to financial assistance, hiring and other endeavors. $50 million will also go to Bronco Athletics.  
Montgomery announced the Empowering Futures Gift Tuesday, June 8, at Heritage Hall. In his opening remarks, Montgomery highlighted inequities plaguing those who seek higher education.
"Barriers to student success remain and achievement gaps against the most vulnerable population are stubbornly persistent," Montgomery said. "While some barriers are indeed financial, often they go far beyond that. Often, we're finding students who need holistic support and we must look hard at our systems to ensure they provide equitable opportunities for everyone."
The donation was entitled the 'Empowering Futures Gift' because the donors recognized barriers disenfranchised groups face and believe in the power of higher education to create equity.
"The donors who are making today's announcement possible, are signifying that they believe in higher education's power to change lives," Montgomery said. "By investing in Western, they are demonstrating that they recognize and support our ongoing efforts to serve as an engine of social mobility."
Montgomery touched on how the gift builds upon the university's history as a teacher's college, training those who go on to serve rural and urban areas.  
"We take pride in being a university that understands, it's not where you start in life, it's where you finish," Montgomery said. "Thousands of first generation college students have chosen Western for its high quality education. They earn degrees that not only let them change the trajectory of their lives, but that of their families. We must keep that pathway open."
The gift focuses on four areas: access and retention, purpose and passion, well being and transformational excellence.
WMed plans on using the $300 million to ease financial burden of future doctors, expand recruitment to attract diverse candidates and expand the school's portfolio in science and research.
"It opens the possibility for us to do so many things on behalf of the community, the medical school and most importantly the people we serve," said WMed Dean Paula Termuhlen.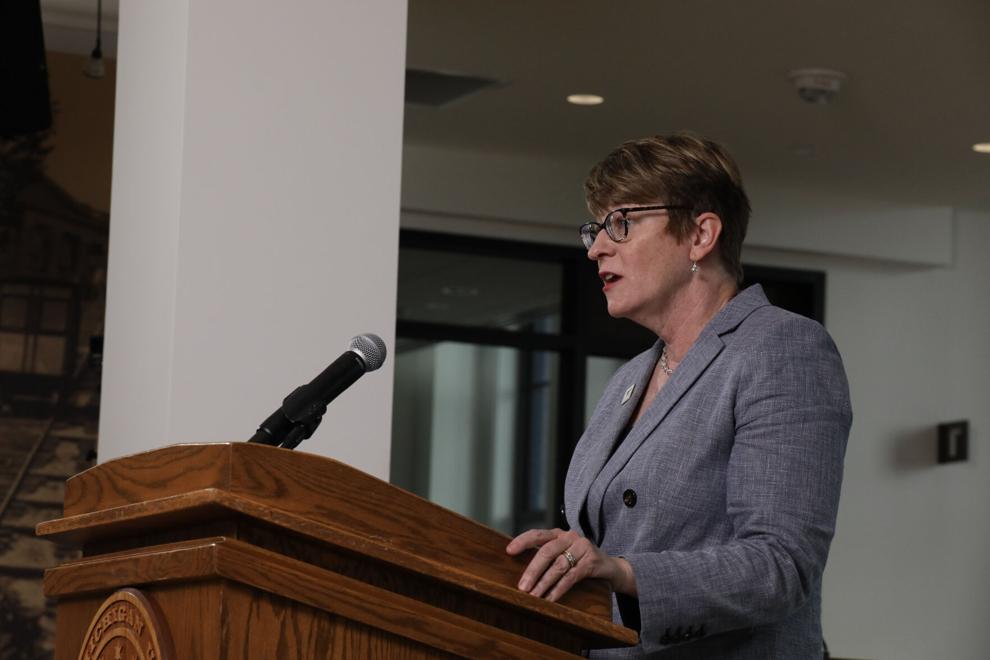 Termuhlen emphasized the importance of justice in the medical space. She explained how highlighting justice will transform not only WMed and WMU, but Kalamazoo and Southwest Michigan. 
"We truly need to create a workforce that reflects and understands the people we serve," she said. "This means building diversity, equity, inclusion and justice into our institutions and not just students but also our faculty and our staff."
In an interview with Western Herald, Termuhlen highlighted the inequities people of color as well as LGBTQ+, trans individuals, specifically, face when seeking medical help.
"If you're not a heterosexual caucasian person, there are health measures that aren't nearly as good as they should be," Termuhlen said. "Some of that's about health access, some of that's about how you're treated when you see a physician that doesn't look or think or reflect you or understand you. Our goal is to really knock that down so we can really create that health equity and justice we aspire to."
Termuhlen anticipates they'll generate enough scholarship dollars so every student can receive something. Wmed student Ernie Morton highlighted the importance of financial assistance in pursuing a medical degree. One of the reasons why Morton chose WMed was because there was financial assistance for students of color.
"It's very expensive, not only to just attend medical school but all the additional costs on top of that like your living costs, the cost for your board exams which cost almost $1000 a piece, the cost for the resources, residency applications, it all just really adds up," Morton explained. "Being able to have this extra support is huge for students, allows us to really focus on medicine, focus on our studies, on our patients, and not trying to balance the finances."
The $200 million earmarked for WMU will focus on faculty retention, increasing scholarship & room and board support as well as supporting "cash strapped" juniors and seniors. The university has not yet decided how much of the funds will be allotted to specific scholarships.  
In an interview with Western Herald, Montgomery explained how investing only in scholarship proved not to be sufficient for students to become fully engaged on campus.
"What we've found is particularly in the first year and sometimes somewhat in the second year that living on campus really helps with retention because you find friends, you find a community," Montgomery explained. "It wasn't enough to give somebody tuition dollars if (they) can't afford to live in the housing."
The investment comes as COVID-19 has changed the housing options available to students on campus. For the 2021-22 academic year, students will only reside in residence halls with private or semi-private bathrooms.
Montgomery, who has a background in public policy, emphasized the importance of alleviating student debt and making college an accessible endeavor.
"Student debt now is, I think, the first or second most debt in the country, it's over one trillion dollars, it's real," he said. "These can be burdensome, they can keep people from choosing the right careers for them and making other life decisions. (College) is a good investment, but it's our job as much as we can to make it an affordable investment."
According to Montgomery, the gift is all about serving the student experience. 
"We've been really committed to re-focusing around that student experience to make sure we're giving them what they want," Montgomery said. "What students and their families have increasingly told us is that they want a good career and they want a good life. And so part of our task is to make sure that we design our curriculum to make sure it's responsive to not only their first job but their tenth job."
Montgomery is hoping the gift will help the university attract low income students and students of color. This could potentially help reverse a decline in enrollment WMU has faced in recent years. 
"We're hoping to use this money to locate where the barriers are," Montgomery explained. "Some of the barriers are financial, some of those are housing, some of them are earlier in your career, some of them occur later in your career. We want to target how we break down those barriers."
A key part of this is focusing on retention for students of color.
"How do we support students so that not only do we attract diverse students, students of color, but that they stay, and they succeed and they graduate," Montgomery said. "Coming and not succeeding isn't our mission, our mission is to help you succeed."