Food insecurity is one of the biggest issues facing college students. National studies reveal that over 40% of all college students have experienced or are experiencing food insecurity. A recent survey showed that over 50% of students at WMU have battled with food insecurity within the last year.
Free/reduced lunch programs like those usually offered in high school are not currently available on most college campuses, which can put students from low-income families in a tough position. The Invisible Need Project, located in the lower level of the Faunce Student Services Building on campus, has stepped up to tackle the issue.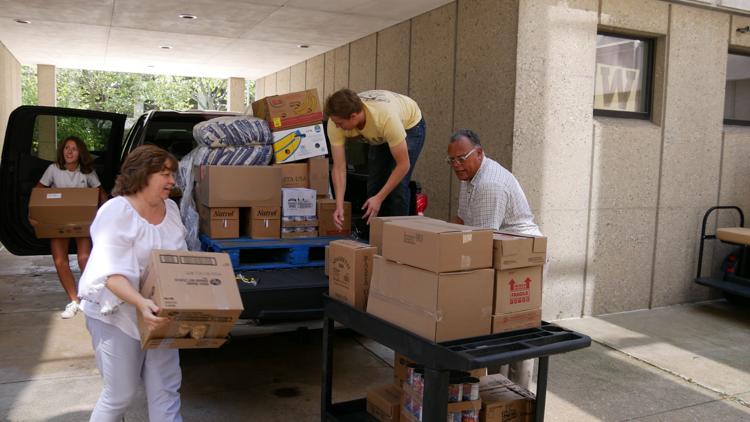 "We have a food pantry that is open to any student at WMU that is enrolled in classes and has their bronco ID," said Josh Conley, an Invisible Need Graduate Assistant. "Students can come once every two weeks and grab a bag of food. It's not designed to be the only source of food, but it is designed to help."
Conley said he has helped students that hadn't eaten in days and who said they couldn't have survived without the pantry.
"There is a huge issue with poverty and health in higher education right now," Conley said.
In addition to food, the pantry focuses on providing students with basic hygiene products like toothpaste, toothbrushes, deodorant, body wash, shampoo, and conditioner.
"Students are always very happy when they come in here and see that those things are here as well," Conley said. "These things are not amenities, they are necessities."
The Invisible Need Project started in a three-shelf storage closet on the second floor of the Faunce Student Services Building. Now, on a monthly basis, the pantry usually sees over 150 visitors.
 "We opened in the fall of 2015, and since that time we have seen a regular increase of students come into the pantry. Between 2017-2018 and 2018-2019, we had an 88% increase in usage," said Karen Lamons, the Invisible Need Project Committee Co-Chair.
Josh Conley is the only designated employee working under Lamons at the moment. The Invisible Need Project relies on volunteers that have other roles on campus willing to give up their free time to help put a stop to food insecurity on campus. 
"We are doing the best we can with the time and resources we have," Lamons said.
There are over 30 labeled donation sites across campus where students and faculty alike can contribute to the Invisible Need Project. All of the food in the pantry comes from food/supply or monetary donations. The project also raises money by selling the official WMU game day t-shirt every year.
Lamons is well aware of the impact and responsibility of the initiative and said that she is willing to do everything in her power to make sure more students are healthy and can continue on and graduate.
"The purpose is to meet student's needs, pure and simple," she said.
The Invisible Need Project is always looking for ways to improve its service and incorporate feedback from students. Lamons said there is the posibility of a student advisory committee in the near future to provide more of the student's perspective.
"If you have food insecurity, there is a very good chance you have other needs as well. We are looking at what those other needs are and how we can address them," Lamons said.
On top of the food pantry, Invisible Need also supports an emergency relief fund for unexpected financial needs, a health emergency fund, and Broncos.Period. which helps female students have access to menstrual products.
The pantry and office is open year-round and generally whenever classes are in session. To find more information on the Invisible Need Project or to find out how to make a donation to visit https://wmich.edu/invisibleneed.