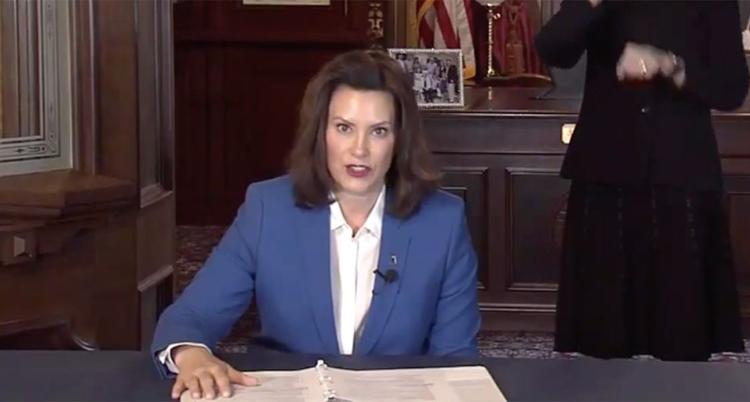 "This is an order, not a recommendation."
Michigan Gov. Gretchen Whitmer told reporters this as she announced that Michigan will be under an executive order requiring residents to avoid the public except for essential reasons starting at 12 a.m. Tuesday, March 24.
The order is hoped to "bend the curve" regarding to COVID-19 and will last for at least the next free weeks.
At 11 a.m. Whitmer held a press conference announcing the order and discussing the reasons for it. The order follows states like Ohio, New York and Illinois as well as other states and cities across the country.
"I've seen the projections for what's coming, and it looks a lot like Italy," Whitmer said. "We need to make sure that doesn't happen in Michigan"
Yesterday, Italy sat at nearly 5,500 deaths due to COVID-19 with around 500 to 700 deaths per day over the weekend.
Michigan has 15 dead to the disease, Whitmer said.
If the novel coronavirus spreads in Michigan like it has in Italy, 7 million will be infected.
"On that 7 million projected, about a million would need to be hospitalized…. We have 25,000 acute care beds," Whitmer said.
The governor noted that the disease, which had previously only been expected to be fatal or cause major health consequences in elders or those with underlying conditions, is now particularly affecting young people.
Whitmer also expressed frustration with the federal government's response to the crisis.
"We still are not getting what we need from the federal government," Whitmer said. She then criticized President Donald Trump, who knew about the potential for a pandemic this winter, as early as January according to some reports. The governor said the supplies received from the federal government would only be enough to last a single shift at a hospital.
Whitmer and other governors were briefed on the federal response to the disease.
"The message from the president was that we are on our own," Whitmer said.
The governor also praised Michigan residents and businesses for their help with the crisis. Businesses have been working to provide masks and other supplies to hospitals, and some distilleries have begun producing hand sanitizer.
"During these difficult times I have seen the best in people," the governor said.
The order is the most recent in a series of escalating decisions over the past few weeks. Schools and universities, which had originally closed for a limited time, are now closed for the foreseeable future. Students in residence halls at WMU and other universities across the state were sent home over the weekend.
Grocery stores, pharmacies and other essential services will remain open during the order.
The full text of the executive order can be found on the state's COVID-19 response website.
"This order must be construed broadly to prohibit in-person work that is not necessary to sustain or protect life," reads the first and most broad clause of the order.