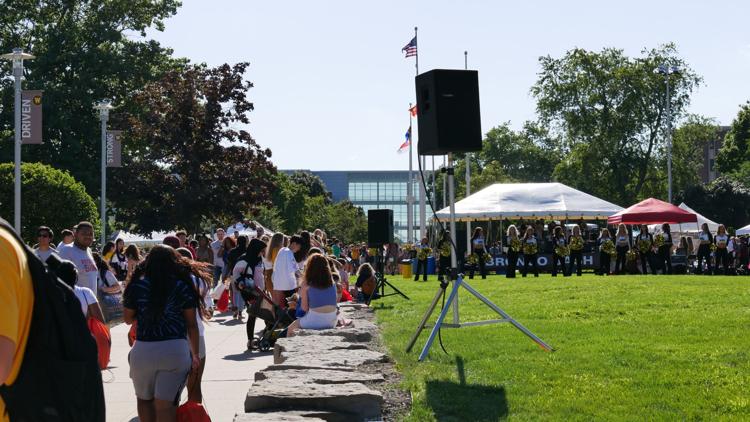 Student debt at WMU:
This week thousands of students will attend their first class at WMU. Thousands more will be returning as upperclassmen. Together they will accumulate millions of dollars in debt.
According to numbers aggregated by Peterson's Data and released by LendEdu, the average public university student and their family will take on about $31,000 a year in debt. As of 2017, the College Board reported that the average student will graduate with a debt of $28,500 not including debt taken along by their family.
This rise in debt is tied to the cost of higher education which is growing significantly faster than income levels. WMU raised its instate undergraduate tuition by $534 this summer, a 4.3% increase from last year.
Student perspectives:
Ryan Quandt, a second year political science student and resident assistant, shared his thoughts on student debt and discussed what he had to take out this fall. Being a RA the university waives Quandt's room and board costs, but even tuition alone is a major investment.
"I took out $7,500 for the fall, so $15,000 total for the year," Quandt said. Aside from these loans, Quandt said that he still had to take out an unnecessary loan for housing. 
"Western has yet to [account for] RA stipend so I had to take out a loan that I wasn't sure I needed," he said.
Last year, when deciding whether to remain at Western or transfer to another school, the cost of attendance was a factor in Quandt's decision.
"The RA position is a big reason I'm staying at Western," he said. "If I were not chosen to be an RA, I would feel like my money could be spent elsewhere."
Quandt elaborated on this sentiment, explaining that he does not see Western as an institution that is academically rigorous as other universities in Michigan. Without the financial incentive of free room and board the decision to stay would have been much more difficult, he said. Despite this, Quandt added that he may have chosen to stay at WMU regardless owing to the sense of community he's found.
"Western may not be the most academically challenging college, but it excels in creating a great environment to learn and grow in," Quandt said. "I don't think I would transfer because of the community and support structure I've built here."
Another student, Anna Lancaster, said that she had to take on $7,500 in debt to attend this semester. In the past she has relied on need based aid to attend, but due to the way aid is calculated she was unable to this year.
"My dad had to pull out of his retirement to pay some bills this year," she said. "Because that showed up as income, I stopped qualifying."
Lancaster said she feels that the money her father pulled from his retirement should not be included as income for financial aid purposes.
"It's not like this is extra money, he had to pull from it because we had no money," she said. "I just want my dad to be able to retire."
Student debt as a political issue:
The ever growing sum of student debt in the United States is seen by many as one of the most essential issues facing the country growing forward. Democratic presidential candidates Sen. Bernie Sanders and Sen. Elizabeth Warren have both unveiled planned policies that would see the forgiveness of a large majority of student debt. Democratic candidate Sen. Kamala Harris has also announced a student debt forgiveness plan, but her plan has been criticized for its narrow scope in comparison to the sweeping forgiveness that Sanders and Warren currently advocate for. 
Researchers at New York University found that student debt is growing at a faster rate than nearly all economic markers. This rapid growth has led many to worry that student loans represent a financial bubble similar to the real estate bubble that led to the 2008 crash and the following recession. In 2008, mortgage default rates hit unsustainable levels and the whole of the global economy was hit with the fallout. At present American graduates are increasingly unable to pay back their student loans. Those who believe in the student loan bubble argue that this too will lead to a market failure that will then ripple through the economy causing another recession. 
Economists and finance experts are still split on whether student loan debt constitutes a financial bubble. Nonetheless, many economists are predicting a recession sometime in the near future. As income levels drop during a recession, graduates ability to pay off their debt would decrease accordingly, this in turn leading increase in loan defaults. In that manner the growing student debt could make a turn a bad recession into an unbearable one.