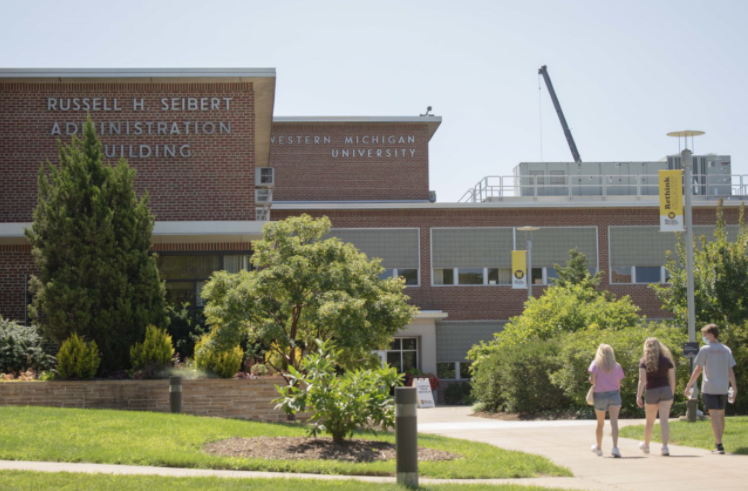 Western Michigan University will begin honoring faculty, staff, students and members of the Board of Trustees who pass away while actively involved at the university with the Fallen Bronco Program coming this Fall 2021. 
The WMU Faculty Senate developed the program during the COVID-19 pandemic in collaboration with the President's Office, the Provost's Office, the Office of Marketing and Communications, the Board of Trustees, Western Student Association, Graduate Student Association and the Office of Student Engagement. 
The program will be realized in a ceremony inspired by the Texas A&M Military School Silver Taps ceremony, explained Marilyn Kritzman, president of WMU Faculty Senate and a faculty member in the School of Communications. 
"What we are looking at right now is trying to create a dignified and solemn event that pays tribute to our departed colleagues and students," Kritzman said. 
The ceremony will include a variation of taps created by the WMU Music Department. Families of the deceased will be invited to participate as well as students and employees of WMU.
"The goal is for it to be open to members of the university community that want to remember people who have passed away while they were actively employed or attending," Kritzman said.
She continued: "For example, there was a faculty member who passed away in late May and for some people this would be a good opportunity if they wanted to say goodbye to him and they weren't able to attend the memorial service."
In past events, various memorials have been held or placed on campus for deceased individuals at WMU. The Fallen Bronco Program will unify those efforts to remember collectively and consistently.
"It's a kind of a program that a community would do to pay their last respects, and Western is it's own community," Kritzman said.
Tentatively set for 3 p.m. on Friday, Oct. 8 2021 at the Flagpoles, the first ceremony will include those who have passed during the COVID-19 pandemic.