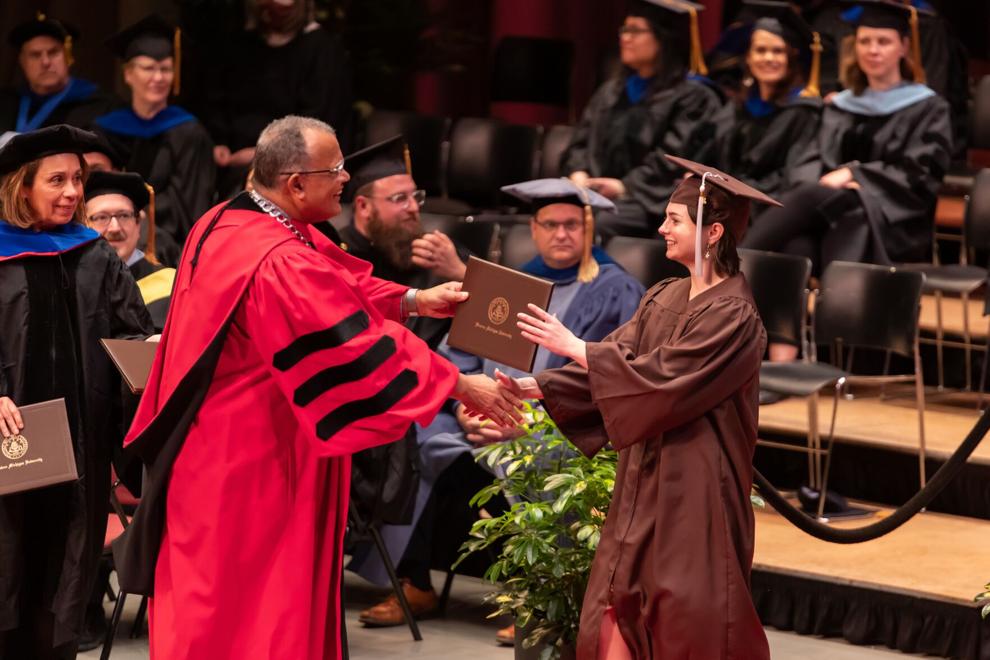 Western Michigan University deferred over 1,100 degrees during two summer I commencement ceremonies Saturday, June 25.
The two ceremonies took place at Miller Auditorium and were streamed online. 
At 9 a.m. the  College of Fine Arts, College of Health and Human Services, Haworth College of Business and Merze Tate College were honored. The College of Arts and Sciences, College of Aviation, College of Education and Human Development and College of Engineering and Applied Sciences were at noon.
The ceremonies began with a recognition that WMU is located on lands historically occupied by the Three Fires Confederacy. The sacred lands of all indigenous peoples and their continued presence were honored.  
The Western Brass Ensemble led by Conductor Dr. Trey Harris played graduates onto the stage.
Speakers included President Edward Montgomery and Interim Provost and Vice President for Academic Affairs Christopher Cheatham.
"On behalf of the Board of Trustees and the entire university community, I welcome you to our 335th commencement ceremony," Montgomery said. "You, graduates, had the focus, the resilience and the determination to persevere through a global pandemic to earn your university degree." 
He recognized members of the campus community including the families of graduates, staff and faculty members, and student leaders.
The national anthem was sung by alumna Helen Delfia and the alma matter was sung by the Brothers of Phi Mu Alpha Sinfonia and members of the university choirs. 
There were 744 degrees given at the bachelor's level, 341 degrees at the master's level, 30 at doctoral and three specialist degrees.
Graduates included 278 international students representing 36 different nations. Also receiving their degrees were 32 military veterans and six current service members.
"Graduates, your future is not written in stone," Montgomery said. "What you do with that diploma, where you take your life and your career is up to you."
More information including links to watch the event can be found on the university's commencement page.