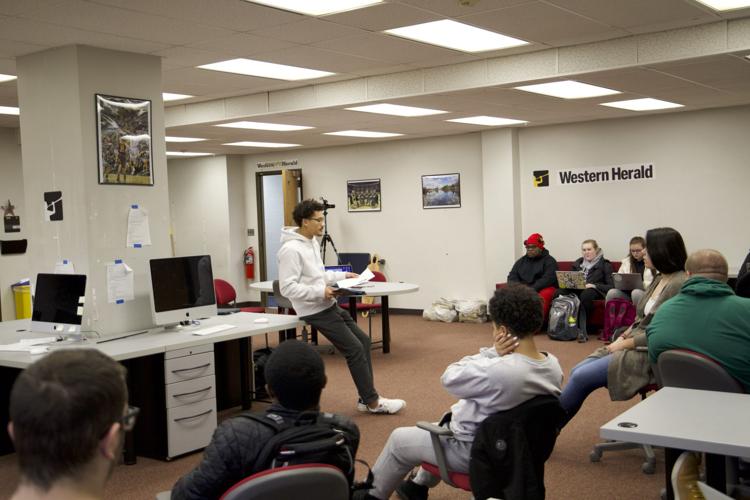 Chief Karianne Thomas of the Kalamazoo Department of Public Safety apologized for the arrest of MLive reporter and Western Herald Editor-in-Chief emeritus Samuel Robinson during a press conference on Aug. 16. The charges against Robinson have been dropped.
Robinson was arrested for "impeding traffic" while covering the Proud Boys rally in Kalamazoo on Saturday Aug. 15. A video recorded by Robinson shows him reporting on the protest before being taken to the ground and arrested by an officer.
Thomas said that Robinson was clearly credentialed and should not have been arrested.
"I want to make an apology here and I want to address the arrest of the MLive reporter who they believed to be interfering and obstructing with their operations to restore the order," Thomas said.
"I personally want to apologize for that event. The reporter was wearing a visible credential and should not have been arrested. I apologize for the trauma that it caused this young man," she continued.
In the video, which has now been uploaded in full to MLive, Robinson can be heard repeating "I'm media" to the arresting officer.
Thomas could not clarify why the arrest happened, considering that Robinson was clearly press, saying he did not have that information.
On Twitter, defenders of KDPS's actions during the rally have argued that Robinson was violating a police order. However, no clear orders to Robinson can be made out in the audio of the video. The police did order protesters to clear out, but in the full video Robinson can be seen backing up from the police line in the moments leading up to his arrest.
Those on the ground at the protest said that police protected members of the Proud Boys—the right wing hate group that staged the rally—while instead attacking the counter-protesters. The counter-protest was peaceful until the Proud Boys attacked two homeless people according to multiple witnesses.
No members of the hate group were arrested. Robinson, a reporter, and several members of the counter-protest were.
The riot officers in the video are seen with masks and most have no visible badge numbers. Thomas did not state whether the officers involved in Robinson's arrest will face consequences. The inability to identify law enforcement has been a major issue of the summer, raising serious concerns over the public's ability to hold its servants accountable.
The Western Herald has requested a copy of the police report related to Robinson's arrest as well as the names and badge numbers of the officers involved.
Robinson joins 54 other journalists who have been arrested while doing their job in the United States this year. 2020 has seen a 500% increase in the arrest of journalists across the country; only 9 journalists were arrested in 2019.