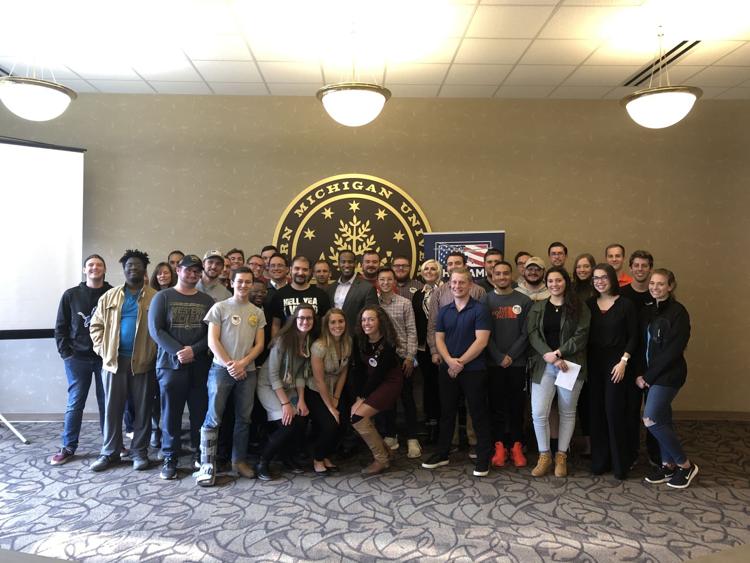 The College Republicans at WMU brought senate candidate and retired military officer John James to campus on Monday to discuss his campaign for senate.
James previously ran in the 2018 midterm elections and was defeated by incumbent Sen. Debbie Stabenow. At the age of 17, James enrolled in the United States Military Academy graduating as an Army Rangers qualified aviator. He would then serve for eight years in Operation Iraqi Freedom.
Speaking to the WMU GOP and community members in the Bernhard Center on Oct. 28, James said that he felt a call to service after 9/11 and that in 2008, in midst of the Great Recession, he felt a similar call.
"After 9/11 I felt a calling, I knew I needed to serve my country," James said. "Then 2007, 2008, 2009 rolls around, the Great Recession, and I'm overseas watching American Forces Network and I'm seeing places in America that are looking worse than some of the places I'm seeing in Iraq. Again, I was called to serve."
James went on to explain that he feels his military experience more than prepared him for dealing with the problems facing the United States domestically.
"In Iraq I was entrusted with leading men into battle. But that wasn't it, I also had to lead them out of battle," he said.
James then said that he saw his calling as leading his fellow Americans out of the economic and social strife that followed the Great Recession. He described his plan as consisting of "compassionate conservatism" and "conscientious capitalism." He further said that while no one can solve Michigan's problems immediately, he believes he can position himself within Washington to make the state and its interests a more powerful political force within the Senate.
"If anyone tells you that they are going to go to Washington as a junior senator from Michigan and immediately take the lead on the biggest issues, they are either drunk or deceitful," he said. "What I can promise is that I will open doors that have been closed to Michigan and maneuver us into a place where we can start to lead the national conversation."
James also called for civility in the current turbulent political climate.
"The other side is going to be throwing a lot of nastiness at us," he said. "We need to meet them with kindness and a sense of humor."
James did not address President Trump's previous endorsement of his 2018 campaign, nor did he discuss Trump's continued support. Bloomberg reported in November of 2018 that the president was considering James as a potential ambassador to the United Nations. The Detroit Free Press reported in February of 2019 that the president "is very impressed" with James.
Josh Salhaney, a student and member of the College Republicans, said he was happy to have the chance to meet with James.
"I'm in ROTC and he was an aviation officer, which is what I want to be, and we come from the same place. He isn't super far right," Salhaney said.
Evan Oudekerk, chairman of the WMU GOP, said that bringing in potential candidates such as James is a large part of what the organization tried to accomplish.
"I think it's is a big part of what we're supposed to do. Engaging conservatives on campus by bringing in candidates to meet voters, particularly students. Civic engagement is important to us," he said.
James will be challenging incumbent Sen. Gary Peters in the 2020 election. Michigan is one of two states that President Trump won in 2016 that will have an incumbent Democratic senator up for reelection in 2020.