In recent weeks, students have expressed frustration with decisions made by WMU's administration regarding the future of housing on campus.
With four residence halls coming down after the 2019-20 academic year, and no new affordable housing planned to replace it, some students have said the administration is not accommodating all student's financial capabilities to pay for housing. 
"Being a student who doesn't have the most financial resources, I'm starting to feel that the university isn't putting students like me first," said David Hoskins, sophomore and president of Resident Housing Association. "Especially those who face racial inequality, Western is turning into a campus that seems to push those people to the background and only asks for their input when it benefits them." 
Hoskins added that he feels like administration thinks that students will just move on and stop being upset that their voices aren't being listened to. 
Currently WMU has nine residence halls that are at the "standard" rate of $10,459 a year with a bronco gold meal plan. This excludes Western Heights, which was built in 2015, that is $473 more a semester at $11,405 a year with a bronco gold meal plan. After this school year, four of the nine "standard" price residence halls will be closing. This will leave five standard priced, Western Heights and the four differnt on campus apartment options, including Arcadia Flats. 
Arcadia Flats has caused anger among students who say its rates are way out of their price range. At a public input session on Jan 24. Dave Dankin, director of planning, said that the flats were "geared toward a different market of students." The comment caused a stir on social media as one student called the comments "f---ing racist," adding WMU is "trying to get the black students out." 
"We are very conscious about the concerns about price," said Diane Anderson, vice president for student affairs. "It doesn't do us any good to build housing if students can't afford to live in them, so for us it's really important to us that we get it right." 
University administration has recently contracted a research firm to do a housing demand study that will be out for students to get a chance to answer questions on what exactly they want in on campus living options. The survey aims to ask students questions involving the style of apartments or residence halls they would like, as well as the cost students are willing to pay for those new options. 
"We want to find the sweet spot of housing that is attractive to students where they want to live, and they can afford to live there too," Anderson said. 
Anderson said that she has heard the criticisms of students not getting much input on the new housing changes, and she believes that the criticism is completely fair. 
"I have heard that students were upset that they didn't get any input before we decided to tear down these buildings… by bias is to involve students in decision making whenever possible, but there will be times when the university is going to make decisions for the long haul that may or may not allow us that opportunity," Anderson said. "That's a fair criticism, we just weren't able to do it this particular time."
Anderson said that she would love to talk to students to hear their concerns voiced to administration, and that they really want to put students first in their decision making.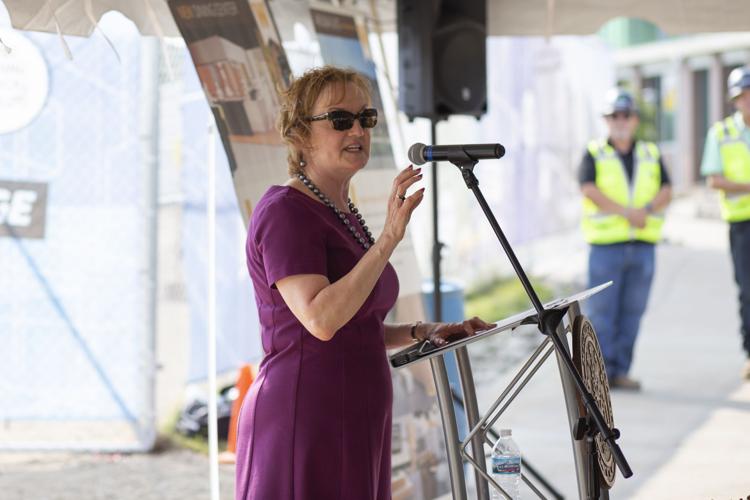 "Western has worked hard to keep our cost low in comparison to our competitors," Anderson said. "We have been challenged in the last few years because as the state continues to cut higher education support it means we've had to nudge up our tuition dollars just to be able to offer what we offer." 
Anderson said that Western strives to create a vibrant campus community in all they do. A campus where students want to be, and one that makes students want to stay. Anderson said with the building of the new housing on campus, this hopes to add to that vibrancy of the campus community. 
To have your voice heard on what you would like to see in the new housing built on campus, the survey will be sent to all WMU students on Feb. 17.