Western Michigan's College of Fine Arts held an open forum on Tuesday to discuss the controversy sparked after a music student shared a video of a majority white WMU choir singing negro sprituals. 
"I was grateful to see members of those who were at the concert, those who performed in the concert, faculty and staff because this isn't any one person's issue to solve," WMU Provost Jennifer Bott said. "It's imperative we work together."
Approximately 300 students and community members gathered in Shaw Theatre to express their thoughts on the performance, "Spirituals: From Ship to Shore." A wide range of opinions were expressed on whether or not the performance was culturally appropriate.
"It's more than notes on a page," a music student said. "It wasn't just one student that was affected by this, it was a group of people that expressed discomfort and no one spoke up until someone blew the whistle and was able to go viral."
Freshman vocal performance major, Ramsey Blough, spoke about how he grew up in a Baptist church singing negro spirituals. He felt that while the choir did receive lessons on the historical significance of the spirituals, they were still underprepared.
"It was very rushed and I was kind of uncomfortable with it," Blough told Western Herald following the forum. "It was kind of hard to get the full meaning of a song. Even though I had a background with spirituals; I understood the meaning of them, I don't feel like everyone in the choir had the same connection with it."
Blough felt the historical context was essential to effectively representing the spirituals.
"As a vocal performance major we're required to know this and talk about what's going on and expressfulness," Blough said. "That just wasn't possible with the African American spirituals."
WMU senior Trevis Williams, who is biracial, reflected on his first time hearing negro sprituals. 
"My first time experiencing a spiritual was in grade school," Williams told the crowd. "It was rather early on but I didn't realize what it was at the time. I had a white teacher, I was the only black student in this choir but it meant something to me. I felt something; that I belonged, or it resonated with me."
He appreciated the chance to hear the spirituals performed and didn't feel offended by the performance.
"I saw the concert as an educational way of sharing the history and traditions of black music," Williams told Western Herald. "Yes, Western has a huge diversity issue; there are not many African Americans represented in the music (department) and unfortunately, yes, that showed on the stage that day. However, they did bring in a black facilitator and I do have respect for him coming in and sharing that music."
Williams feels it's important for black students to appreciate the efforts made by WMU to be more inclusive in terms of content covered within the music department.
"We don't have a lot of diversity in the school so I don't know how you expect (WMU) to present a fully black concert with all black musicians when Dalton doesn't have that," Williams told Western Herald. "I think it's also important that white people are educated in this type of music just as it is for black people to know their history in music moving forward."
One respondent addressed how fear of repercussions could prevent meaningful dialogue.
"Being terrified of being considered not woke in an arts school can be extra debilitating and make conversation harder to have," she commented.
She continued on to acknowledge the importance and lack of black history classes in WMU's music curriculum, jazz specifically.
"I have always thought that it's a little ridiculous to not have a black history class, multiple, included in the jazz program," she said. "To have a jazz studies degree and never take a class and know your stuff is kind of insincere in a big way."
One respondent expressed how the performance may have been received by the student who originally shared the viral video, Shaylee Faught.
"These songs that were sung have such a huge influence on African American culture," the respondent said. "Black people are still facing the repercussions of slavery today so I can see how Shaylee was upset because you see these people who don't really understand that culture."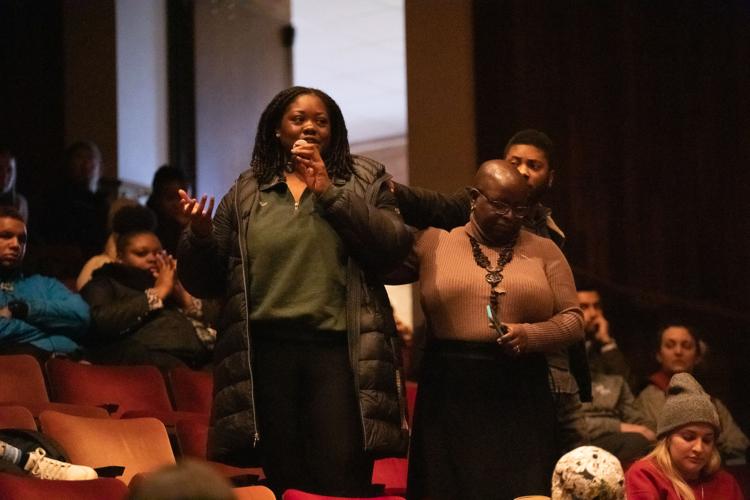 They continued on to acknowledge the importance of research in understanding the history of slavery in the United States and their connection to spirituals.
"It's so important to research these things however you're never going to really truly emotionally connect to these songs," they said.
Editor's note: Samuel J. Robinson, Editor in Chief, contributed to the reporting in this article.