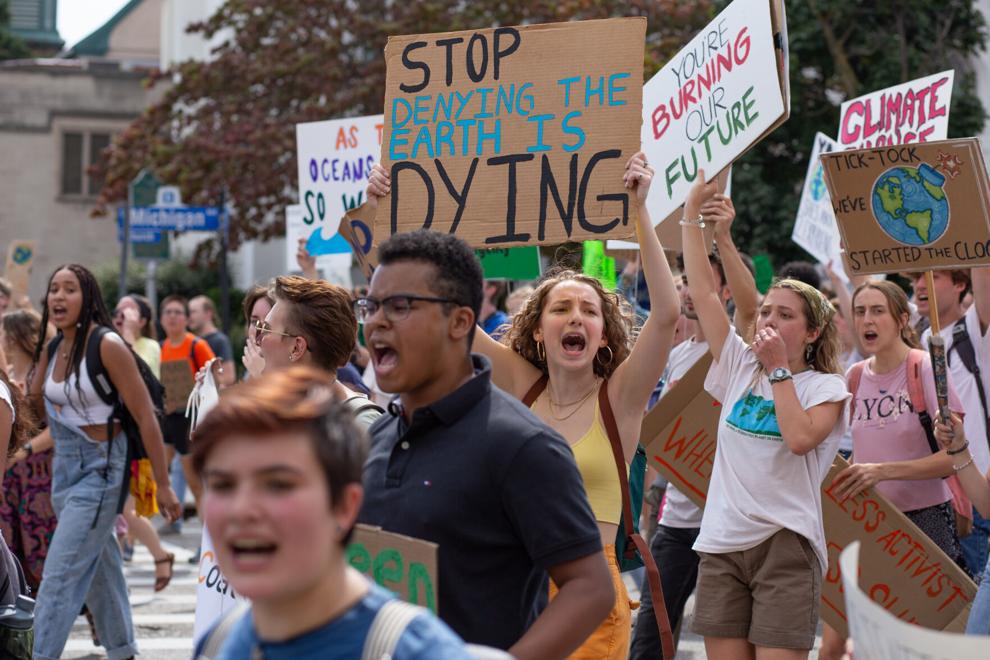 For the last decade, Western Michigan University has prioritized the environment by developing sustainable programs and practices - both on and off campus. Students can continue WMU's mission by utilizing the vast array of resources. Students can explore the five options below to get started.
With scientific evidence pointing to rising global temperatures and imminent danger for the environment, businesses and individuals have focused on reducing the amount of waste they produce. Sustainable practices emphasize conservation, electric-powered machines and reusable containers.
Firstly, students can choose to walk or ride a bicycle instead of driving to campus. The Office of Sustainability's Bicycle Resource Hub provides BroncoBikes for rental to students, which includes a bike lock for security and storage of the bike.
Opting for a non-motorized vehicle is a great way to cut down on an individual's personal carbon footprint. In addition, a bike is a great way to incorporate exercise into a daily routine. More information can be found on the WMU's Bicycle Resource Hub page.
For longer trips, students can carpool to limit the emissions of greenhouse gases. Carpooling can be arranged with friends or family, but there are also resources that help people carpool without knowing each other.
For example, CarpoolWorld is a privately-owned carpool website. It boasts a reduction of over 35,000,000 metric tons of CO2 on its platform alone. In addition to private-owned websites, the Michigan Department of Transportation (MDOT) provides a map of available carpool parking lots throughout the United States.
Screenshot from MDOT's carpool map website of the Kalamazoo area.
The carpool resource page can be accessed from MDOT's website, found here.
Next, students can save money and the environment by using a refillable water bottle while on campus. In 2011, WMU began installing water bottle refill stations in buildings around campus; now, students can find a refill station in almost every building. These stations help students avoid the cost of buying a new bottle of water and limit the waste of disposable water bottles.
"I use a water bottle instead of disposable cups mostly because they hold more water," said Nolan Becker, a sophomore studying history at WMU. "They're also more durable and better for the environment."
A student-led study at WMU in 2010 offered a detailed breakdown and analysis of refill stations, and it can be accessed here.
New WMU students can also capitalize on the EcoEssentials program, which provides a free and environmentally-friendly utility product. Students can choose a stainless-steel water bottle, a canvas tote bag, or a set of bamboo eating utensils.
The free service helps encourage students to be sustainable without drastically adjusting their lifestyle. For more information about the EcoEssentials program, students can visit the WMU webpage.
Reusable utensils combine perfectly with the third resource available to students: reusable dining containers. In response to COVID-19 last year, WMU Dining Services introduced a program to limit the number of disposable containers dispensed at Grab'n Go locations.
"We recognized the significant amount of throw away containers we were giving out," said Emily Hazel, Nutrition Specialist with WMU Dining Services. "(We) wanted to provide a more sustainable option in the (2020) fall semester."
Students are required to opt-in each semester for the reusable container program. After that, the containers can be used at any Grab'n Go location throughout campus. Last semester, over 530 students took advantage of the program, drastically reducing the number of disposable containers that were thrown away.
"(Each student keeps roughly) 80 disposable containers out of the landfill over the course of the semester," said Hazel. "For students who eat grab'n go more than 5 times a week … the waste reduction would be even greater."
More information on the reusable container program can be found on WMU Dining Services' Sustainability webpage.
To explore other sustainability actions and initiatives, students can visit WMU's Sustainability webpage. For the broader Kalamazoo area and for involvement activities, students can visit Imagine Kalamazoo's website at this link.