Laura Slocum, a sophomore at Western Michigan University, scrolled through Instagram and Snapchat stories Sunday morning to see some of her peers at a house party, sharing bottles and wearing no masks.
While Slocum recognized some of the peers on social media as a part of Greek life, Galina Roehl, President of the Panhellenic Council, insisted CDC guidelines are being followed. However, the council does not have any general consequences for not following the guidelines.
"Each chapter has different rules on what they put forth," Roehl said. "Although, the Panhellenic Council does not tolerate going out on any terms during this time."
Earlier this year, @WMUSocial, a twitter account known for being a focal point of party life at WMU, received backlash for promoting party culture despite the COVID-19 regulations. 
The account hosted a poll on Oct. 10 to determine whether they would return to posting parties following the Michigan Supreme Court decision declaring Gov. Whitmer's State of Emergency unconstitutional. In the post, @WMUSocial claimed the CDC released data showing COVID-19's mortality rate is lower than the common flu. 
The outcome of this poll will decide when/if we return to posting parties again. Many won't like it if we do share parties again, however that's the purpose of this page and science now supports Covid is tremendously less dangerous than thought initially, esp. for our age group. https://t.co/gMZREs47Vr

— | Party @ WMU! | (@wmusocial) October 4, 2020
When another user asked for @WMUSocial's sources on this claim, they replied, "No, you can do your own research like we did."
Friday night, @WMUSocial promoted a party in a now deleted tweet before tweeting: "To all of you who are tweaking about COVID-19. Take a quick trip down to Indiana where COVID-19 doesn't exist. Bars open, movie theaters open, everything's open. Y'all can relax dude… unreal."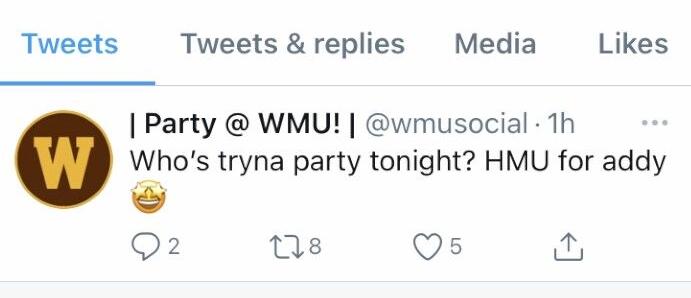 To all of you who are tweaking about COVID. Take a quick trip down to Indiana where COVID doesn't exist. Bars open, movie theaters open, everything's open. Y'all can relax dude... unreal.

— | Party @ WMU! | (@wmusocial) January 9, 2021
A spokesperson for Twitter user @WMUSocial is anti-lockdown for purely social reasons.
"I believe we should still be able to party and gather," @WMUSocial said. "It's a part of human culture and we've done it for centuries through other plagues and pandemics and humans haven't died out."
Partying is a common occurrence on the weekends for college students in the Kalamazoo community. Per Niche, WMU ranks 47 among the top party schools in the United States and has an 'A+' party scene.
In previous years, students looked forward to Housecrawl, an annual day party in the spring traditionally hosted by the creators behind @WMUSocial. In 2019 some labeled the April 13 crowd the biggest Housecrawl yet. In 2014, tear gas was used to control the crowd after attendees tried to tip an ice cream truck. In 2001, two police officers were sent to the hospital after a party turned violent.
Despite the pandemic, some still gathered for Housecrawl in 2020. Last year's festivities were organized by GB Nupes, Team Litty and TMG Royalty. One of the Hosts, No Limit Lynn, told Western Herald organizers were "concerned" but felt it was the people's choice of whether they wanted to attend. 
Since then, Lynn's feelings have changed. Both of his parents caught the virus and his father passed away from it. In regards to whether other students should be attending large parties, Lynn said "it's not really worth it."
Slocum contracted COVID-19 earlier this year while visiting her mother before Halloween. At the time, numbers of COVID-19 cases were projected to rise. Her mother unknowingly had the virus and spread it to Slocum during their 20-minute visit.
While Slocum had mild symptoms for two weeks, with bad fevers and fatigue, her mother was admitted to the ICU and put on a ventilator due to comorbid conditions.
"I think it's stupid that people blatantly disregard the restrictions and put others in danger because there are a lot of people that could get sick like my mom did," Slocum said.
Caitlin Estep, a junior at WMU, feels other students' potential partying habits pose a threat to those who are attending in-person classes.
"I had one in-person class so I was definitely concerned," Estep said. "For example, when we would first get to class and we would all walk in, we were all getting so close to each other. Most of my classmates are strangers… and I don't know what everybody's doing on the weekend."
Reid Sayles, a third year business major, lives off campus with two other roommates and has attended parties since the start of the fall semester. Around Thanksgiving time, the frequency of partying declined for him and his roommate due in part to the rise in COVID-19 case numbers and final exams.
Before Thanksgiving, Sayles frequented bars and "decent size" parties held by friends about once a week.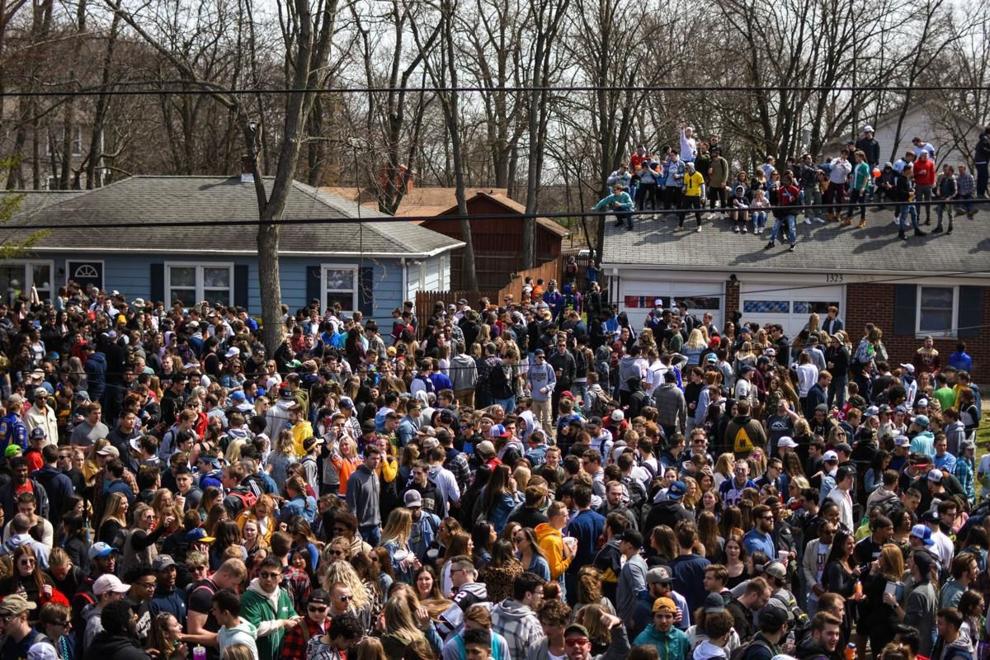 "I get that you can't have big gatherings such as in person classes and big sporting events, but there's a lot I'm not understanding during this lockdown," Sayles said. "There's like 1,000 people in Meijer at a time but you can't go into a fast-food restaurant like Lee's Chicken."
Lynn feels restrictions are ineffective if not mandated on a federal level.
"If you're going to shut the country down, shut the whole country down, not half of it," Lynn explained. "Michigan is closed but Texas and Georgia aren't. So people are just traveling to where it's open and bringing the virus where shit isn't closed."