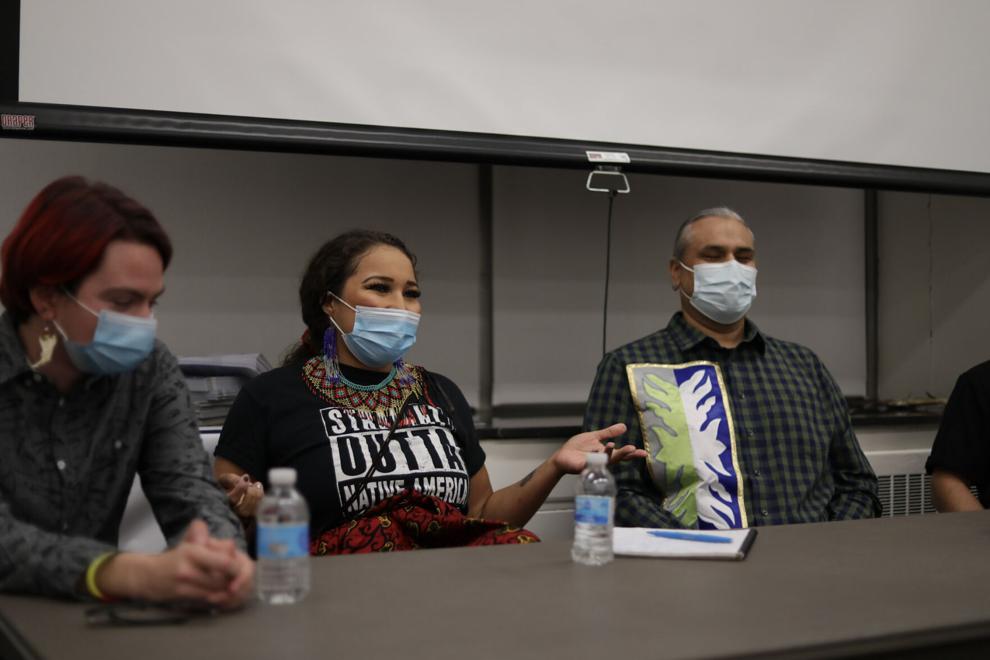 Western Michigan University's College Democrats hosted a panel discussion to talk about issues facing the Native American community and celebrate their heritage Oct. 7.
Other sponsors of the event include WMU Native American Student Organization, WMU Native American Affairs Council, WMU Institute of the Environment and Sustainability and WMU Department of Philosophy.
Instructor of Global and International Studies Dr. Marcela Mendoza facilitated the discussion, working alongside WMU Dems Vice President Kayla Blauet.
"We are here to listen and learn, because only you can give us a different perspective," Mendoza said.
The event began with a traditional Native American smudge ceremony. For centuries cultures have used smudging which is a smoke used to purify the body, aura, energy, space to drive away negative energy and restore balance.
Anyone who wanted, was allowed to stand and let the smoke wash over themselves. The ceremony was performed by panelist and First Nations Ojibwe Paul Syrette.
Other speakers include, AfroAnishinaabe Moni Washington Padula, Pokagon Band of Potawatomi Holden Day, and Pokagon Band of Potawatomi Ben Williams.
The group recognized that WMU is located on lands of Ojibwe, Odawa, and Bodewadmi nations. Attendees were asked to acknowledge and honor the ancestral land of the Three Fires Confederacy and the sacred lands of all indigenous people.
"There's times to be radical, there's times to sit and listen, there's times to have those hard discussions with the people that may not see where we are coming from," Syrette said.
They told stories of their identities and lives, speaking about native languages and introducing themselves in these languages. Moni Washington Padula shared her journey to learning her native language via YouTube videos, FaceBook and creating her own lessons through music. 
"We're looked at as the ones that were complacent, learned helplessness, we're looked at as lazy and don't want to work, but we are some of the hardest working people I know. You know how I know that? Because we're still here," Washington-Padula said.
Blauet's enrollment in an honors course on Indigenous People's rights opened her eyes to how little Indigenous rights are discussed.
"I think this was a really amazing event to be able to have people share their stories and see new perspectives on things that we wouldn't necessarily get to see otherwise, it exceeded my expectations," Blauet said.
The Native American Affairs Council will host a "Two Spirit Talk" honoring 2S-LGBTQ history month on Oct. 14 and the panelists encourage those who are interested in learning more to look into their other events at the Native Justice Coalition https://www.nativejustice.org and watch the short film The Wellbriety Journey to Forgiveness.