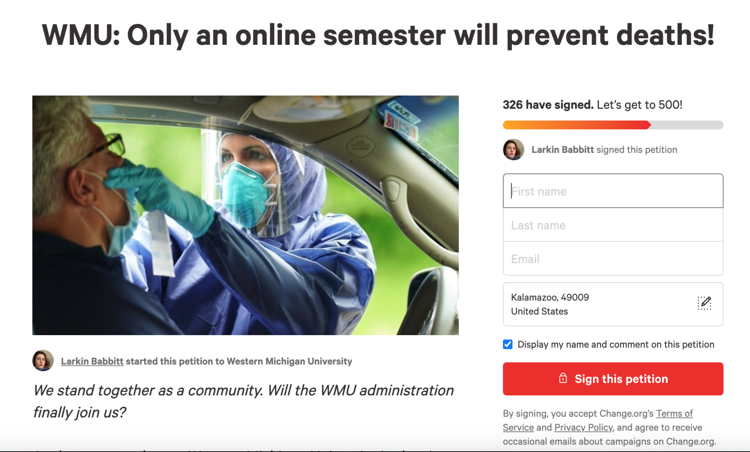 A Western Michigan University student has started a Change.org petition to move the fall semester completely online.
Larkin Babbit, a fourth-year arts management student, said she started the petition because it currently isn't safe enough to return to campus.
"I started the petition because I can't stand the thought of even one more WMU community member dying, and that's what we are going to get if we open campus," Babbit said. "There are no acceptable losses here."
The university has touted its safe return plan as one of the safest plans in the state and has used this to justify proceeding with reopening plans. Babbit emphasized how the free will of students is an important flaw in this plan.
"There are tons of loopholes for on-campus students to get through despite University policy," Babbit said. "There's just no way that everyone will be compliant, and it's likely that even if everyone WERE perfectly compliant there would still be cases because of asymptomatic spreaders."
Babbit believes the lack of free testing for asymptomatic individuals will encourage asymptomatic students to unwittingly spread the virus.
"It bothers me even more that WMU has announced that these asymptomatic spreaders will have to pay out-of-pocket for testing, which is a massive disincentive for your average broke college student," Babbit explained.
Because Babbit takes immunosuppressants, she is at high risk for catching the virus. Babbit care particularly for those who may not know they're at high risk.
"This is a public health concern, which will be felt by many members of the community who may not be as physically resilient as your average student," she said. "We just do not know enough about this disease to be going back safely."
Despite her hopes, Babbit doesn't believe the university will take heed of student concerns.
"It's sad because that's people's lives on the line, but it's clear that the administration is first and foremost interested in protecting the financial interests and viability of the institution," Babbit explained. "If they go online before classes start, they'd need to refund people their room and board money in entirety, which seems like the University equivalent of sawing your own arm off."
Even if the university doesn't listen, Babbit believes it's the responsibility of the WMU community to hold the university accountable for their actions.
"If any of us fall ill or die, we will know whose hands the blood is on," Babbit said.