This is the initial article published in an ongoing series of reports regarding this story. To read the most recent article, click here.
A member of Western Michigan University's School of Music's "Spirituals: From Ship to Shore," is speaking out about her hesitance toward her choirs' performance after an audience member accused the production of cultural appropriation. 
"Spirituals: From Ship to Shore," a collection of songs sung by black slaves in the 18th and 19th century, performed by various members of WMU's vocal ensembles and led by John Wesley Wright, who reportedly told the majority white audience Wednesday night the songs they would perform were "for everyone," and "have no ethnicity."
Sitting in the audience was music major, Shaylee Faught. She disagreed with Wright's assessment of the performance, calling his comments "ignorant" and the show "a mockery of my culture."
In a Twitter post with over one million views, Faught explains that despite her discomfort throughout the show, she couldn't leave because her attendance was for class credit. She also wondered whether anyone would've questioned the appropriateness of the show had she left.
"If I wasn't there I guarantee no one would've said anything," Faught told the Western Herald Thursday. "Being a music major, there's not a lot of black people… Since I was a freshman it's always made me feel weird."
Wednesday's show was part of the School of Music's Live and Interactive concert series, where performers often take to the aisles, encouraging audience members to sing along.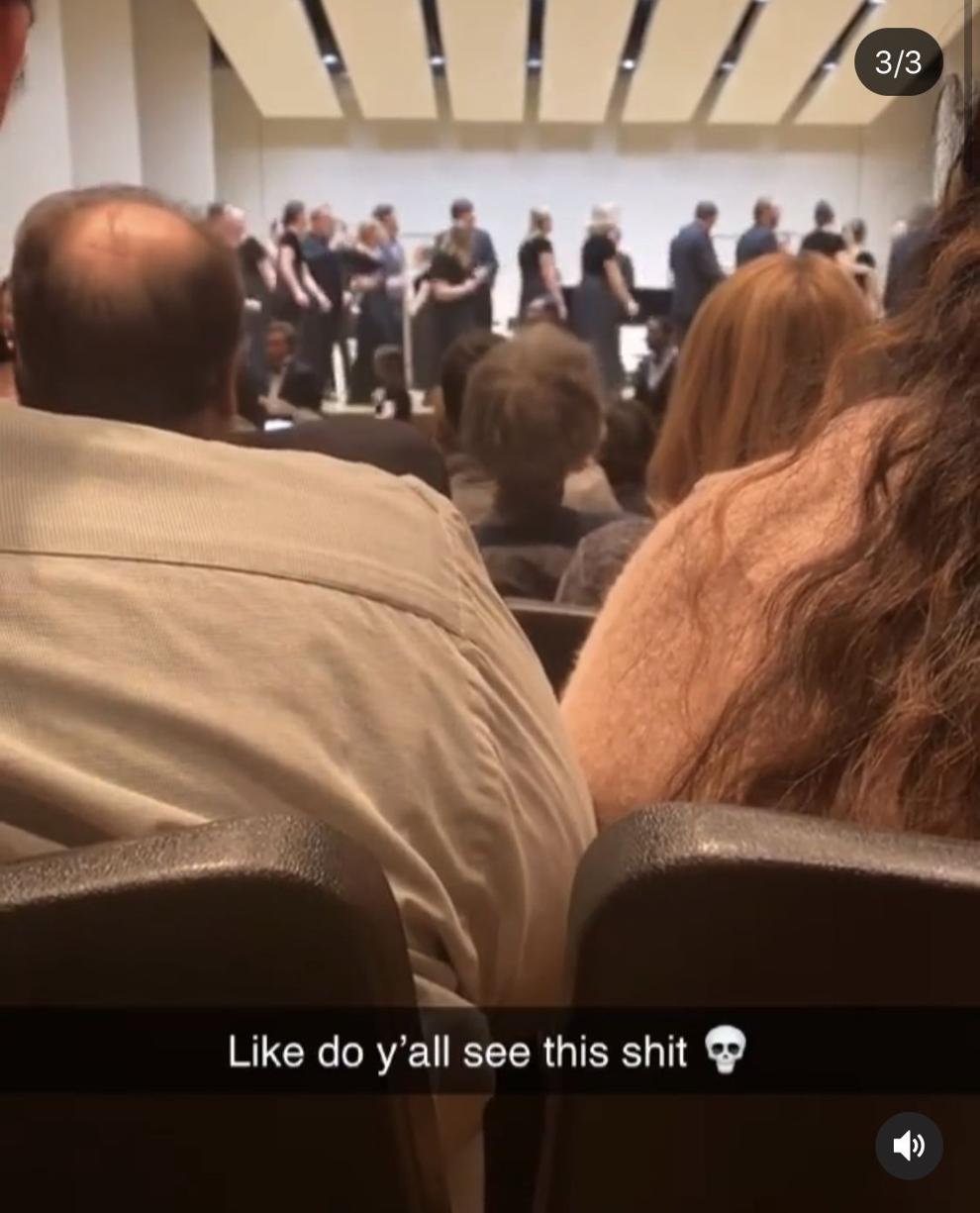 "It was primarily white parents and students, and you're trying to get the audience to join in and sing and it felt so wrong, I was heated just sitting there. It felt like it was all for entertainment and this is not for entertainment, this is part of somebody's culture and history and you have no idea what it means," Faught said.
Faught told the Western Herald on Thursday after she posted the video, members of the over 100 person choir who performed in "Spirituals," agreed.
One of those singers is Allison Rousseau, a freshman vocal music education major, who expressed concern directly to her classmates before Wednesday's show. 
Rousseau was initially excited when she heard the subject matter of Wednesday's concert, but said after the first few rehearsals, she felt like the predominantly white choir performing the songs might come off as insulting. 
"It's one thing to appreciate someone else's culture and learn about it, but it's another to be disrespectful and take away from something that is so sacred," Rousseau told Western Herald.
Rousseau explained that as the choir would rehearse songs — just three times for 50 minutes each prior to Wednesday — her fear began to grow. 
"I really don't want to do this," Rousseau told other vocalists who also participated in the show by requirement. 
"Our instructor (Wright) was African-American and he said it was okay because the songs aren't just (black) culture," Rousseau said. 
Not wanting to overstep her place as a freshman, Rosseau trusted the advice of Wright and went on with the performance Wednesday night, carrying her mixed feelings to the Dalton Recital Hall stage. 
"It was just so conflicting to be a part of that," Rousseau said. "I'm upset that I didn't say something before because I didn't know how many people felt the same way that I did."
Neither Wright, nor WMU's Office of Diversity and Inclusion has responded for comment as of Friday at 10:25 a.m.
A member of the American Spiritual Ensemble, Wright told WMUK in an interview on Wednesday his time at Western Michigan has been "a great fit."
Wright came to WMU on residency after Dr. Ken Prewitt, a professor of voice at WMU, reached out nearly a year ago. Wright had arrived in Kalamazoo Friday, February 14, to prepare the choirs for the performance. 
In a call made directly to his office, Prewitt told the Western Herald Friday morning Wright is "one of the premiere people for this kind of presentation," declining further comment.
WMU's Black Student Union released a statement on Instagram Friday afternoon demanding an apology from WMU's School of Music.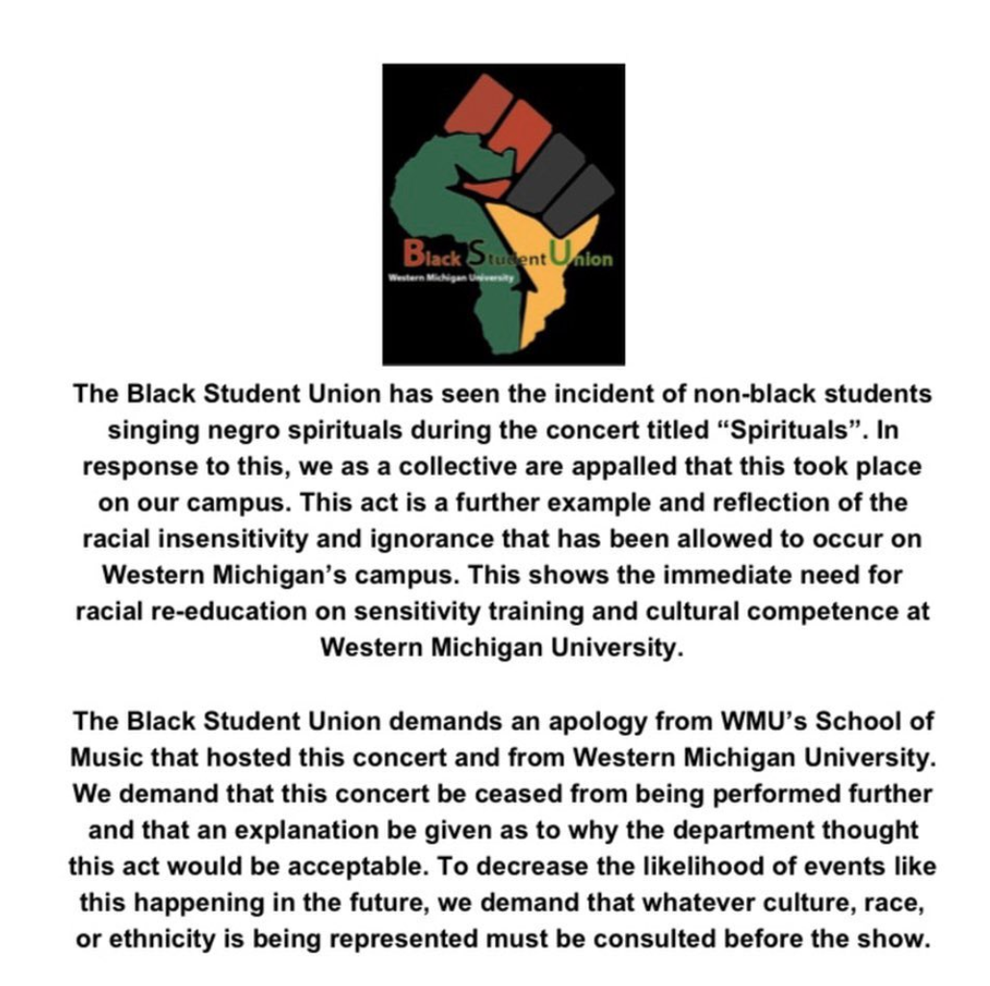 "We as a collective are appalled that this took place on our campus. This is a further example and reflection of the racial insensitivity and ignorance that has been allowed to occur on Western Michigan's campus," BSU said in the release. 
Editors note: This story was updated Friday at 2:39 p.m. to include a statement from Western Michigan's Black Student Union.
Several members of Wednesday's show did not respond or declined to comment. This is an ongoing story.