With Western Michigan University being host to over 400 registered student organizations, for Black students — many of whom are living in a predominately white space for the first time — finding a community can be a daunting task.
To celebrate Black History Month, each week in February, Western Herald will spotlight a Black RSO feature series called 'Focus Feature' to inform the student body of the different Black student groups on WMU's campus. 
---
Criminal Justice major and president of Western Michigan University's Black Student Union (BSU), Jerjuan Howard, starts Monday's like anyone else: Wakes up, grabs breakfast and heads to his 11:00 a.m. class at Sangren Hall. 
Once Howard leaves his final class, the fourth-year graduate of Detroit's Renaissance High School gets to work. 
"(Monday's) are like BSU day for me," Howard said. Finishing up class at 3:15 p.m., Howard walks from Wood Hall to the Bernhard Center, where him and his team will spend the next six and a half hours working toward the betterment of Black students on Western Michigan's campus. 
From 6 to 7 p.m., Howard and his executive board meet an hour before BSU's general body meeting to plan its events, partnerships and to brush up on educational topics to present at their weekly general body meetings. Past topics include the intersectionality of identity, red-lining and retention rates among Black students. 
"The goal for BSU is to understand and address the mass concerns and demands of Black students on campus," Howard explained. "Whether that's through their academics; whether that's through their social life, whatever the case may be."
The mission and agenda is guided by three main pillars: kinship, advocacy and education.
Howard has experienced the pressure that many students feel when they're the only Black student in the room. He said he feels it's important for Black students to have space where they feel welcome and can relate to students with shared experiences.
"We want to make sure they have an open space where they can be themselves around other Black students, that's important to have at a predominantly white institution," Howard said.
The support continues when members leave the Monday meetings. Representatives from BSU stand with students at an administrative level when they feel they have been a victim of racial discrimination.
"I come as one but I stand as ten thousand," Howard said, quoting Maya Angelou. "At the forefront is being represented in a proper way and in a proper manner."
Throughout Black History Month, BSU will be hosting a re-education series aimed at increasing the knowledge of and celebrating Black history on campus. In reference to the lack of knowledge of Black history across the globe, Howard spoke about Mansa Musa, a 14th-century West African ruler who was the richest man of all time.
"Once you understand that you come from great people, and great things and a great bloodline you don't operate in the same way that you would if you didn't know these things," Howard said.
The information and understanding Howard and his fellow executive members have offered students is something second year sports management student and newly appointed public relations co-chair, Joelle Sanders, is thankful for. 
"I saw all the service and education that (BSU) was doing and I knew I just needed to be apart of something that was bigger than me," Sanders said. "BSU was that place where all black people can come together to work toward something that's bigger than us and bigger than campus."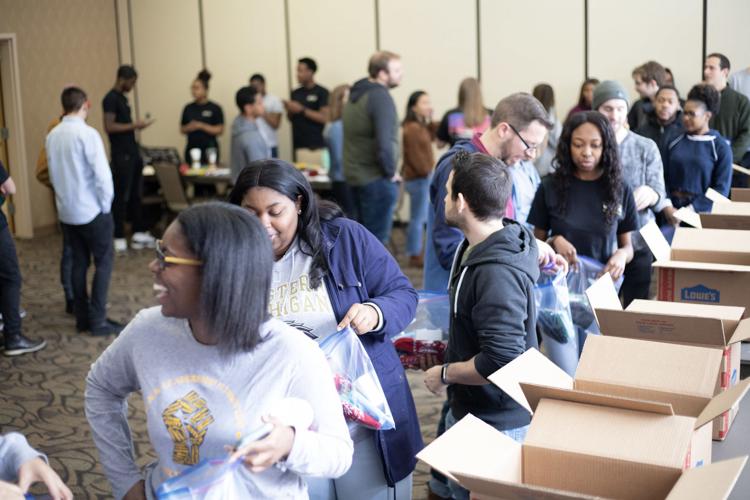 BSU's work extends far beyond its 7 to 8 p.m. general body meetings at the Bernhard Center and reaches even further than Western Michigan's campus. On Martin Luther King Day, BSU assembled over 150 care packages for Kalamazoo's homeless. Earlier this year, in collaboration with WMU's Campus Activities Board, Student Association, Panhellenic Council and Black Criminal Justice Association, BSU helped bring Korey Wise, whose story was depicted by Jharell Jerome in the Netflix original, "When They See Us," to WMU's Bernhard Center, where he spoke publicly for the first time since the Netflix series was awarded two Emmys.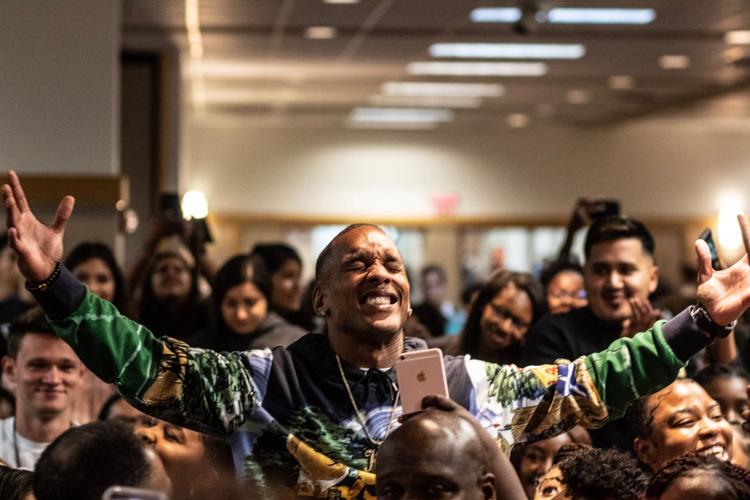 Later this month, BSU will meet in Flint, partner with Wayne State's Black Student Union and Michigan State's Black Student Alliance to collect water bottles and pitchers, hand sanitizer and hand wipes for Flint residents still affected by the Flint Water Crisis.
In the future, BSU hopes to bring a more diverse audience to their weekly meetings. Howard said one of the best feelings his work brings is knowing that someone's perspective has changed because of information his team presented. 
"A lot of the teach-ins and things that we do are on history and advocacy and just understanding Black life," Howard said. "It isn't effective if the only people hearing these things are Black students because we live this already."
While Black students are at the core of BSU's work, Howard said it's vital that non-black students or other people of color receive the information BSU provides at their meetings. 
Third year WMU student and member of the school's Latin Student Alliance, Nico Talamantes, has frequented BSU meetings since arriving on campus. Talamantes echoed Howard's sentiment, saying more students should engage with the "other" identity groups on campus. 
Talamantes credits Western Michigan for providing him with his first experiences in Latinx spaces, calling it an "uncomfortable and exciting" experience. Talamantes said he recognizes the valuability of breaking out of comfort zones for the sake of building understanding. 
"I have to ask myself why I'm uncomfortable and have to figure out how to get comfortable and organizations like BSU, the Muslim Student Association or any identity group can provide that," Talamantes said. "When we build relationships in those spaces, we create opportunities for large collaborations and cultural unity."