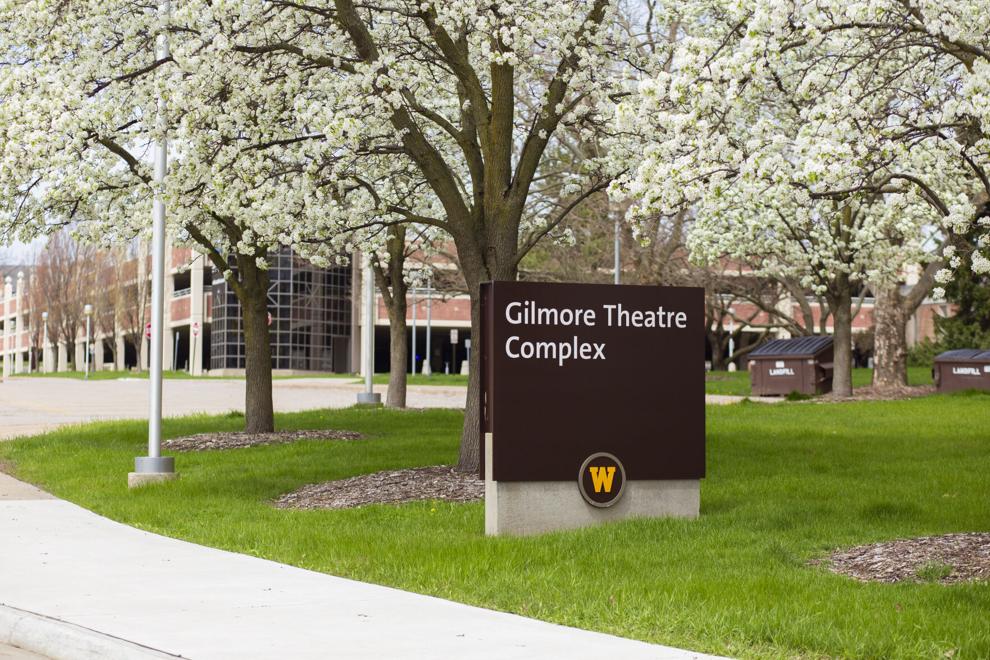 Western Michigan University theatre students collaborated with playwright Sam Mueller to create an original play, Lys, which premiered this Fall at the York Courtyard Theatre. The play, set in 2030, is a modern adaptation from the classic Greek play Lysistrata. The plot follows a group of climate change activists as they organize a sex strike to convince those in power to stop harming the planet.
The creation process began at the end of the Spring 2021 season when actors auditioned and were cast, only receiving a list of names. Rather than receiving typical roles, the cast met with the director and playwright over the Summer to describe their identities and wishes for their characters. 
Student contribution added personal touch to each character and to the work as a whole.
"They have allowed us to really openly express what we want to experience, what we want to do as our characters," said Senior BFA Performance Major, Audrey Geysbeek. 
She reflected on that personal influence on her own character, Em:
"As an actor who typically plays a lot of characters who are in servitude or light hearted characters, it's very cool to play a character that's hard hitting and frustrated and angry and has a point to make other than a laugh," Geysbeek said.
Another cast member represented the character Cleo; True Chin-Parker is a junior in the Musical Theatre program and noted the growth she experienced with her character.
"I have gotten to have a lot of input with the director and the playwright, different discussions about how I, as a person, relate to my character and how that might affect things, how that plays with me," Chin-Parker said.
Junior Musical Theatre Major, Henry Lee, expressed that involvement in the creation allowed room to better connect with his character, Hal. 
"I'm the kind of actor that when I step into a role I never do it conventionally, I always put my own little stamp on it," Lee said.
He continued: "It's a good thing usually but it can be a bit of a challenge, especially when I feel like I was miscast, or it doesn't feel comfortable or good to live in that character; but with this one, especially getting to create him from the ground up, I felt very at home, it felt very natural."
The content and production of the play has centered around student voice.
"As a group we've all kind of agreed that this play very much speaks to and is told by the voices of our generation. A lot of theatre is a very established cannon, it's written by often white, cis men so a lot of it comes from one perspective. This is something that's coming from a perspective that not a lot of us have gotten to work with," Chin-Parker said.
The creation of a world premiere show was a new experience for many student actors. The process required several communication sessions with the playwright and script adjustments for some characters.
"As we evolved with the script and our conversations about the script evolved, so did the script itself," said Junior Theatre Student, Mikaela Johnson, who played Riv. 
Quick turnarounds were common for rehearsals as actors received new pages even the week of the premier, requiring quick memorization of lines. 
 "We've had moments where we'd think my character and the love interest need some conflict so then after lunch break that day we'd get an email with some new pages," Chin-Parker said.
Although stressful, Chin-Parker expressed enthusiasm for the revisions.
"It's kind of a rush, like I got this today and it's new and nobody's ever read it before and now I'm doing it," Chin-Parker said.
She continued: "It's scary but it's really exciting; and it's also kind of freeing."
Johnson noted the required adaptability to work on a new play.
"We were kind of forced to make new choices and learn new things about our character every single day because the script was changing every single day, so that kept me on my toes and I enjoyed that," Johnson said. 
Geysbeek considered the potential for future renditions of the play to reflect the creation process that WMU students experienced by expressing diversity in their own ways.
"As an opening production we created the world of Lys for the first time. I hope that if this gets done by other people and other schools that there is an open dialogue that can be had," Geysbeek said.
Additionally, student's voice has served to influence the direction of philosophical topics in Lys involving current issues and events.
Student actors advocated for a diverse representation of identities in the characters which reflected their own identities.
"As an Asian American woman who is also queer, it's been really cool to play a character that is very unapologetically queer without having to put a big flag of 'I'm a woman of color and I'm also gay'," Geysbeek said.
Similarly, Lee noted his desire to represent a 'leading man' in a way theatre does not often leave room for.
He defined his vision for his character, Hal: "A serious and complex principal male character with strength and dignity, yet also vulnerability and sensitivity."
Lee continued: "It is incredibly rare that those things are partnered with unabashed queerness and authenticity, yet with Hal, Sam and I did create that."
Many actors expressed their desire for a powerful and steadfast character that represents them.
"A lot of women in plays or TV shows, they have power and they're usually uncomfortable with it, or they don't have power at all and they gained it. I wanted a character who had power and was unapologetic about it," Johnson said.
Still, the group has noted that such characters and topics may not resonate with every audience.
"It's very idealistic and philosophical. There're a lot of hopes and dreams that are wanting to be achieved, but it's not always in the most palatable way for people. A huge thing we've talked about within the cast is that this play is not something that everyone will like," Geysbeek said.
That being said, actors expressed the importance of representing diverse characters.
"I didn't really see myself around me, in the media, especially in theatre because it's an industry that's definitely growing and becoming more diverse," Chin-Parker said. "If there aren't roles for you, you have to work to make them and that's something that's been really nice, knowing I don't have to change myself to fit something else." 
Geysbeek saw the play as an opportunity to address difficult topics and to educate through theatre.
"I think this is eye-opening for even people our age… That's something that's interesting about this play is that it's not just older people who need to wake up, it's us as students as well," Geysbeek said.
Additionally, working with a playwright provided useful field experience for students.
"We aren't all going to be on Broadway when we first go out into the universe so working on new scripts and new plays with playwrights is something that we will be doing a lot; it was great to have that experience now in school," Johnson said.