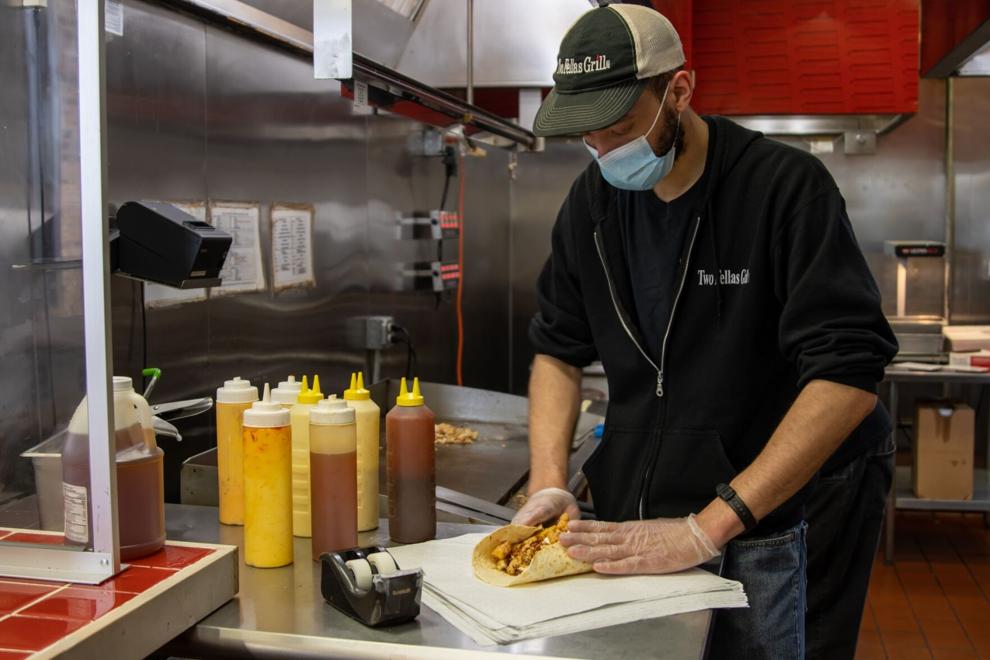 In 2013, Two Fellas began serving wraps for the Western Michigan University community. Now, Two Fellas has become a local favorite to WMU students. 
Owners Roland Saleh and Tim Torres started the business with only the idea of opening a restaurant together in mind, but have come a long way as they expanded to a location at Purdue University in 2017.
"They really just started out with a dream and had a basic idea of what they were visioning for their store," said Sydney Deanda, a manager at the Two Fellas in Kalamazoo. "They really built something out of nothing, it's honestly a pretty cool story. They did it all from scratch, and it is crazy how far they've come." 
The vision for Two Fellas had been put together by Saleh and Torres, but neither of them really knew what would truly come out of it.
"Tim and I have been best friends since college days. We went to high school together also, but a lot of late nights, Miller Lites, Bud Lites, shots, just hanging out having a good time, both being unsatisfied about where we were in life at the current time, and both having visions of doing different things and working for ourselves," said Saleh when asked how the vision came to life.
"I was out in Vegas. I just landed and I hadn't even gotten off the plane yet, and Tim sent me a text message saying 'Are you serious about maybe wanting to do the restaurant thing sometime?' It kind of caught me off guard because we had talked about it and thrown ideas around, but never more than a late night fun conversation."
"All of the sudden he sent me that message, and I though hmm, maybe we should," said Saleh in response to Torre's text.
Two Fellas even landed spot 16 out of 43 in Buzzfeed for "The 43 Best Drunken College Eats Across America." With the store's late hours of operation (11a.m.- 4 a.m.), college students can come straight from the bars or have Two Fellas delivered to them. While WMU students do enjoy Two Fellas, all different age ranges come in to try the wraps. 
"During the day it's definitely a decent mix of middle-aged people, families, college kids still," Deanda explained. "I'd say the late nights are about 90% college kids and the here and there middle-aged people, but late night is especially all Western kids coming from the bar." 
Even in their busy hours, the team knows how to keep things running smoothly.
"We are normally pretty busy, but it sort of feels like we are a staple for the area," said Margaret Tierney, an employee at Two Fellas. "I feel that we have a certain responsibility to give good service."  
Not only do college students enjoy eating the food, but they enjoy working there as well.
"A lot of kids here go to Western and they all know how it goes, so it's super easy to deal with the crowds we draw in, because we can all relate to them and actually have decent conversations with them," Deanda said. "It's easy to connect with them." 
Tierney agreed with the sentiment.
"I really like working at Two Fellas, the environment is really positive and people are always able to make conversation and joke around," Tierney said.
Even with a nice working environment and good food for college students, some people tend to forget what this store was built on and what it represents.
"I think a lot of people, even our employees, kind of picture us as a corporate place, just because we do so well and we bring in a lot of customers," Deanda said. "I think a lot of people forget that this is a mom and pop shop since we only have two stores nationwide." 
While the vision came from Saleh and Torres, the owners believe they could not be where they are today without their staff. 
" The people that we put in place, they are great people. They really step it up big time for us, and without them we wouldn't be what we are right now, said Saleh. "I want to say it's all Tim and mine's great idea, it is definitely part of it of course, but without these people putting in the late long night hours and basically being people that other students don't mind coming back to see on a regular basis, that's a huge tribute to them."