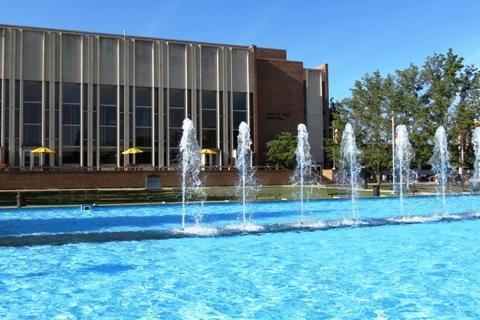 Western Michigan University Theatre Department will return to the stage this fall with a full line up of in-person shows focusing on inclusion, intentionality and shared experiences. Indoor and outdoor performances are in the works, including a world premiere of "Lys" a contemporary adaptation on the Greek classic, "Lysistrata". 
The season will begin with two outdoor productions to take place in the York Theatre Courtyard, "Lys," premiering on Thursday, Sept. 16, and "Into the Woods," beginning Friday, Sept. 24. 
"Lys" was written specifically for this performance by Sam Mueller in conjunction with WMU theatre students. 
"They (students) got to speak to the playwriting and talk about things they understood or things they thought might be cool to be included, it was a really collaborative process, which is great because there is a lot of new play production in the world but we don't do that much of it here at the university," said Joan Herrington, acting director of the School of Theatre and Dance.
Purposeful considerations influenced the writing process for "Lys" as well as choices to perform certain works. 
"We began by really looking at what was happening in the world and what our values were and why we were making theatre. Looking at who was being represented on the stage and how they were being represented, who was at the table in terms of writers we are gravitating towards, what contemporary issues we are looking at," Herrington said. 
The futuristic adaptation, "Lys" will follow the agendas and relationships of a band of climate activists as they withhold sex from their partners in order to force environmental change in time to save the planet. 
The adaptation focuses on diversity as an array of characters will take part in the sex strike.
"It has more of a non-bianary perspective so that it's not all women withholding sex from men," Herrington said.
The second outdoor show, "Into the Woods", brings together fairytale characters for an unconventional take on happy ever after. Audience members for outdoor performances will be asked to wear a mask and bring their own chair or blanket to sit socially distanced from one another. 
Performers will not wear masks for outdoor shows, but will be masked for indoor performances. Confidence in the safety of these performances comes from the 85% of WMU theatre students who are vaccinated, higher than the general WMU student vaccination rate of 40% as of Thursday, Aug. 26. 
Higher vaccination rates are likely a result of field standards.
"In our industry, for example on Broadway, you can't be on-stage, be backstage, sweep the floors or come to see a show if you're not vaccinated… our students if they want to work in our industry they have to be vaccinated, and it's a smart choice," Herrington said.
Socially distanced seating as well as modifications to scenes will also contribute to a safe performance environment.
"Our priority is safety and right now we are grateful that the world is such that we can make theatre and people can come and see it," Herrington said. 
Amid the isolation of the pandemic and social division seen today, Herrington spoke to the significance of commonality in a theatre experience.
"People come together, be in the same room, share this experience, maybe talk about it afterwards, maybe disagree about it, but come together in some way," Herrington said. "I just feel we need that more than I have ever seen in my entire lifetime." 
Additional Fall Semester shows will include "Sweat," the story of factory workers and friends amid layoffs and strikes, and "Significant Other," which shares the experience of a single man looking for love as his friends find their own. Both performances will be held indoors in the Williams Theatre. 
The Spring season will present "The Exonerated," a docu-drama based off of true stories from wrongfully convicted death row inmates; "Emelia," a female cast portraying the life of Emelia Bassano, the first woman to declare herself a professional poet and rumored to be Shakespeare's "dark lady;" and "Head over Heels," a musical love story following a royal family to the sound of The Go-Go's. 
Tickets for all performances are on sale now at wmich.edu/theatre.