The roaring competition of Battle of the Bands could be heard once again this past Monday night on 89.1 FM WIDR with the battle between Kyra Kira and Pib.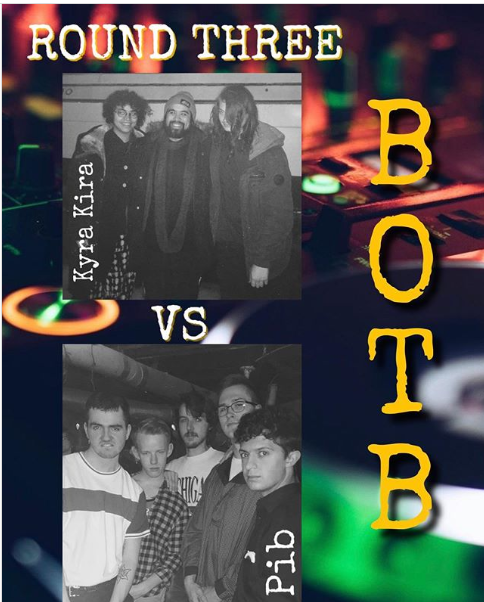 Round Three of Battle of the Bands kicked off with the band Kyra Kira.
Band member Julian Faraon recalled that the band first came together unintentionally about a year ago. The crew all happened to live in the same apartment complex where they ended up spending a lot of time together. 
"We all lived in the same apartment complex, so we just started hanging out, and that eventually led to making music," Faraon said. 
Kyra Kira has a slow heavy rock feel, and Faron says that they take a lot of inspiration from Black Sabbath. 
"I listened to the first six Black Sabbath albums all day, every day," said Hank Belcher, guitarist for Kyra Kira.   
The band released an EP on Halloween and plans to put together a tour shortly. 
After Kyra Kira wrapped up their set, it was the band Pib's turn in the spotlight. 
Brandon Marsh normally operates as a solo artist under the name Pib. However, during live performances, he gathered together some of his friends to play as a live band. Marsh enjoys playing all of his instruments when he is recording his songs, mostly due to the flexibility and creative freedom it allows. 
"Performing solo is way faster and more efficient," Marsh said. 
The idea to start making music came at a relatively young age when Marsh's dad would talk about classic bands that he used to listen to. 
"I've always liked music as everyone does, but I got into music in eighth grade when my dad got me into a lot of older bands," Marsh said.
These bands influenced Marsh's dad and now influence Marsh and his artistry, but he's added a touch of flare with sounds from more modern bands. A few of his biggest influences are the Strokes and the Smiths.
"I listen to everything and I'm influenced by everything but I take a lot of influence from the Stroked and the Smiths. I would describe my sound as groovy indie rock or art rock," Marsh said. 
Pib currently has their music on all streaming services, and they plan to continue to play a lot more live shows soon. 
The winner of Round three of Battle of the Bands is Pib. Tune into 89.1 FM next week to hear the competition between the bands Coastal Car and Katy Needs a Life.