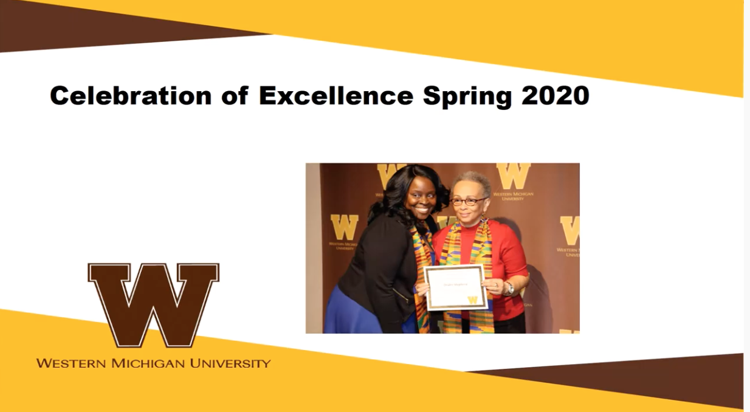 At the end of a typical semester at WMU, graduating multicultural students gather in the Bernhard Center ballroom for the Celebration of Excellence, hosted by the Office of Diversity & Inclusion.
Due to COVID-19, in place of an 'in-person' ceremony this semester, the Office of Diversity & Inclusion released a youtube video honoring the graduates. Students who wanted to be included were given a slide with a picture, the degree earned, their favorite memory and a quote.
The video began with an introduction by President Montgomery.
"I hope that each of you during your years on campus have had the opportunity to grow and to learn," he said. "Not just in terms of academics but also as a person who's capable of amazing accomplishments in so many different realms."
Montgomery acknowledged the deaths of Dr. Roger Pulliam, a member of the class of 1966 and founder of the MLK Scholars Program, and Bassey Offiong, a student who passed from COVID-19 in March. Offiong was set to graduate with a degree in chemical engineering this year.
The presentation included quotes from faculty members about Offiong.
"I think of Bassey as a thermostat," Acting Director of Career Development and Academic Success, Devata Gardner, Ph.D., wrote. "His presence would change the temperature of any room. He was kind and polite. Mr. Teddy Bear is what I called him."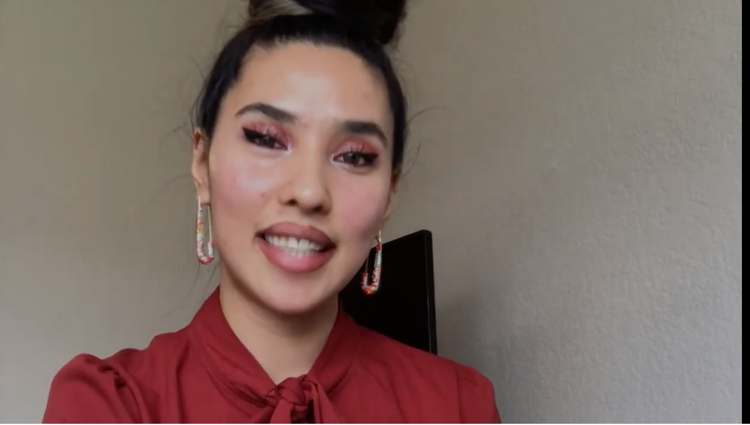 The keynote address was given by Marzieh Noori, a Fullbright Scholar from Afghanistan. Noori was a graduate student in Higher Education Leadership & Student Affairs. At WMU, she served as Vice President for the Fullbright Scholars Organization and President of the Afghanistan Students Organization.
"I feel really, really so blessed that I had the chance to study at Western Michigan University because not only did I learn a lot of things and concepts through all the courses I've taken during my masters but also I felt that I really belonged to this university," she said. 
Noori started by explaining why diversity matters to her.
"Every person has the value of being a human, being respected regardless of what gender they are, regardless of what race they are," Noori explained.
She then defined three words that changed her life: diversity, equity and inclusion.
Diversity explains different characteristics people have, equity is the fair treatment of people while trying to eliminate barriers for some groups, and inclusion is creating an environment where every individual can feel welcomed and valued.
Noori believes these values are important because they help students know they belong to the university. If people don't feel welcome, action should be taken to create a space and provide them with resources to connect them with others like them, she explained.
"I think students feel impacted developmentally because they don't [feel] they are as equal and privileged as many other students who have more salient identities," Noori said. "Some may have several identities that bring them advantages or disadvantages."
Normally students are presented with Stoles honoring their multicultural identities. A Kente Stole is given to African American/black students, a Serape Stole is given to LatinX identifying students, a Native American Stole is given to Native American students, a Multicultural Medallion is given to International and Asian students and a Lavender cord is given to members of the LGBTQ+ community.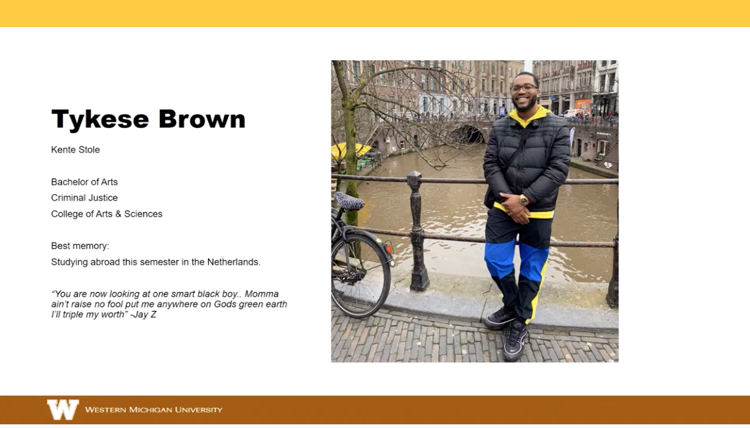 WMU alumni, Tykese Brown, was glad they honored the class of 2020 with the video.
"It was important to have the celebration of excellence because all of us graduated worked hard to be able to graduate from college," Brown said. "That can't go unnoticed because the greatest moment that we all look forward to, which is walking the stage, was taken away from us."
Brown received a Kente Stole. He graduated with a Bachelor of Arts degree in Criminal Justice.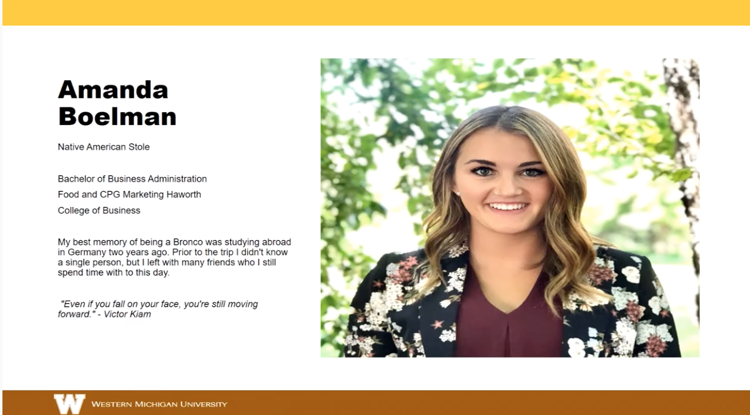 "Many people where I'm from don't graduate college or even go to college at all," Brown explained. "Being a first-generation college student is a big step in the future of my family and in a lot of other families because it's showing that we are educating ourselves more over the years."
WMU alumna, Amanda Boelman, received a Native American Stole. She was proud to represent her tribe, the Pokagon Band of Potawatomi Indians, throughout her time at WMU.
"A lot of the importance comes from sharing the history and current beliefs of indigenous peoples," she explained. "All diverse cultures have their challenges and being a part of this group helps to bring awareness to the challenges that Native Americans still face today."
Mark Forest, President of the Onyx Society, WMU's black alumni association, adressed the class following the presentation of the stoles. He encouraged students to stay connected to the university and maintain the relationships they've made.
"I know this is a crazy time right now but know that you are well prepared between your academic preparation, internships, your time with student organizations or any other leadership roles you may have held. Know that you are well equipped with the skills and the knowledge to be successful."
Candy Mccorkle concluded the ceremony.
"We are so proud of you because you have demonstrated resilience and perseverance by completing your college education during the COVID-19 pandemic," McCorkle said. "In true Bronco style, you adapted to the change in environment and never lost sight of your victory."
McCorkle also addressed the passing of Offiong and Pulliam
"Both Bassey and Dr. Pulliam left us in 2020 but their impact on WMU has been invaluable," "These two gentlemen taught us to make the most of your life and always be willing to lend a hand to others and value your life and purpose. Tomorrow is not promised, so make today last."
 McCorkle reminded viewers of two outcomes they will have as they venture into the unknown:  they'll either fly or land on solid ground.
To assuage any fears the graduates may have, she left them with these words: "Uncertainty can be scary but do not live in fear, instead live by faith."