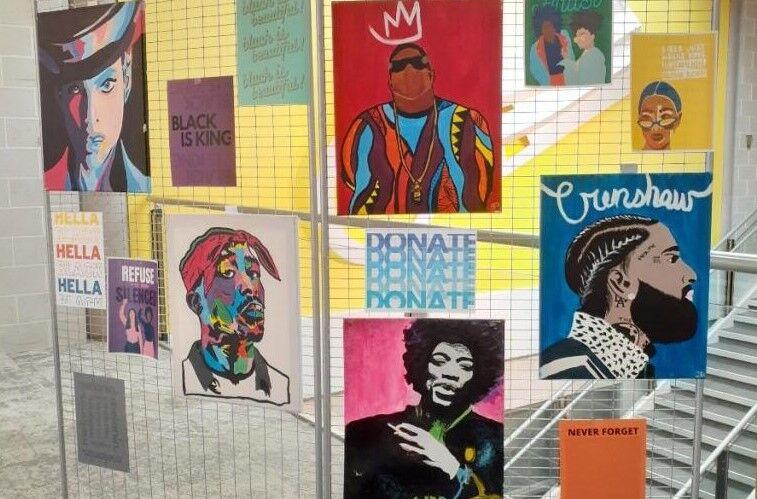 With COVID-19 making it difficult for the Kalamazoo Epic Center to bring in customers, many of the organizations had to close their doors and go fully virtual. One of the organizations that was able to stay open, though, was the Black Arts and Community Center.
The BACC is open to the public Tuesday, Wednesday, and Friday from 10 am to 5 pm and is located at the Kalamazoo Mall. The public must wear masks when entering and keep to COVID-19 guidelines of six feet apart while viewing the galleries and exhibits. The BACC's artist of the month for March is Linda Herzog while April's will be Blake Ethan.
As well as the gallery of Blake Ethan, and the coming gallery of Anthony Fitzpatrick, the BACC added the in-person galleries to their website for virtual tours which had included the "Make Room" exhibit that closed this past Jan. They also regularly update their social media platforms for upcoming and current events.
Program Director Danielle Lewis reflected on some of the struggles COVID-19 had created for the BACC, but also shared her excitement for future events.
"Not having that foot traffic is hard," Lewis said. "We had to limit our exhibit. Our younger audience is able to see the virtual, but we do have people wanting to come in just to view the art." 
Organizations such as the BACC recognize many people prefer to enjoy themselves at in-person gallery viewings or exhibits released to the public and continue to provide those. In-person galleries also highlight many artists who are not well known, yet very talented.
"We have the Art School Dropout exhibit coming up, and the Anthony Fitzpatrick gallery," Lewis said. "We also had a panel Sunday about Black Female Entrepreneurs."
Being one of the organizations in the Kalamazoo Epic Center, the BACC also relies on funds from the public in order to continue operating in-person. 
"We have a fundraiser coming up at Mod Pizza March 25 from 3 pm to 8 pm." Lewis said. "40% of the proceedings will be donated to the BACC to help keep us up and running. It will also be helping us to get ready for the Black Arts Festival beginning July 10."
The BACC is anticipating the Black Arts Festival as this will be its 35th year. The festival will feature artists of all kinds at Arcadia Park and along the alleyways of downtown Kalamazoo. 
Lewis explained that this year was very different from others; they began preparing for the festival at the start of the year instead of having eight months to prepare. The BACC is excited to show the Black Arts Festival as it is a reminder of the dedication of the artists and the community of what coming together can look like in the face of the pandemic.