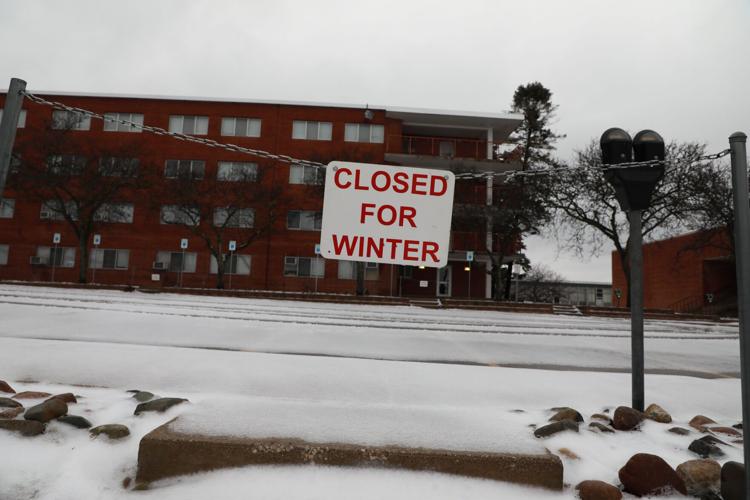 Kalamazoo residents woke up to slushie streets and snow capped roofs on Dec. 29. The 1.5 inch overnight snowfall was the last of 2020 and one of few Kalamazoo saw in 2020.
October through December had warmer temperatures and well below average snowfall compared to previous years. Western Herald spoke with WWMT meteorologist, Will Haenni, in early December to find out why. 
"So far this has been a very mild start to the cold season in West Michigan," Haenni said. "November tied the 7th warmest November on record in Kalamazoo."
November also set the record for days with a temperature above 70 degrees. There were six this year, the previous record was four. Temperature averages are based on slightly over 100 years of data tracked by the National Weather Service.
The warmth didn't stop once December began.
"Our average monthly temperature, which accounts for daily highs and lows, is pacing about 2.5 degrees warmer than average," Haenni explained. "That's not crazy high, but still decently warm. It does look like we're going to trend at or above average in the coming weeks as well."
Haenni's predictions were right. Per accuweather, 18 days in December had a high temperature at or above 40 degrees. 
"Another way we can gauge the mild start to the season is by snow," Haenni said. "We only picked up 0.75 inches of snow last month in Kalamazoo. At this point in the season on average we should have seen at least about a half foot of snow in total."
We've seen a remarkably slow start to the season in terms of snowfall. Both Kalamazoo (WWMT measurements) and Grand Rapids have both seen less than 5 inches of snow. In an average year, we would have seen over 20 inches at this point. #MIWx @NWSGrandRapids pic.twitter.com/Yd0cssfRBX

— Meteorologist Will Haenni WWMT (@WillWWMT) December 28, 2020
Larger weather systems this year have just missed Kalamazoo. Thus, the east side of the state has seen more snow this season. Kalamazoo hasn't seen much lake effect snow either. 
"The key for lake effect snow is some early season arctic air outbreaks," Haenni explained. "As cold air moves over (relatively) warm Lake Michigan water, this causes efficient rising motion and snow formation. We haven't had too many significant pushes of cold air, hence why this lake effect season has been fairly quiet."
As to whether the warmer temperatures can be attributed to climate change, Haenni said it's better to watch long term trends.
"Since 1970, our average temperature in winter has warmed just shy of 5 degrees," Haenni explained, citing data from Grand Rapids. "So our winter is warmer than it was a half a century ago, and for a large portion of the United States it's the fastest warming season."
Another signal of climate change in Michigan is wetter seasons. Per Haenni, "heavier rain events are getting heavier." This can be attributed to warmer air's ability to hold more water content.
"What's interesting is that when it comes to winter, while our 'snow season' may be shortening, that doesn't necessarily mean our winters are getting less snowy in terms of totals," Haenni added. "Once temperatures are cold enough for snow, we could actually see more of it just in a shorter season."