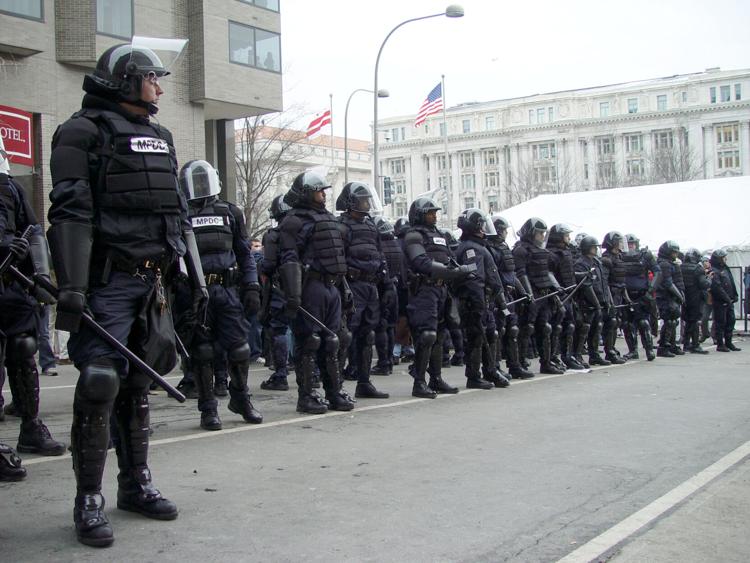 For the Pastor of First Congregational Church of Kalamazoo, Nathan Dannison, the Proud Boys rally held in Kalamazoo on Saturday was nothing short of a nightmare. 
Members of the First Congregational Church first started gathering at the Arcadia Creek Festival Place ahead of the rally scheduled for that afternoon. Members of an armed anti-fascist group set a perimeter around the park. Dannison passed out pizzas to attendees and spoke with the crowd before the Proud Boys arrived.
"All I ask is that for the remainder of this afternoon you commit yourself and recommit yourself to the way of nonviolence and non-aggression," Dannison said. "Let's work together to remain peaceful, to manifest positive energy with each other, to take care of each other, to take care of ourselves and our own safety, and to defend one another."
The actions and intentions of the Proud Boys did not reflect this peaceful spirit.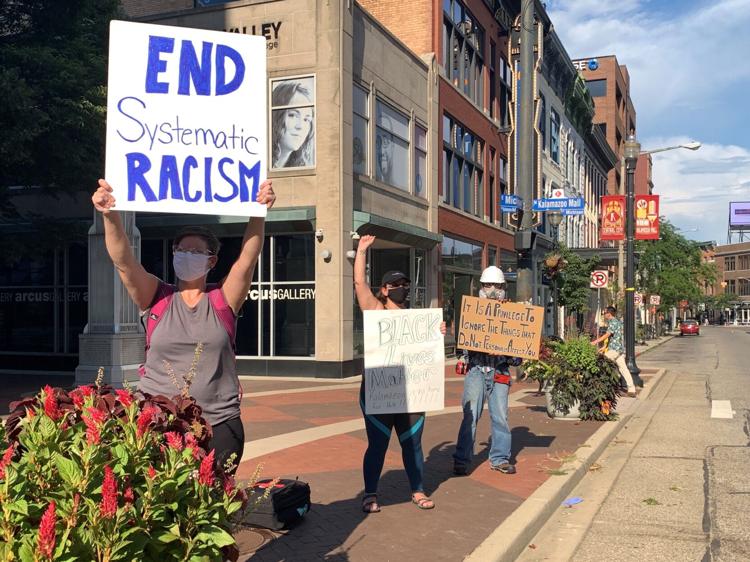 As Proud Boys neared the park, Dannison watched the hate group attack, beat and pepper-spray two homeless men with disabilities.
"I had texted David Anderson, our mayor, for help with the homeless men," Dannison said. "The homeless people themselves had asked for help. They wanted peer support- they were frightened. Nothing came. Then the violence."
Nathaniel Banks, a member of the First Congregational Church, was nearby when Proud Boys began spraying counter-protesters with pepper-spray. Banks was helping medics try and care for those who had been wounded.
"I was helping out as best as I could with the people who got sprayed," Banks said. "But there were people there who were bleeding that the other medics were helping." 
The Proud Boys threw bricks and rocks at counter-protesters. When the groups clashed, it wasn't long before physical violence ensued. The line between counter-protestors and the Proud Boys was soon buried in a sea of fists. 
Kalamazoo, Michigan pic.twitter.com/q2es6wUDqJ

— Samuel J. Robinson (@samueljrob) August 15, 2020
One counter-protester, Korvik Kelsing, believed confronting the Proud Boys was the right call.
"We can't just stand here and hold hands while the Proud Boys march through," Kelsing said. "We have to confront them, that's the only way we're going to stop them."
Not long after, the Proud Boys returned to the Radisson Hotel parking lot to leave the Kalamazoo area. Most of those who showed up allegedly weren't Kalamazoo residents— some traveled from as far as New York. One Proud Boy in attendance was known skinhead, Brien James, co-founder of Vinlanders Social Club, another designated hate group.
By the time the Proud Boys were preparing to leave, 100 police officers from five jurisdictions had arrived in accordance with planning per a Kalamazoo Public Safety news release. 
"It seemed like the police were widely overreacting, and insane that they appeared to be protecting the Proud Boys while coming after us," Banks said. "That's not hyperbole- they set up a protective cordon around the parking garage in the Radisson while they marched on us in riot gear."
Multiple counter-protestors were arrested by officers. Among them was Mlive reporter and Western Herald editor-in-chief emeritus, Samuel Robinson. In drone footage, multiple officers were shown pulling Robinson down and pinning him to the ground. Robinson was arrested on an "impeding traffic" charge and later released after a colleague posted his $100 bail.
Former WMU student, Jeremiah Rubert, described the moment Robinson was detained.
"He was just crouching down, video recording (the officers) the whole time nobody had a problem with it then the cops started pushing back," Rubert said. "He tried to stand his ground, still video recording, but after that, the cops started running and then after that I didn't see what happened to him I just know he was taking pictures and the next thing you know there are 40 cops rushing behind everybody throwing people to the ground."
No Proud Boys were arrested.
I was provided this drone video apparently showing reporter @samueljrob being arrested while covering a Proud Boys rally in Kalamazoo. You can see him in front of the police line before being apprehended. pic.twitter.com/TwIYoKiFut

— Malachi Barrett (@PolarBarrett) August 15, 2020
In Rubert's eyes, the violence inflicted by police officers was especially horrific.
"I saw a cop, he already had this dude's hands behind his back and they were beating him with a baton and then they lifted him up by the chain and they were taking him away," Rubert said.
WMU third year Jazz Studies major, Faith Quashie, went to the county jail with some of her own money to help bail protestors out. Representatives from the Michigan Solidarity Fund were present and covering the bail charges for protestors.
"I honestly think more should have been prevented but I'm not surprised that nothing happened," Quashie said. "I found it quite interesting, though, that Black Lives Matter protesters got arrested while the Proud Boys who had guns and were aggressive had no repercussions."
Banks believes there needs to be an outside investigation into the actions of Public Safety officers. Kelsing shares Banks' anger.
"I hope there's some sort of reform with the police department where they stop screwing with us," Kelsing said. "We're out here protesting the Proud Boys and obviously the Proud Boys are bad they're white supremacists and if the Proud Boys do come around again I hope the police aren't on their side."
Justine Robinson, a Black Grand Valley State University student, wasn't present at the rally but joined a few straggling protestors in the Kalamazoo Mall.
"Even though I'm studying psychology and history I can't believe it's happening in front of my eyes seeing fascists who don't like me, people who look like me, but they systematically get to hurt us and that's crazy and it makes me angry," she said.
Allyson March, another late-arriving protestor who no longer lives in Kalamazoo, echoed the sentiments Dannison expressed earlier in the day.
"I think it's absolutely terrible I don't understand how somebody could hate that much," March said. "Everything that I believe in; we just need to come together as a community, as a nation, and really support each other and have love for each other. We should just want the best for everybody and I don't understand why anybody has hate in their heart like (the Proud Boys) do."
 Ben Gretchko and William Walton-Case contributed to this report.