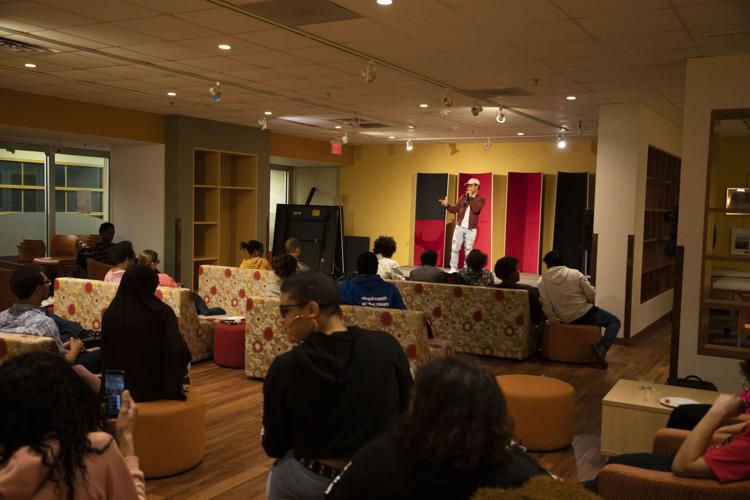 While many skeletons are often too difficult to kick out of the closet, Open Mic Night, hosted by Western Michigan University students Winston Ssessanga and DeUnique Dorris, helped to bring some out. 
The event was held despite recent COVID-19 related cancellations. The March 13 Open Mic Night drew a higher number than the previous one held on February 28.
Every person on stage had a story, and each one was told differently. There were stories of broken hearts, broken bodies but never broken spirits. 
WMU junior Tyrek Robinson, who performed at the last Open Mic, presented three poems. 
"It relaxes me," Robinson said. "I find complete joy from events like this and venues like this. You always meet creative people with good energy and it's always just a great place and good people to be around."
Ssessanga explained how they wish to develop a community through the Open Mic nights. Presenters can perform poetry, spoken word, hip hop, acoustic guitar and more. The Open Mic also hosts a small art gallery featuring art from WMU students and local artists.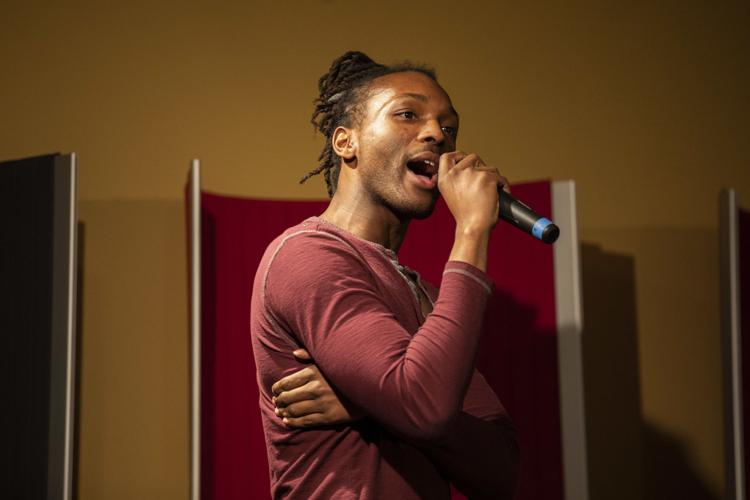 "We're developing the art gallery to be bigger and better than what it is," Ssessanga said. "I want to cultivate a space on campus for artists to grow their talent, and to just, you know, form a community of artists."
The space is growing; over 50 people attended the Open Mic. The pieces performed ranged from poems to raps to Spanish love songs. Topics covered included parental abuse, French lovers, depression, and nosey women who are unliked.
The purpose, Dorris says, is to help people express themselves.
"This is a place where people can express themselves in a judgment-free zone, which is very important," Dorris said. "It makes them feel comfortable to share their artwork and be themselves."
Despite the varying degrees of emotion shared by the artists on stage, there was always the same reception by the audience: respect and applause. It's a space where any and all are free to express themselves. 
WMU student Leslie Barajas performed three poems at the Open Mic. Each one was about personal life experiences that could be released in a safe space.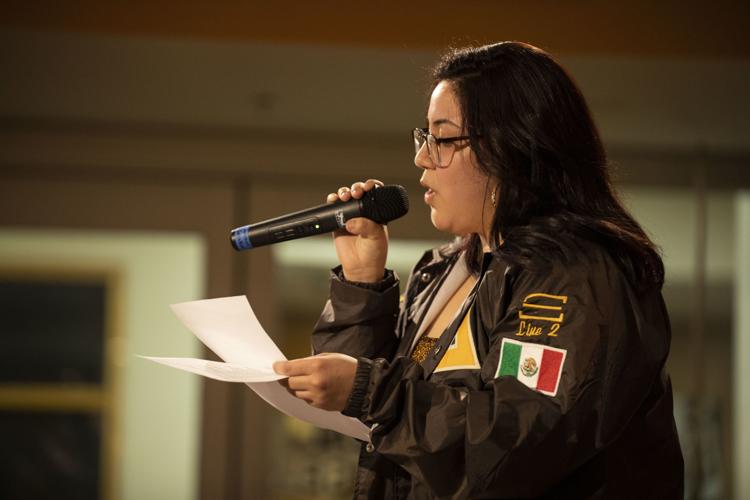 "I feel like I finally let out everything I need to let out and it escapes from the realm it needs to escape from," Barajas said.
The atmosphere makes her feel comfortable enough to share these personal thoughts to a small crowd that appreciates everyone. 
"This is your stage, this is your mic," she said. "We're gonna listen and if you don't agree with it we stay quiet because we know this is your space."
The open mic continues to draw students and locals who are looking to express themselves without judgment. Through this, some students are able to become more comfortable with themselves.
"I feel as if it helps me fall into the role of who I am and who I identify as," Robison explained. "This has been a transition for me to not wear so many masks. This has helped me transition to wearing one mask all the time and that one mask is Tyrek or Taj the poet."
Along with the performers, audience members also appreciated the positive energy present in the room.
"It gives people the opportunity to share something they've been working on or share a part of their life in a more creative way that they might not get to do on a regular basis," WMU freshman Anna Hagood said.
Ssessanga and Dorris plan on continuing the Open Mics biweekly until summer. They will be held in the Global Lounge in the basement of the Bernhard Center.