Western Herald is currently accepting submissions for Western Herald Creative, its new creative platform launching Monday, Jan. 18.
The new platform will feature works of poetry, fiction, non-fiction and plays from the Western Michigan University community. The platform is intended to give Western students and faculty an outlet for creative works during a pandemic when other publications are struggling. 
"There weren't many outlets to get experience and get my writing out there," said Mason Gratton, a sophomore Musical Theatre student and writer in the WMU community. "There aren't shows going on, there aren't art exhibits, so it's good to have this opportunity."
The pandemic hit venues and publications hard including the resident undergraduate journal at Western, the Laureate, which is not publishing this year. Western Herald also was not exempt as it stopped publishing its print issues to focus on digital content last April. 
"Especially now more than ever, it's important to have this outlet," Gratton said.
Western Herald Creative provides not only an outlet for writers at Western, but also prepares them for the professional world of creative writing. 
"It gave me a lot of confidence to put my work out there," said Lyss Blangin, a junior creative writing student reflecting on why she submitted work to Western Herald Creative.
She sees having an accessible publication on campus as a valuable resource. 
"I've been trying to find a good place to publish my poems and this seemed like a good start," Blangin said.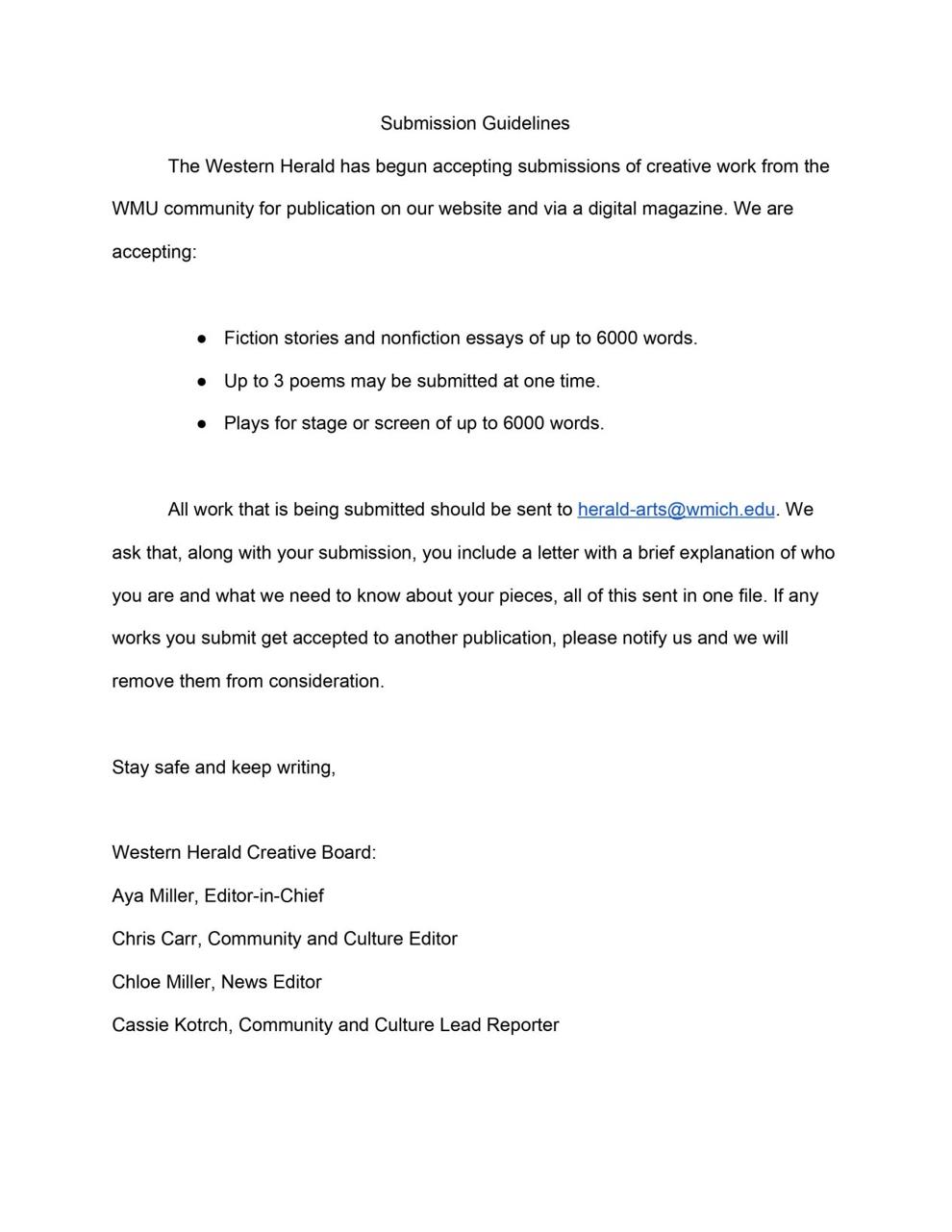 Each submission undergoes board review before a decision of publication is made. 
The current board for Western Herald Creative is composed of Aya Miller, Editor-in-Chief; Chris Carr, Community and Culture Editor; Chloe Miller, News Editor; and Cassie Kotrch, Community and Culture Lead Reporter.
All submissions are required to fit within the provided guidelines and come with a brief letter about the author and their work. 
In addition to publication on the website, accepted works may be featured in a digital magazine released by the organization. The platform will be accepting submissions indefinitely.