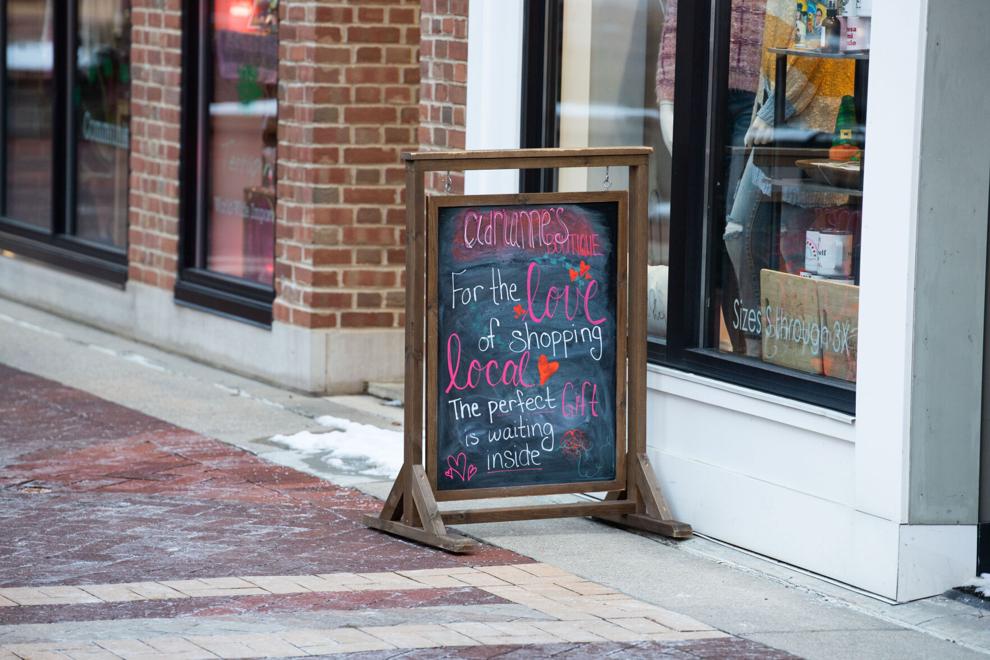 The people walked in and out of the open stores and sidewalks of downtown Kalamazoo, bundled up in pairs or groups with temperatures below 25 degrees Fahrenheit and glistening white snow all about. In almost every store downtown, a couple is holding hands surrounded by heart shaped decorations and gifts that say 'I Love You'. It is almost Valentine's Day yet again.
If you will be in Kalamazoo for Valentine's Day this year, here are the perfect things to do with a significant other, friend, or by yourself:
For the downtown lovers: 
Enjoy a sip of your favorite drink in the downtown Central Commons Refreshment Area that allows people to bring drinks purchased from licensed establishments and take them between locations and within the commons area. 
Shops such as Kalamazoo Candle Company, Lana's Boutique, and Mason Jar Plant Shop emit a cozy warmth away from the cold weather and are all open for business this Valentine's Day weekend. 
Downtown Dollars, a new program started by The Kalamazoo Downtown Partnership, can be used at participating shops and restaurants downtown to support small businesses.
For the outdoorsy types:
Kalamazoo is home to many walking trails and hiking spots including the Kal-Haven Trail and the Kalamazoo Nature Center. The Kal-Haven Trail, running along 60 miles of the Lake to Lake Trail along the western coast of Michigan, is ideal for hiking, snowmobiling or cross-country skiing this time of year.
The Kalamazoo Nature Center, located in the 7000 block of N Westnedge Ave, is a nonprofit organization with a member center and over 14 miles of trails ranging from beginners level hiking to expert level. 
For the sweet tooths:
Cherri's Chocol'art located downtown Kalamazoo is full of sweet Valentine's Day treats, including chocolates in every display, Valentine's Day gift baskets, and their new signature Monster Valentine's Day shake. The shake consists of strawberry ice cream covered in a chocolate and strawberry drizzle with a sprinkle rim, whipped cream, heart shaped cake, mini cupcake, chocolate bark, cotton candy, and more. 
There are other shops with sweet treats outside of the downtown area as well. Confections with Convictions is another chocolate shop, but this time it is fair trade and organic. Rykse & Co. and Sweetwater Donuts are two other bakeries you don't want to miss.
For the thrill seekers:
If you're looking for a thrill and some exercise, look no further than on WMU's campus. The Student Recreation Center's rock climbing wall reopened Feb. 1 for reservations only on their website or in person. Climb Kalamazoo is another rock climbing wall located in downtown Kalamazoo currently open by reservation as well.
It is also a busy time of year for sledding and skiing. To make the most of the snowy weekend, try adventuring to Timber Ridge Ski Area or Bittersweet Ski Resort. If you'd rather sled, enjoy a day of tubing or tobogganing at Echo Valley.  
For the foodies:
Since restaurants have reopened in Michigan, most are open for dine in now in Kalamazoo. However, some restaurants still have outdoor seating as well. Old Burdicks has their outdoor igloos set up downtown and Bell's Eccentric Cafe has their Brewery Garden Area. 
If you would rather stay inside somewhere cozy, try breakfast at Anna's House or dinner at HopCat, or grab a bite to eat with a drink at Crow's Nest or Kalamazoo Beer Exchange. 
For the romanticists:
For a day filled with romance and charm, try making a reservation at one of Kalamazoo's more romantic restaurants or local bed and breakfasts. Rustica and Martell's are two restaurants known for their ambience and tasty food. 
Kalamazoo is not short on quaint bed and breakfasts, if you're looking to spend some quality time away from home with a loved one, check out Kalamazoo House Bed & Breakfast, Kara's Kottages, Stuart Avenue Inn Bed & Breakfast, Henderson Castle or The Oaklands. 
For the lover of arts:
Kalamazoo is also filled with little bright spots of color; the city is adorned with grand or quirky murals on different walls or buildings. In fact, Kalamazoo has about 25 different mural sights around the city that make for wonderful viewing or photo opportunities.
To seek warmth away from the cold weather, Kalamazoo 10 is also open with movie showings available to patrons as well as the Kalamazoo Institute of Arts or MRC artWorks, a nonprofit downtown Kalamazoo, to indulge your inner artist.
More information on hours, reservations, and more at each of the establishments can be found on their individual websites. Check out Discover Kalamazoo for more ideas or information on what is going on in Kalamazoo.