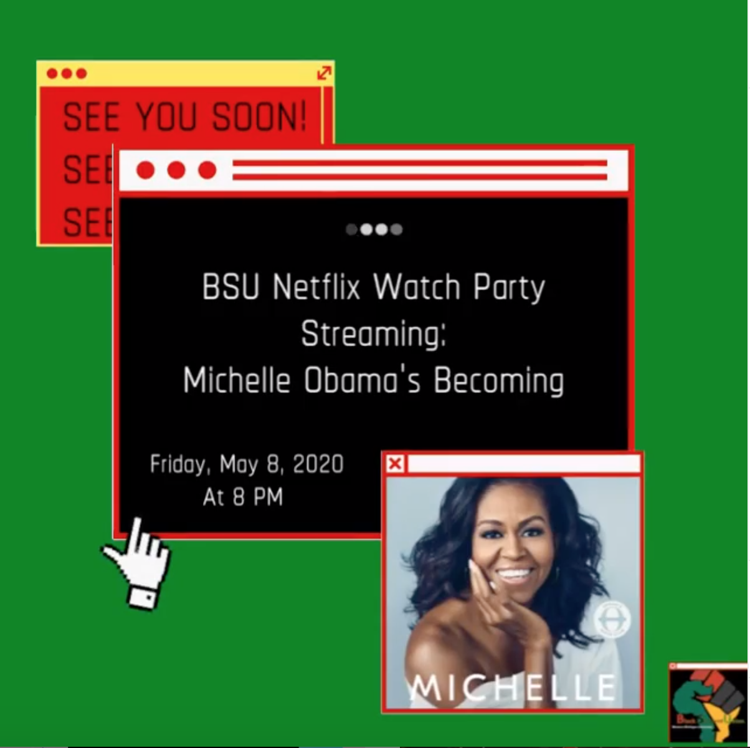 Classes may be canceled but the Black Student Union is still active. At 8:08 pm on May 8 members of the RSO tuned in to watch 'Becoming' on Netflix's watch party feature. 
"The Netflix party idea formed when we realized that everything was kind of stagnant within the world and everyone is watching Netflix, Hulu, Disney+ or on social media all day," Director of Public Relations co-chair, Joelle Sanders, said. "So we wanted to try out something fun and new to engage."
'Becoming' follows Michelle Obama on the arena tour for her autobiography, also titled 'Becoming.' In the film, she discusses how her past and the road to the White House have shaped the woman she is today.
"Personally, reading 'Becoming' and being inspired by women like Mrs. Obama is everything and watching the documentary of her journey is just visualization to the words on the page," Sanders said.
While the E-Board would usually ask community members to choose, Sanders choice to show 'Becoming.'
"For this one, we picked something that was inspirational and even relatable for us as people of color," Director of Outreach, DeUnique Dorris, said. "We all have this life story that we are creating each day that we live, and it is influenced by our surroundings and those can change with one event but we have to remember who we are and what we can become."
Dorris felt the film showed how your future isn't determined by your past, for people of color especially.
"Our life story is not determined by everything and every stereotype in our past," Dorris said. "We are becoming."
For BSU, it's important to keep group members engaged despite classes being conducted online.
"This whole concept of 'Making the best of May' is literally that: making the best of our situations," Sanders explained. "Not letting these things stop us from being us, looking in the bright side of everything. Having time to actually tap into things we've been wanting to do; having time to reflect; having time to level up."
BSU has more events planned for the rest of May including E-board Q&As, game nights, movie nights and educational pieces.