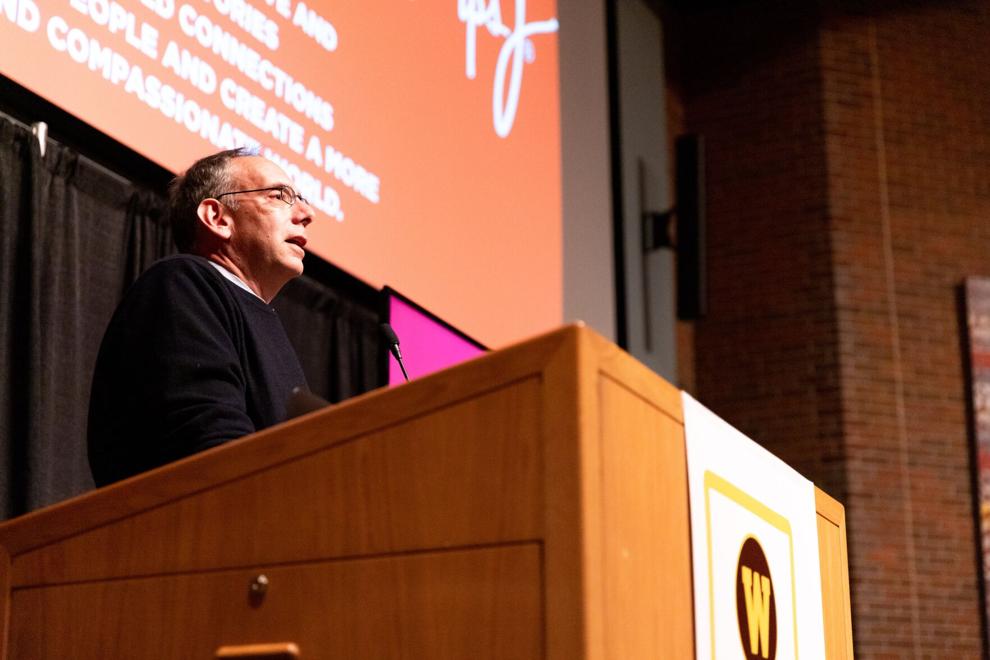 Owner and Founder of StoryCorps, Dave Isay, held an event in the Western Michigan University Fetzer Center on Tuesday, March 29 about StoryCorps and its One Small Step initiative. This event is part of a partnership between WMU and the Fetzer Institute in which the Fetzer Institute offered WMU a $93,000 grant.
StoryCorps is a nonprofit organization that aims to "preserve and share humanity's stories in order to build connections between people and create a more just and compassionate world."
The event began with WMU President Edward Montgomery speaking about StoryCorps and WMU We Talk events.
"In times that are as divisive as those that we live in today, it's absolutely critical that we find ways to engage with, listen to and understand each other," he said.
StoryCorps provides individuals with the opportunity to participate in 40 minute interviews with a loved one to spark a meaningful conversation and create a stronger connection. StoryCorps provides participants with a list of questions to ask, such as, "Are you proud of me?"
"I can tell you from personal experience that something happens when two people go into that booth, sit down across that table, look at one another, talk to one another, and listen," said Gordon Bolar, general manager of WMUK. "Both the speaker and the listener are transformed."
Isay shared several recorded stories throughout the event.
These stories were animated clips lasting only three or four minutes. Most of these stories were an interview between an individual and their parent or an individual telling the story of how a parent or grandparent was impactful to them.
Many stories highlighted an aspect of the individual's identity, describing how their loved one accepted their differences, such as one young participant with autism and one man who struggled with accepting his sexuality as a teenager.
These stories provided participants with encouragement and inspiration for their future.
"If you decide to become a cab driver, then you gotta be the most impactful cab driver that you can possibly be," one participant, Albert Sykes, told his son, Aidan.
In response to one question from a WMU professor, Isay described how StoryCorps' goal is for prosperity and having a meaningful impact over the growth in StoryCorps' size. For this reason, StoryCorps has no current plans to expand beyond the United States.
Isay concluded his presentation detailing StoryCorps' One Small Step initiative. One Small Step is an opportunity for individuals to be matched with someone on the opposite side of the political spectrum and get to know them personally.
Participants are advised to talk about any topic they would like with one exception: politics. "It's hard to hate up close" is the idea behind One Small Step, Isay said.
He continued: "We are trying to get people to recognize that if we spend less time screaming at each other and hating each other and more time listening to each other, then we would be a stronger country."
Before playing one last StoryCorps interview, Isay wrapped up his presentation with a word of encouragement.
"I want to encourage everyone here: No matter how bad things get, we can't give up hope. We can't be afraid," he said.