As Michigan's annual "it-was-50-degrees-yesterday" blizzard pounds the campus, many students are ready to flee for warmer pastures and midterms are in the not-so-distant rearview mirror.
Before leaving, a few WMU students discussed their plans with Western Herald.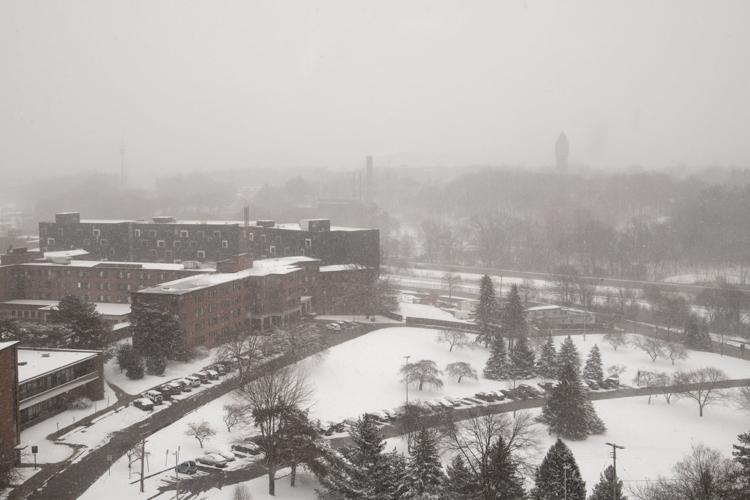 Maiya Rizzo, a sophomore, is going to Dallas to visit her sister for a few days.  
"We are planning on going to six flags, art museums and just spending time walking around the city," Rizzo said. "I'm primarily just looking forward to seeing her, it's been several months since I've seen her last."
Another sophomore, Avi Stein, will also spend time with family over break. 
She is also going somewhere warm: Myrtle Beach, South Carolina. She plans on buying organic foods, homemade jewelry, candles, artwork and seasonal wines from street markets on Fridays.
Some students will be visiting siblings at other colleges, such as sophomores Ryan Blowers and Kara VanderKamp. 
Blowers' sister attends Oregon Health and Science University, while VanderKamp's brother attends Grand Canyon University.
"I'm most looking forward to hiking in the desert while I'm there," Vanderkamp said. "They have wild horses out there so I hope to see some of them when we hike."
Blowers plans on doing the same.
"We are planning on hiking the different trails there since there are so many nearby," Blowers said. "I really enjoy the area."
Some are focused on escaping the Michigan cold. Many students say they are going to Florida. One popular destination within the Sunshine State is Marco Island, Fla., where junior Maggie Deceuninck is headed. 
"I'm going there because I wanted to go somewhere warm for spring break, and my friend knows someone that owns a condo in Marco Island," Deceuninck said. "I have no clue what I am going to do while I am there, but I will just figure it out once I get there." 
Sometimes no plan is the best plan. However, not everyone will be relaxing with family or lounging on a beach. Many students choose this time to go on faculty-led study abroad trips.
Such is the case with junior Gianna Shaw,who is studying in Lisbon, Portugal over the break. The trip is part of WMU's four-year Global Leadership Program. 
While there, she'll study the culture of the area and work on a documentary assignment. However, the thing she's really excited about is not the schoolwork.
"The thing I am most looking forward to about my break is getting to experience some warm weather during my first trip to Europe," Shaw said.
WMU President Dr. Edward Montgomery is also not taking his break to relax, but instead using it to travel to Washington D.C. to promote easier transfer of credits for transfer students.
"We are working to remove barriers to students who want to transfer to get credit for the work they've done elsewhere," Montgomery said. "Making it easier to transfer credits will promote student success and speed their path to graduation."
Montgomery emphasized that while students are away, the campus continues to function.
"Spring break is a time when the pace on campus slows down but doesn't stop," he added.
While many students have homework over the break, every student who discussed their vacation said the same about being away from school: it's a much-needed break from the exhausting and stressful schedule of everyday life.
"The best part about being away from school is the lack of stress," Rizzo said. "You don't have to worry about exams and homework and you're allowed to breathe for a minute before going back into the chaos."
Every student also said they were going to miss their friends and roommates despite the fun activities they were going to do over the upcoming week.
"I'm going to miss my roommate and all of my close friends being so near and having the ability to meet up all the time," Shaw said.
Despite missing friends and roomies, the upcoming break is sure to provide relief, relaxation and fun for most students. Enjoy it and stay safe, Broncos.