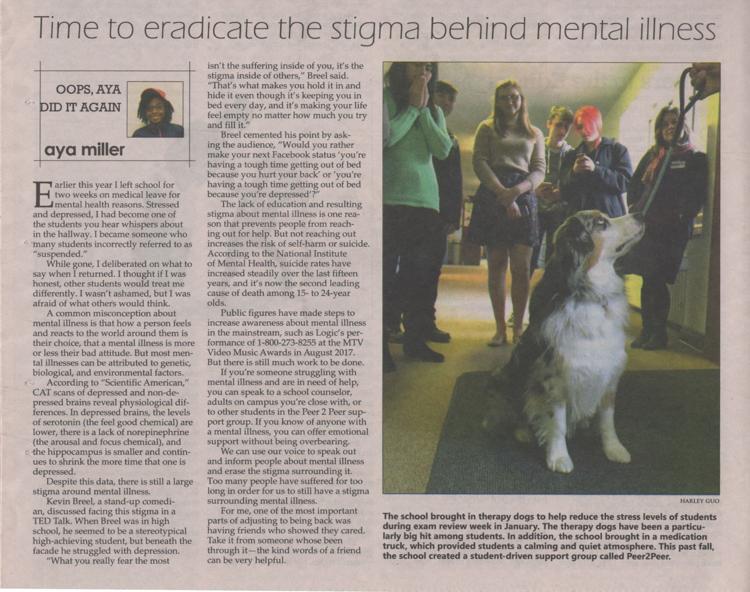 In October 2017, I took a two-week hiatus from school for a psychiatric outpatient program; a mental health program meant to stabilize and provide support to patients in crisis. 
Five months later, in a column I wrote for the March issue of the student newspaper, I said, "I wasn't ashamed, but I was afraid of what others would think," in reference to my medical leave.
Two years later, the fear of judgment still prevents me from talking about my experience. Even though, in many ways, it shaped my future. 
In my junior year of high school, I was denied positions of leadership and entry into AP classes for arbitrary reasons despite meeting qualifications. These denials left me questioning my worth and feeling like a failure. 
I blamed the break I took to focus on my mental health. 
Without the classes and positions, I had a low chance of being accepted into the colleges I dreamed of attending. So, when it came time to decide on a college, Western Michigan University was an easy pick. 
WMU was the place where I felt I could prioritize my mental health while still excelling in classes and extracurriculars. Yet, I still often slide my ongoing struggles with mental illness under the rug. 
I hide my struggles because I feel they'll break the facade of perfection I try to present to my peers. Because, as I said earlier, I'm still afraid of what people would think.
Misinformation has led to an ongoing stigma against mental illness. This stigma leads those afflicted with mental illnesses to suffer in silence instead of reaching out for help.
May is mental health awareness month and this month, like every month, we should all be aware of those who may be struggling with their mental health. We can do our part in reducing the stigma by learning more about mental health and mental illnesses.
Although I know my struggles with mental illness are not a choice, it's impossible to know what judgments others will make. I'm afraid they'd think I'm less capable of being successful if they knew I struggled with mental illness.
The ongoing pandemic has forced me to focus on my mental health. Without weekly therapy sessions and a jam-packed schedule, I've come closer than I have in a long time to the demons that led me to the outpatient facility three years ago. 
The connections I have with people are what help me get out of bed in the morning and remind me to stay strong. 
At the conclusion of my column, I wrote: "take it from someone who's been through it— the kind words of a friend can be very helpful."
This sentiment is just as true now as it was then.