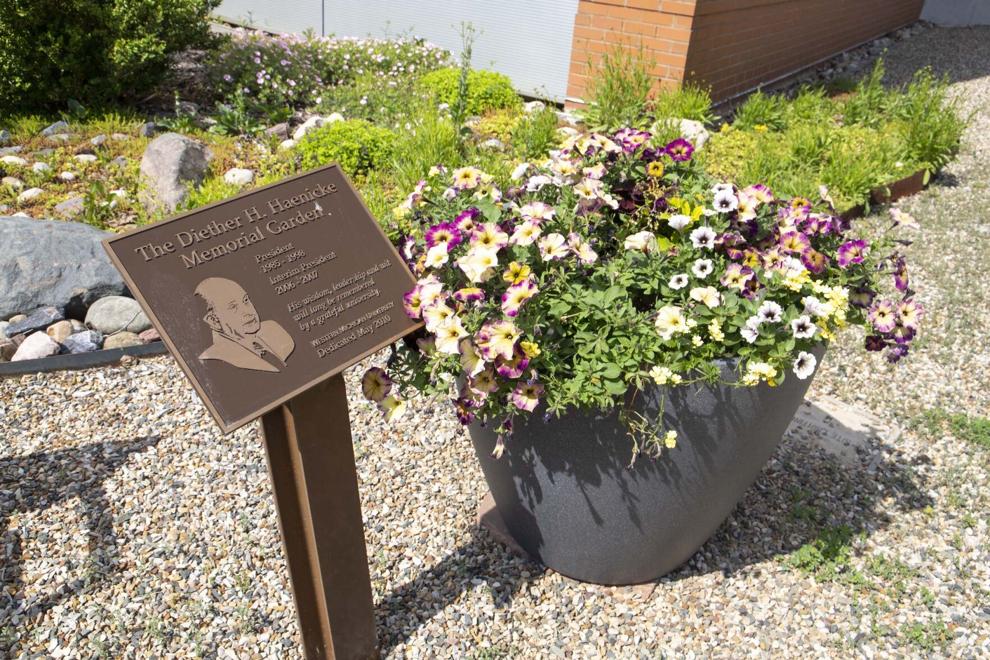 Landscape Services at Western Michigan University have taken the 'teach a man to fish' idiom to a new level with self-watering planters. Crafted from recycled plastic and carpet, the planters work to retain water and fertilizer, reducing the need to be watered from thrice weekly to once every three weeks.
The new planters were manufactured by EarthPlanters and were purchased with help from a grant from the Office of Sustainability. David Prellwitz, a groundskeeper for Landscape Services, and Rhonda Cosby, master gardener, co-authored the grant in 2020.
"Landscape Services has been using the same planters for over 20 years now," Prellwitz stated. "The old planters (were) mismatched, cracked, and painted many different colors. The new planters, EarthPlanters, will allow us to save on water and… incorporate natural fertilizers and compost."
Each of the 66 planters contains a reservoir that holds water to help water plants during dry periods. The carpet forms a water-wicking system that draws water from the reservoir into the soil as the moisture is used by the plant and evaporates.
In addition to keeping the plants watered, the new planters are designed to retain fertilizer. Previous on-campus planters had holes at the bottom to prevent plants from drowning, but it also allowed fertilizer to pass through. The new planters no longer have holes, which will increase fertilizer efficiency and reduce runoff into nearby waterways.
With help from another sustainability grant, Landscape Services is partnering with Dining Services to cultivate compost used in the new planters. This compost uses fruit and vegetable scraps from Dining to reduce the amount of waste thrown into the garbage.
Chris Jackson, director of the Finch Greenhouse, was also an important part of the project's development and success. He helped grow the plants from plugs - small seedlings - to fully-grown plants.
"I enjoy growing plants for campus (and) there was space available in the greenhouse," said Christopher Jackson, Director of Finch Greenhouse. "Rhonda worked with my broker and ordered the plugs (about 3600). … After that it was up to me to finish them off for the next ten weeks."
The plants demanded an average of three hours per day of care. Once the plugs were ready, members from Landscape Services filled the new planters and transplanted plugs from the greenhouse.
There is still more work that needs to be done, however. A number of old planters still need to be replaced throughout campus. That being said, new buildings will be designed to accommodate the new planters.
"Landscape Services plan to eventually replace all (the old) planters on campus with the EarthPlanters," Prellwitz said. "Our director, Mark Frever, is making sure that the new planters are planned into the design of the new buildings."
The new planters are yet another example of the change fostered by the Student Sustainability Grant. As WMU moves toward carbon neutrality, the impacts of the program will only continue to increase.
"The Student Sustainability Grant represents hope and encouragement to make a difference in the world," Cosby said. "I look forward to future projects that reflect an emerging sustainable philosophy on campus."