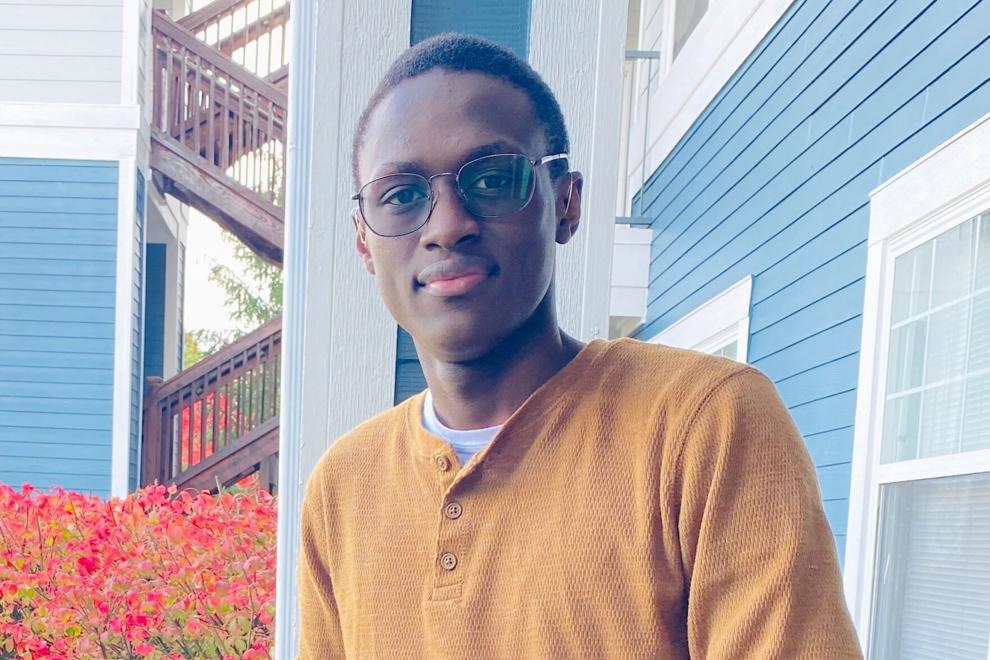 Western Michigan University student, Abondance Kibadi, received life-changing help from WMU when he received his first hearing aids at age 20.
Growing up in the Democratic Republic of Congo, Kibadi's parents suspected an issue with his hearing, but two hearing tests at a young age concluded that there was nothing wrong. It wasn't until he moved to the United States and began attending classes at WMU that Kibadi really knew he was not hearing to his full potential.
"I can hear in normal conversation and respond (without aid), but I always had trouble with soft sounds, even in my own language (French)," Kibadi said. 
When starting his education at Western in May 2021, he had no problems hearing because classes were online and he was able to use headphones for lectures. Obstacles appeared for Kibadi with in-person classes, in which masks made it difficult to hear clearly and covered the faces of professors and peers.
Kibadi considered the difficulty of learning a language without proper hearing.
"Because I was learning English when I came here, it was a problem," Kibadi said. "In class, because of face masks, the teacher could say something and my friend behind me could hear, but not me."
Noticing this difference in comparison to his peers, Kibadi had to ask himself if there was a problem.
A professor helped him set up an appointment with Sindecuse Health Center to have a hearing test. There he met Dr. Alyssa Eminhizer, clinical faculty specialist and audiologist for WMU;s Department of Speech, Language and Hearing Sciences, who helped him get his new hearing aids.
The Charles Van Riper Language, Speech, and Hearing Clinic found a pair of hearing aids to loan to him while they worked towards getting a more permanent solution.
Western's Student Academy of Audiology paid a large portion of the cost for the hearing aids, contributing $2,000. The original cost was about $4,000 and Eminhizer worked to have the manufacturer lower it to $2,300.
Kibadi noted the great differences that hearing aids make in everyday life. In particular, his English skills quickly increased because he was able to hear more clearly and learn more easily.
"WMU helped me succeed and I would like to say thank you. They convinced me to not be ashamed or shy to wear this because it is something we see everyday in the U.S.," Kibadi said.
Also, the university put him in contact with other students in similar situations, giving him a chance to speak with peers about his journey and hear about theirs.