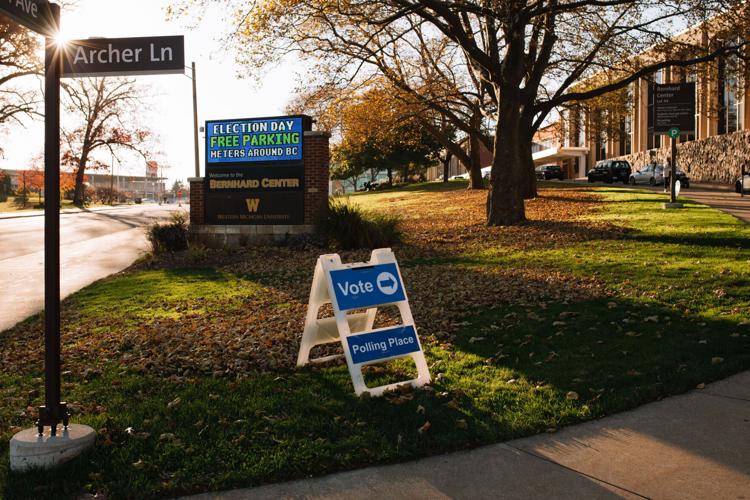 If you arrived at Western Michigan University's Bernhard Center on Nov. 3, you wouldn't see the usual sporadic visitors and dispersed students seated in the lounges. The first floor was packed with people waiting to cast their ballot for their candidates of choice in the 2020 election.
WMU Junior, Alex Lawrence, started volunteering at 9 a.m. Lawrence, a political science major, is a student member of WeVote and fellow for the Campus Election Engagement Project.
"I think it's important to help students, young people be able to vote," Lawrence said. "Young people are not being represented in our democracy and I just want to make sure that all of our young people have a voice and get to use it when they elect their officials."
This year, Kalamazoo County was able to set up a satellite clerk's office at the Bernhard Center allowing students to register to vote on election day. In 2016, you had to be registered to vote 30 days before election day.
"I would be turning all these people away if this was two years ago," WMU political science Professor Denise Keele said.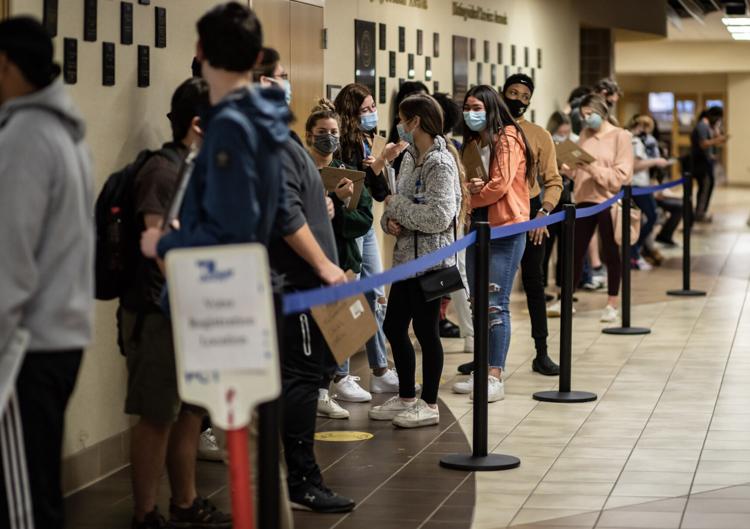 Many of the voters in line were first time voters. Anyone old enough to have voted in the 2016 election would be at least 22 years old now.
"It's their first time, they don't know how the process works, your voting registration is based on your address and you're moving all the time so there's a lot of uncertainty about 'where am I registered, where do I go and how do I vote?'" Keele explained. "That's why we're here to help those students, because we know that when you start voting, it's habit forming and you will be a lifelong voter."
The initial turnout was low but as the day progressed, more students arrived. In the early afternoon the wait time at the Bernhard Center increased to between an hour and an hour and 45 minutes. 
WMU Senior, George Seahorn, voted around noon.
"On a moral level I felt like I'm exercising my rights and I think that's important and I shouldn't take that for granted," Seahorn said. "Regardless of how I feel, it's a blessing to be able to vote so I should take that opportunity."
Seahorn felt he was carrying on a tradition his ancestors had fought for.
"There were a lot of people before us that risked their lives to have that freedom to be able to vote so I think now I shouldn't take it for granted," he explained.
Another difference from standard election years was the amount of personal protective equipment at the Bernhard Center. Volunteers were decked in face masks and protective shields. The social distancing required in accordance with CDC guidelines provided some challenges for volunteers.
"We're using things QR codes this year and normally I'd be helping people look things up on their phone and handing them their phones back and everything so we've really done a lot to work with the social distancing this year," Keele explained. "It's made things a little bit harder because everyone's on the wifi and then on the same website all day across the state so it's frozen up a couple times."
WMU Junior, Ophelia Williams, was still waiting to vote as 8 p.m., the hour polls close in Michigan, approached.
"I'm kind of excited but also kind of nervous because I'm just afraid to find out the results of everything and I feel like I'm gonna be nervous when I get the ballot," Williams said.
WMU Junior, Rae Miller, arrived at 6 p.m. to volunteer with WeVote.
"I think that I'm at a time in my life now where I'm really starting to care about more people than myself," Miller said. "I know that sounds weird to say but I find myself finally at a place in my life where I can start contributing to other people's lives. I've found myself enough and I wanted to be able to help other people as well, so being able to stand up for what I believe in this election is really important to me."