It's never too early for college students to start thinking about possible career options.
Throughout the first week of February, Western Michigan University's Career Services will be hosting a line of career fairs geared toward a variety of majors.
The fairs kick off on Wednesday, Feb. 5 with the STEM Career Fair. The fair will feature a variety of employers, both local and national, to provide career and employment opportunities to students.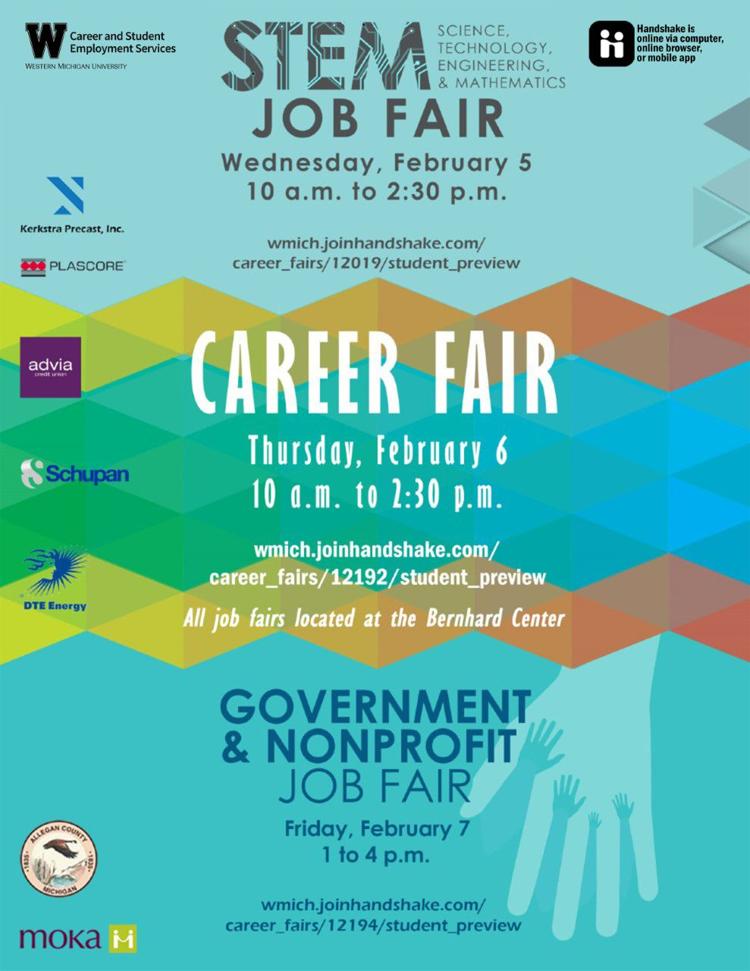 "We have just shy of a hundred employers attending it," said Buffy Nespodzany, the Assistant Director for Employer Engagement for WMU's Career and Student Employment Services.
Companies such as DTE, Consumers Energy, and Stryker Corporation will be attending the event. Nespodzany added that Pfizer will also be attending the event and looking for people to work at their new Kalamazoo plant.
"It's neat for STEM Fair this year because we have NASA coming," Nespodzany said.
The next day on Feb. 6 is the general Career Fair which will appeal to many students outside of the STEM fields. Many of the companies that will be attending the STEM fair will also be attending this fair as well as other companies focused on hiring for business, healthcare, and aviation in addition to other careers. These companies will include local businesses like Bell's Brewery and even larger companies such as airlines like Endeavor and Envoy. 
On Friday, Feb. 7, the Government and Nonprofit Fair will be bringing more employers such as police departments and other government agencies.
"There are 13 State of Michigan departments coming...we've never had that many attend before," Nespodzany said. There will also be nonprofits such as summer camps and other opportunities attending. Nespodzany stated that these nonprofits are not looking for volunteer work, but for people interested in careers.
When attending the career fairs, Nespodzany has a few tips for students including how to present yourself and how to act when talking to employers.
"It is important that you are dressed professionally," Nespodzany said. "Get online and look at employers to make a game plan."
All of the career fairs will be hosted in WMU's Bernhard Center. The complete list of employers who will be attending is available on Handshake.com.