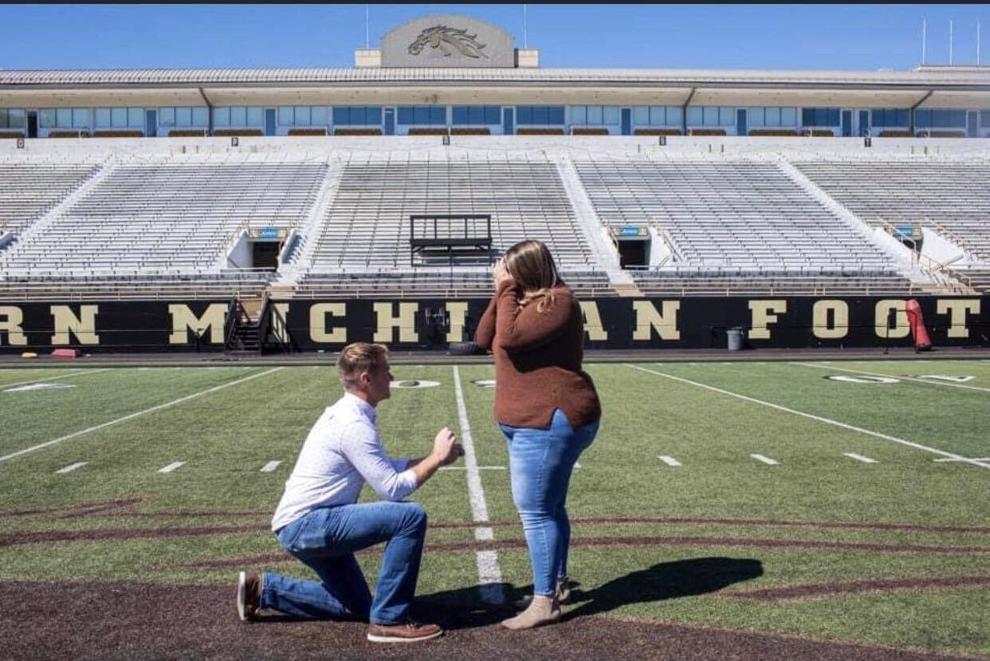 When Shawna Finos, Western Michigan University class of 2014, was ushered out onto the 50-yard line of Waldo Stadium on Sept. 19, she had no idea that she would be leaving engaged to the man she first developed feelings for in that same stadium exactly ten years prior. 
Finos was a freshman visiting her cousin at his dorm on campus when she was introduced to Chris Curran, WMU class of 2015. A sophomore at the time, Curran was known for being outgoing and mischievous.
Finos, who was much more shy than he was, did not like him at first; especially when Curran almost ran her over outside Rood Hall without so much as a second glance. Nevertheless, the two developed feelings for each other at a football game Sept. 19, 2010. 
"I was sitting with my friend and was like 'Where am I going to ask her to marry me?'" Curran said. "When I got back in Grand Haven I thought to myself 'Well, the first time I really had a crush on her was at the football field.'"
So, Curran brought her back to Waldo Stadium under the ruse that they were going to be interviewed for a story on alumni couples who met at WMU. 
"If it wasn't for Western, we probably wouldn't have met each other," Curran said. "It's a huge chapter in our lives. We've even talked about how we want to send our kids there."
Chris Bouwman '94, met his wife Catherine Bouwman '97, at a party the year he graduated. As the couple looked at each other with warm smiles, they recalled the exact same fondness for WMU and Kalamazoo. 
Chris and Catherine Bouwman still visit campus from time to time, and even took their daughter there a few years back for a lacrosse tournament. As they drove around campus and the streets of Kalamazoo, they remembered every twist and turn as if they had never left. 
"Three years ago my roommates and I from Henry Hall actually went back to our old dorm room and knocked on the door," Chris Bouwman said. "We talked for a few minutes with the students that lived there. It's amazing how little it had changed."
Craig Rupnow '85, met his wife while attending university in 1981 at the Maple Hill Mall. At the time, Rupnow worked at a women's shoe store, and met his wife when she came in with her mother, sister, and grandmother. Later, while at the Coral Gables with his roommates, she approached him and he asked her to dance.
"That night when I was going home with my roommates I told them 'I'm going to marry that woman,'" Rupnow said. "They said I was crazy and later I married her." 
Rupnow married his wife Diana VanMiddlesworth Rupnow in 1986, and they still return to WMU with friends each year for the Homecoming football game.
"It was a really good experience and I've been married now for 35 years this year," Rupnow said, reflecting on his years at WMU. 
Michelle Prince '01, met her husband Kevin Prince in 1997 when they were both Music Education majors. Having a lot of the same classes together, they were friends for a few years before they began dating in 2000. 
"We were out at one of the bars, a group of us, and some random stranger wouldn't leave me alone," Michelle said. "One of my friends was trying to get him to leave me alone so she went over to our guy group of friends and said 'One of you need to go over and tell that guy to leave Michelle alone.' They all pointed to Kevin because he was the tallest and he came and said 'She said leave her alone, so leave her alone.' And I thought, 'Oh, he's kind of cute'."
Michelle and Kevin enjoyed going on dates at Maggie's Campus Cafe, Olde Peninsula, and skiing at Timber Ridge. They also went to most of the football games because Kevin  was in the pep band. 
"Kevin was in the music fraternity and one of the things they would do is when one of their girlfriends graduated they would all take a knee backstage and sing to them," Michelle said. "That's probably one of my favorite memories, walking off stage after graduation and all of the brothers at Phi Mu Alpha waiting in the wing to serenade me."
Nate Crosswait '05, was in the fraternity Theta Chi when he met his wife Jen Crosswait in 2001 when she was in the sorority Alpha Xi Delta. Even though they had the same group of friends, they never met each other until one night when they all went to the casino.
"We rode up in two cars but only one was going back to Kalamazoo," Jen Crosswait said. "Nate was the biggest guy.. so, he sat in front and I had to sit on his lap the entire car ride back."
Jen savored the moment but later found out his legs were asleep the entire time. After that, she decided to give him her number.
"This guy was the Theta Chi party organizer, the literal person everyone went through to make plans and organize crazy fun events and parties, and he carried around a notebook with people's phone number for the first two months we dated," Jen said. "So he called me the next day and we hung out and we have been together ever since."