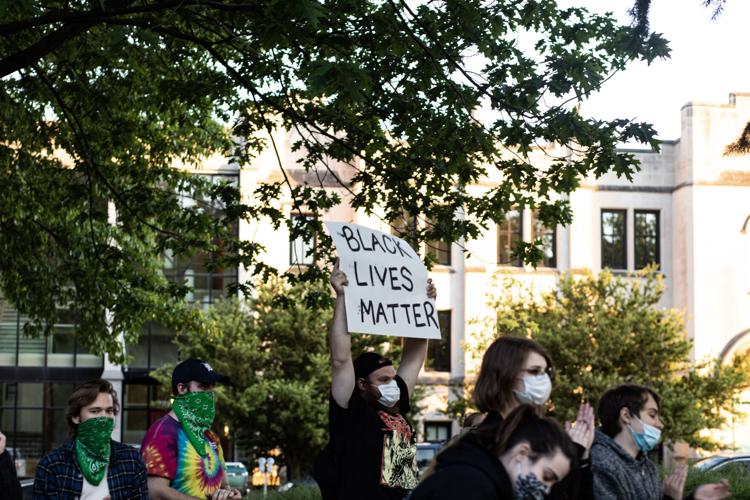 The murder of George Floyd, at the hands of four officers of the Minneapolis Police Department, sparked nationwide outrage, protests and unrest. Many of these protests were marred by violence as officers used force to disrupt protestors. 
While the initial event may not have happened in the Kalamazoo area, many members of the Western Michigan University community have responded to these events as they continue to unfold.
Candy McCorkle
Candy McCorkle, Vice President of Diversity and Inclusion, was devastated when she first learned of Floyd's murder. McCorkle, who does not speak on behalf of the Office of Diversity and Inclusion as a whole, called the officer's actions in the video "a lack of humanity."
"A man is pleading for respite so that he can breathe and bystanders are asking for mercy to allow him air, but those in power chose not to respond to the pleas," McCorkle said. "My initial reaction was: What if this were my son, my nephew, my brother, my loved one?"
McCorkle used the analogy of a shaken soda to explain why protests have spread across the country.
"Carbonation builds and explodes uncontrollably when the confined substance (in this case, a group of people) experiences immense pressure," she explained. "Eventually, there's an eruption. For many, George Floyd's death was the proverbial straw (pressure) that broke the camel's back, another devastating example in a tragic pattern."
McCorkle believes we currently see a failure to recognize the humanity in all people, a failure which has been demonstrated historically.
"It is a systemic global issue that will be the undoing of humanity as we know it if left unaddressed," she said.
McCorkle further explained how she believes she and others continue to have hope in change.
"Not just students, but faculty, staff and administrators can begin to examine our environments, policies, and practices and begin to change where we see a discrepancy in equity," McCorkle said. "We can engage in educating ourselves on the impact of oppression on others and how to hold our systems accountable for true equity."
WMU Political Assosciations
WMU Republicans president, Evan Oudekerk, made a brief statement to Western Herald about George Floyd's murder.
"The murder of George Floyd is a tragedy and every police officer involved must be held responsible for their crimes," Oudekerk said. "This horrific event has revealed institutionalized racial injustice in law enforcement and the criminal justice system."
Derek Chauvin, the officer who placed his knee on Floyd's neck in a chokehold, was originally charged with third-degree murder and second-degree manslaughter. The three other officers involved were charged with aiding and abetting and Chauvin's charge was advanced to second-degree murder on June 3.
WMU Democrats president, Cole Hamilton, attended protests in Kalamazoo on June 1 in response to the murder.
"The death of George Floyd was the catalyst and call to action that has inspired thousands of people across the nation to protest against racist policing and a racist justice system," Hamilton said. "Many Americans are tired of seeing African Americans get killed from the use of excessive force by police officers."
The WMU Democrats also released an official statement on the matter.
"Systemic racism affects African Americans all across the nation, including black students and community members on WMU's campus," the statement read. 
They addressed ways in which black students on campus may feel uncomfortable and expressed their support for the Black Student Union.
"Police cars on WMU's campus have a blue lives matter flag on the back of their cars, which understandably makes black community members uncomfortable since Blue Lives Matter was created as a direct response against Black Lives Matter," the statement read.
Hamilton felt the march was very peaceful aside from one instance where a group of police officers arrived in riot gear and began shoving protestors.
"The whole march was very organized and not violent whatsoever," Hamilton said. "Showing up in riot gear was very irresponsible on their part with tensions so high around the country. I hope that George Floyd's death can inspire a huge surge in community activism in Kalamazoo so that we can enact changes to our local justice system."
Tracey Brame- Cooley Law School
Associate Dean of WMU's Cooley Law School, Tracey Brame, acknowledged the events in a statement. Brame has an extensive history working with Civil Rights issues and racial bias.
"The nation is once again reeling from the effects of the death of a person of color at the hands of those who are supposed to protect and serve each of us," Brame said. "(the civil unrest) should not distract from the true issue that as a post-Jim Crow Laws nation, we need to do better at recognizing racial biases."
Brame expressed how social media plays a large role in exposing these injustices which have always been a problem.
"The criminal justice system has failed in these instances, but I believe as a nation we want to do the right thing, we know we have to be better. I know this issue is tough, and it will be hard to continue making changes, but with data, experience and willingness, change can happen. Maybe not today, or tomorrow, but it can happen, as long as we can shift from momentary outrage to sustained commitment to improvement."