Jan. 25 marked the beginning of a week-long Instagram event hosted by the Campus Activity Board consisting of Broadway-themed questions and entertainment.
Every day of the week consisted of a theme or task. The various activities included mimicking a Broadway character, answering trivia questions, completing a poll about Broadway favorites, and tuning in to a live cooking show. On Friday, prizes were awarded randomly to those who participated and filled out the form in CAB's Instagram bio.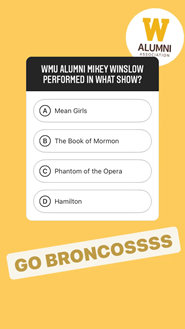 "I spent about two days planning each day," said Kayla Lewis, CAB's Concert Coordinator. "I was inspired by Grand Valley State University's Hamilton week and thought 'What about an entire week dedicated to Broadway?'"
At her own admission, Lewis pays attention to alliteration, which is evident in the event names. "Mimic Monday" and "Tasty Treat Thursday," for example, were two themes.
Lewis had the most fun with "Would You Rather Wednesday" and "Tasty Treat Thursday," saying "It was cool seeing which Broadway show people chose and comparing it to my answer."
On Thursday, Lewis cooked "Whatever, I'm Getting Cheese Fries" from Mean Girls and "Legally Blondies" from Legally Blonde and enjoyed cooking for an audience.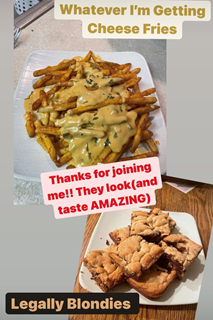 CAB closed out the week by giving away eight free prizes to those who had participated throughout the week. Prizes ranged from gift cards and t-shirts to puzzles and mugs.
"It was a fun event that was available to the entire student body," said Kayla Blauet, a freshman majoring in Social Studies Secondary Education. "I decided to stay home this semester due to COVID-19, so having a virtual event like this was really exciting." 
Planning ahead, Lewis already has ideas for a potential reprisal of the week-long event. To involve more students, she hopes to use other social media accounts to expand beyond Instagram. If CAB hosts a similar event, Lewis expressed interest in involving the theatre department in the future.