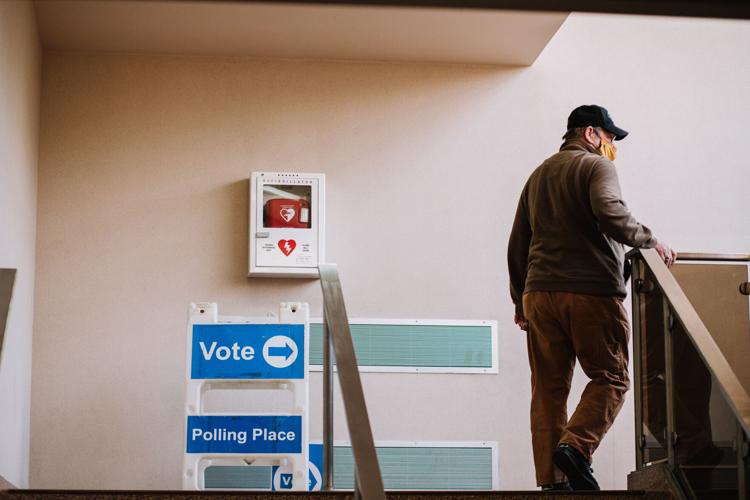 The Sunrise Movement conducted a "vote-tripling" event on election day at various polling locations across the state. The goal was to convince voters to text three of their friends as they exit the polls. 
"We really want to get everyone and their dog out to vote," said Andrew Laxton, an activist with the Sunrise Movement. "We realize that voting can feel like a chore or feel too time-consuming, and a text reminder from a friend or family member helps to remind people of the importance of participating in our democratic process."
Before the election, volunteers at the Sunrise Movement phone banked for 6th district congressional candidate, Jon Hoadley, on Monday Nights. They also protested current 6th district congressional representative Fred Upton's environmental decisions outside of his office.
"It's important to encourage voter participation because political representatives need to reflect the values of their community," Laxton said. "When they don't— like when Congressman Upton takes millions from the fossil fuel industry and then works to deregulate emissions— there are disastrous consequences. Voting is how we hold our policymakers accountable."
The Sunrise Movement's primary reasons for campaigning against President Trump are the climate and his devise nature.
"We need decisive action on climate change at the level of the federal government to avoid climate catastrophe," Laxton said. "Obviously, Trump and his administration don't take input from experts too seriously."
WMU senior, Jason Wheaton, encouraged the WMU College Democrats to help the Sunrise Movement with their vote-tripling event. 
"I support the Sunrise Movement because they've done such an effective job at fighting for change," Wheaton said. "It's the kind of grassroots organizing that we need more of on campus because a green new deal isn't going to come unless our generation steps up."
Similar to the members of the Sunrise Movement, climate change is an issue of particular importance to Wheaton.
"Climate change is an existential threat to our world, which is why it's such an important issue to me and many other college students," Wheaton added.
Going forward, the Sunrise Movement plans to do more work to push for more action on climate change.
"We're feeling good but we still have a lot of work to get the Biden administration to be really bold on climate change," Laxton said. "We're also currently trying to protect our democracy from being seen as illegitimate by a lot of people."